Chinese man on trans-Pacific voyage in ocean rowboat rescued near Hawaii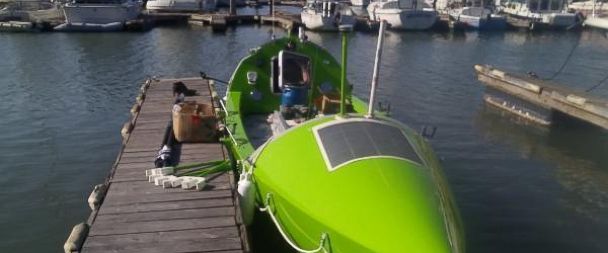 This photo provided by the U.S. Coast Guard shows the rowboat Tuesday, November 7, 2017, of Ruihn Yu, a Chinese national, who was reportedly conducting a trans-Pacific voyage from California to port calls in China aboard his 18-foot vessel when he suffered communication failures and a damaged rudder. (U.S. Coast Guard via AP)
A 32-year-old Chinese man, voyaging from U.S. California to Asia in an ocean rowboat, was rescued by the U.S. Coast Guard near Hawaii after his friend reported that the boat had developed a communication failure, the Chinese Consulate General in Los Angeles confirmed on Thursday.
Amanda Lezvasseur, spokeswoman of the U.S. Coast Guard, told Xinhua late Wednesday night that Yu Ruihan, a Chinese national, had been rescued Tuesday morning approximately 35 miles (about 56 kilometers) northeast of Maui island, and 26 miles (42 kilometers) southeast of Honolulu.
"We talked with him today, He wants to stay in Maui, waiting for repair parts and a new Emergency Position Indicating Radio Beacon, so he can repairs his boat and continue his trip," she said, adding "his final destination is Australia."
According to a press release of the Coast Guard Wednesday, watchstanders at Sector Honolulu first learned of Yu's situation at 8:16 a.m. local time Tuesday, via a relayed call from Coast Guard Sector San Francisco stating a friend of Yu's reported him in a potentially distressed situation due to a text message received from Yu on a two-way satellite communication device.
Watchstanders launched a HC-130 Hercules to the scene and established communication with Yu one hour later by dropping him a VHF radio.
Then the Coast Guard sent a fast response cutter in Honolulu to take the vessel in tow and transited it to harbour in Maui.
"It's always a good feeling to save someone at sea, and yesterday was no different," the press release cited Peter Driscoll, executive officer of the cutter, saying "we were able to assist Mr. Yu and he can now attempt repairs and completion of his voyage safely."
Yu, who departed from California on June 9 in a 18-foot (about 5.5 meters) green vessel, has not any health issue or danger now, the Coast Guard said.