Chinese embassy in S. Africa donates medical equipment
PRETORIA, Sept. 12 (Xinhua) -- The Chinese embassy in South Africa donated one million rand (59,700 U.S. dollars) plus 50,000 surgical masks and 400 forehead thermometers on Friday to help the country to tackle the COVID-19 pandemic.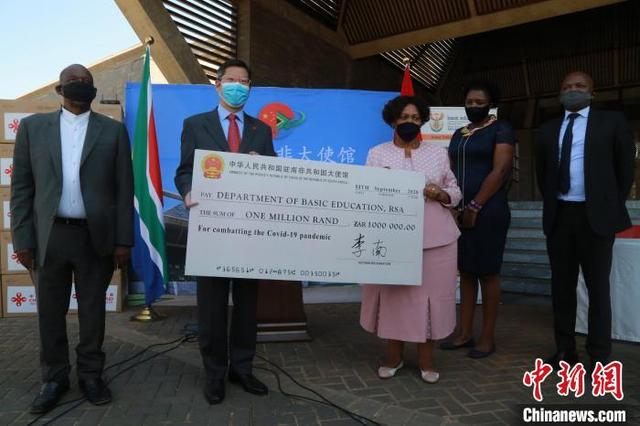 Photo: Chinanews.com
The donation was handed over by Li Nan, Charge d'Affaires of the Chinese embassy and received by the Minister of Basic Education Angie Motshekga.
South Africa faces shortage of the personnel protective equipment and other health supplies as the country resumes schools.
"We fully understand the anxiety of Minister Motshekga and the department of basic education. In order to alleviate your worries and anxiety, we have decided to earmark one million rand from the embassy's budget to support the purchase and installation of water tanks for primary and secondary schools in the Province of Northern Cape," said Li.
Motshekga welcomed the donation which she said would assist the country to fight the pandemic.
"Northern Cape is one of the driest areas in the country. It's a permanent solution and this would help the community living there. This would go a long way in addressing the water shortages in the province," she said.
Motshekga pointed out that as the schools resume classes, they are trying to avoid the spreading of the pandemic and the donation would help in that aspect.
The Chinese embassy in South Africa as well as Chinese enterprises and community have been donating to people across the society to help fight the COVID-19 and cushion people against the effects since the pandemic hit the country in early March.