Xi meets Malawian president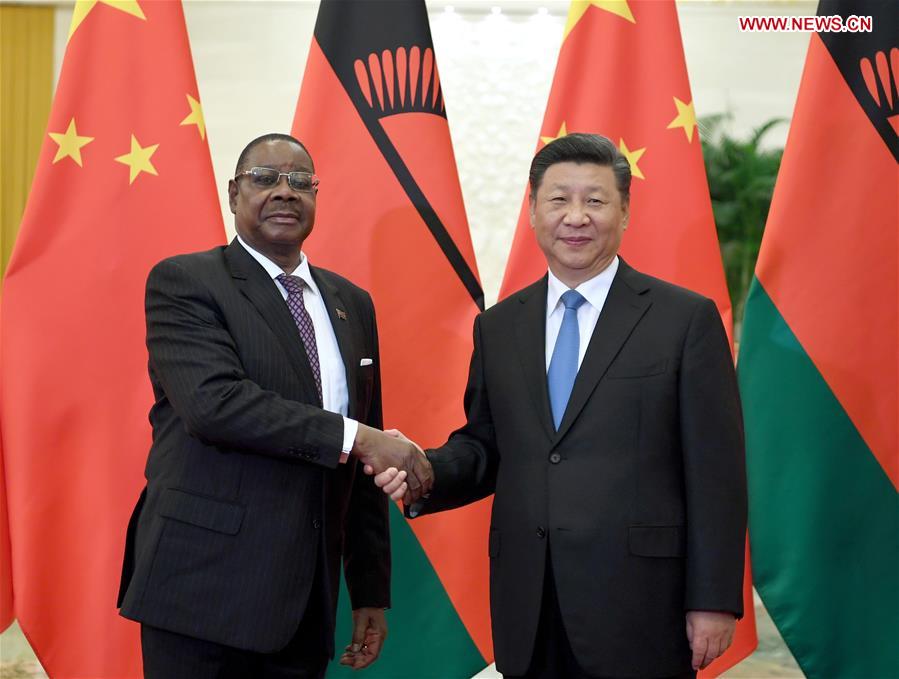 Chinese President Xi Jinping (R) meets with Malawian President Peter Mutharika at the Great Hall of the People in Beijing, capital of China, Sept. 1, 2018. (Xinhua/Zhang Ling)
BEIJING, Sept. 1 (Xinhua) -- Chinese President Xi Jinping met with Malawian President Peter Mutharika on Saturday ahead of the 2018 Beijing Summit of the Forum on China-Africa Cooperation.
Xi said the bilateral cooperation in various areas has brought tangible benefits to people in both China and Malawi since the two countries established diplomatic relations 11 years ago, which fully proves that the establishment of diplomatic ties was a correct strategic decision.
The irresistible trend of one-China principle conforms to the times, Xi noted.
China is willing to continue deepening political mutual trust with Malawi, and strengthen the exchange of experience in governance, said Xi, stressing the importance of insisting on independence, reform and opening-up, as well as a path of development suited to its national conditions.
China is willing to step up win-win cooperation and people-to-people exchanges with Malawi, support its capacity building for peace and security, enhance coordination in multilateral affairs, and jointly safeguard solidarity and overall interests of Africa, Xi said.
Mutharika said Malawi cherishes its friendship with China. He said the two countries have carried out fruitful and mutually beneficial cooperation over the past 11 years, which propels his country to adhere to the one-China policy more firmly, and consistently deepen pragmatic cooperation with China in various fields.
African countries have drawn important lessons and gained inspiration from China's development, Mutharika said, adding that African countries and China used to share similar experiences and fates, and China's successful experience is crucial to Africa.
African countries greatly appreciate China's policies towards the continent, and are willing to strengthen the exchange of ideas and experiences with China, the Malawian president said.
After the meeting, the two leaders witnessed the signing of bilateral cooperation documents.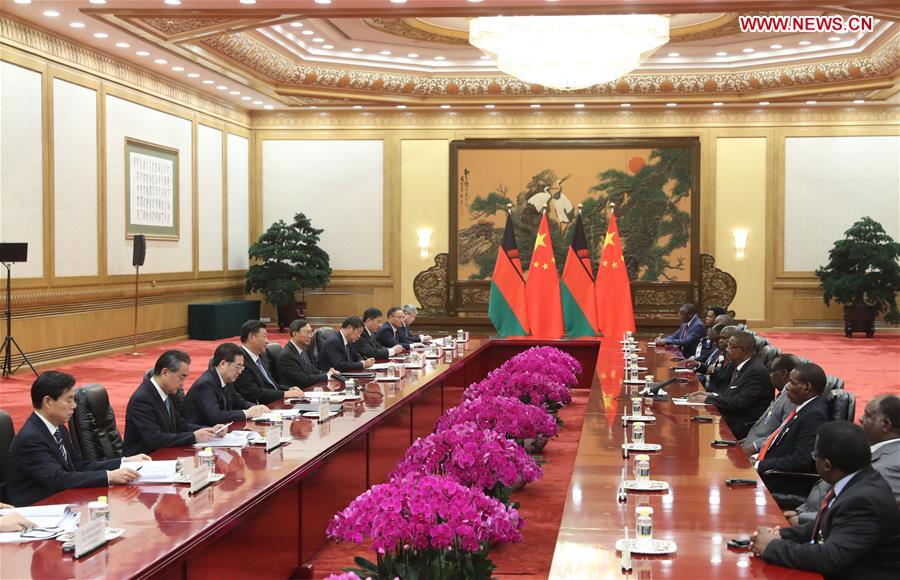 Chinese President Xi Jinping meets with Malawian President Peter Mutharika at the Great Hall of the People in Beijing, capital of China, Sept. 1, 2018. (Xinhua/Liu Weibing)