Vaccination efforts stepped up to contain outbreak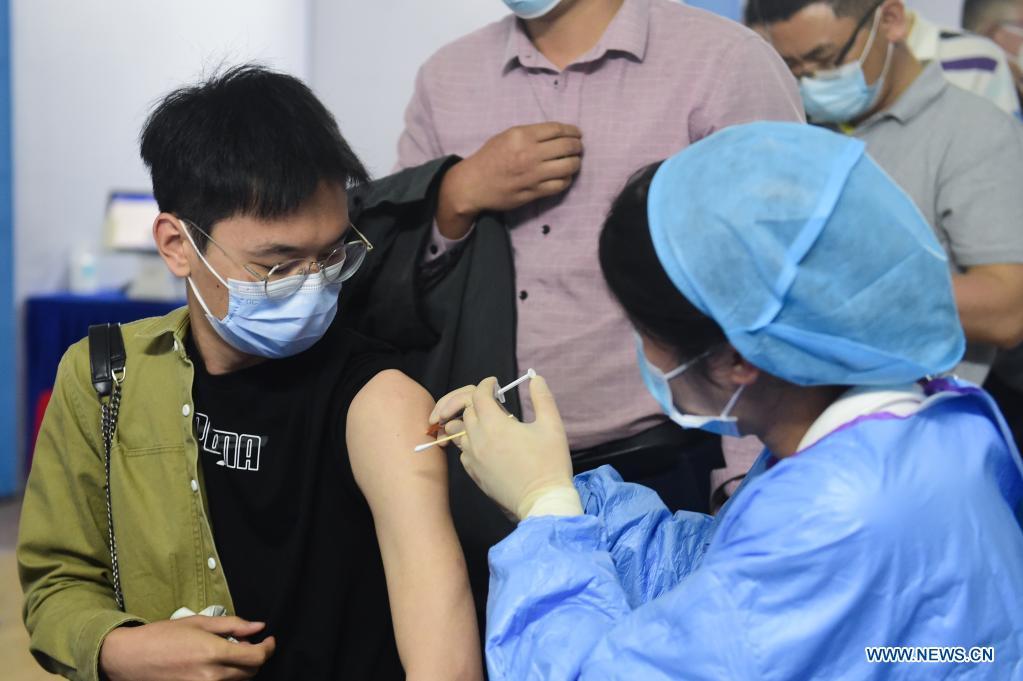 Since the country's first confirmed case of COVID-19 in more than three weeks was reported on May 13, medical workers and volunteers have conducted all-out efforts to contain the latest outbreak.
By Tuesday afternoon, Anhui province had reported seven confirmed cases and seven asymptomatic cases, while Liaoning province had 13 confirmed cases and five asymptomatic cases, according to news conferences in the regions. Liaoning reported no new cases on Tuesday, while Lu'an in Anhui reported one asymptotic case.
Thousands of local medical workers and volunteers have concentrated on massive nucleic acid testing, vaccination and helping people who are quarantined.
In Yingkou, Liaoning, where 1,788 people were quarantined by the end of Monday, 52 teams of volunteers made more than 8,000 contactless deliveries of daily necessities, said Zhang Xianbin, vice-mayor of Yingkou.
To ensure that the city was safe from a further outbreak, the municipal government of Shenyang, the provincial capital, declared on Tuesday afternoon the expansion of testing to areas beyond where the current four cases were found, with the support of over 1,400 medical workers.
Tong Mingming, a nurse in Hefei, the capital of Anhui, said that after administering hundreds of doses of vaccines to residents, she was very tired but would continue to work.
Tong had planned to take a vacation recently, since she had worked throughout the recent five-day May Day holiday.
However, she was kept on duty after the new cases were found in the city's Feixi county and the neighboring city of Lu'an.
Epidemic prevention and control authorities learned by tracking of the cases that they were related to two women who had traveled to Yingkou, and the city responded immediately.
Wei Sheng, an expert from the Wuhan-based Huazhong University of Science and Technology in Hubei province, said in a China Central Television report on Monday that the outbreak probably began in the middle of April, and authorities were still looking for the earliest case.
As the spread of the virus had been well contained in Hefei, which locked down only one hotel, the city has conducted an all-out vaccination effort, said Wang Wensong, the city's vice-mayor.
Yaohai district, where nurse Tong works, administered 50,000 doses of vaccine in just five days, according to the local government.
Zhang Xiaofeng, deputy director of Hefei's health commission, said on Friday that the city itself had been able to provide 200,000 doses each day. On Saturday, he said that 364,100 people had been vaccinated on Friday. There were enough vaccines to go around and people should remain calm, he said.
Recalling the situation in early 2020, Tong, the nurse, said she feels safer working at the front line "because we are now more experienced in handling the situation and protected by the vaccines".