Chinese public place orders, share stories to support Xinjiang cotton, refute 'forced labor' smears
Global Times
1616684145000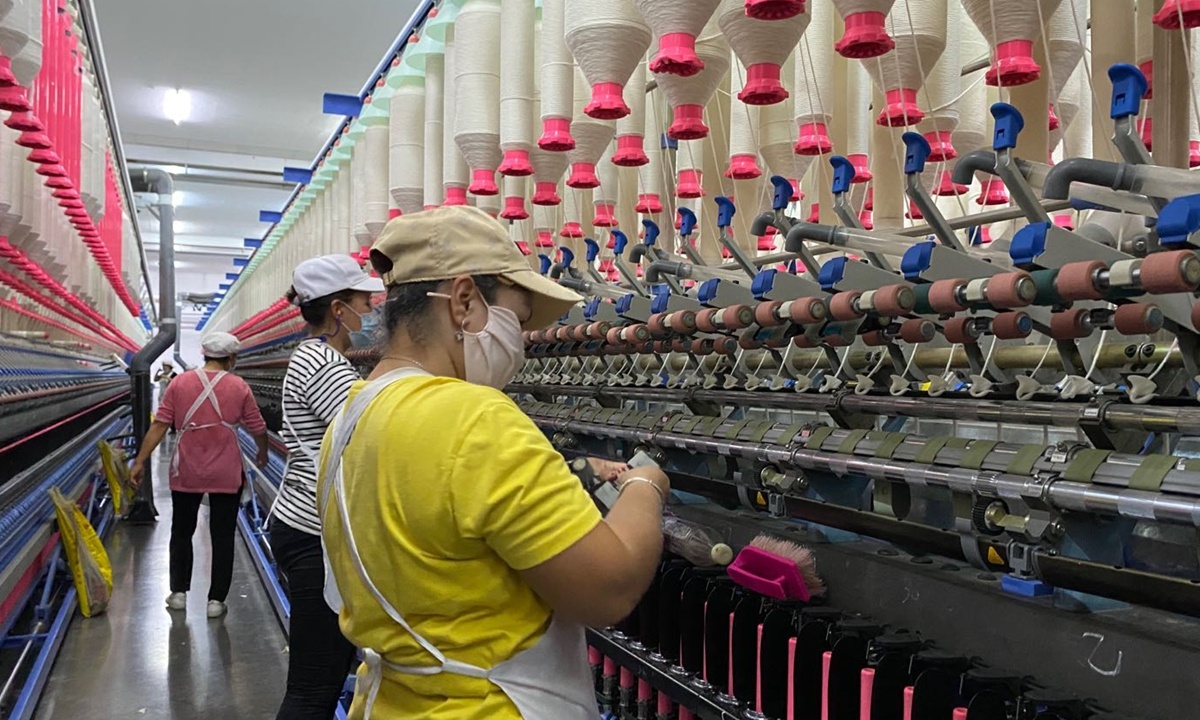 Chinese customers voiced their support for Xinjiang-grown cotton and domestic brands, and shared their personal stories to refute "forced labor" smears on Thursday, alongside calls for boycotts of foreign brands - including fast-fashion retailer H&M - over their stances on Xinjiang cotton.
"I support Xinjiang cotton" was the most trending topic on China's Twitter-like Sina Weibo on Thursday, with 10 million discussions and 2 billion views as of press time.
Other hot search topics included "What is worth buying in Xinjiang" "Recommendation of domestic brands" and "H&M alternatives."
Sports giants Nike and Adidas are also on the boycott list due to their refusal to use Xinjiang cotton. Nike stated that it will not allow its suppliers to recruit Uygurs or other ethnic minorities. Some netizens jokingly said that Adidas should learn from Nike and stop using Dilraba Dilmurat, a famous Uygur actress, to promote its products.
More than 50 Chinese celebrities have stood forward to support China's domestic cotton products from Xinjiang. Uygur actress Gulnazar posted on Weibo "I love my hometown's snow-white cotton."
Netizens shared their "pleasant" experiences of buying Xinjiang cotton products, frequently using words like "warm", "comfortable" and "durable" to describe quilts, sheets, towels and other products made out of one of the world's best cotton fibers.
Many people were amazed that the paper used to make China's currency notes contains 95 percent Xinjiang cotton. "Don't want Xinjiang cotton? Stop earning money from China," a Net user said.
People also shared stories and knowledge of the cotton industry in Xinjiang to refute Western smears including forced labor.
Videos showing cotton-picking machines driving across expansive cotton fields in northern Xinjiang amazed many, who did not know the region's cotton industry had become so highly automated. "Will Westerners accuse us of using forced labor of Transformers?" a Net user mocked.
"One or two decades ago, Xinjiang cotton farmers recruited people from populous provinces in the summer to help pick cotton, and my aunt was one of them. But today, the majority of the work is done by machines," Wei Ming, a Zhoukou resident in Central China's Henan Province, told the Global Times.
A Chinese Foreign Ministry spokesperson on Thursday pointed out that refusing Xinjiang cotton, one of the best in the world, is a loss for those brands.
The Chinese cotton industry provides jobs for people of all ethnic groups. Smearing such a good thing as forced labor only demonstrates that some countries had used slaves and cannot think in a different way, Foreign Ministry spokesperson Hua Chunying said at a press conference.
US' cotton industry developed on the blood and bodies of millions of African slaves. Exploitation is the only way that they can understand, because that is how they do things, a netizen commented.
Netizens also learned some knowledge of US history, including that the state of Mississippi abolished slavery only in 2013.
Boycotts of some foreign brands also went into physical stores. Global Times reporters observed few customers at H&M stores in Beijing and Shanghai on Thursday. Shoppers passing by who spoke with Global Times reporters said they will not choose the brand unless it rectifies its stance.
"Many domestic brands have good designs, and I shop for my clothes on Taobao most of the time, where the styles and quality are much better and prices are much lower than these brands," said a Beijing resident surnamed Zhao.
Domestic brands like Li Ning and Anta, which continuously source Xinjiang-origin materials, received public applause. Many netizens posted photos of themselves wearing clothes of those brands online. Some also shared screenshots of orders being placed with Li Ning and other domestic brands.
The stock market gave a dramatic response to the incident, with domestic brands and textile stocks showing a robust increase. Li Ning's stock price went up 7 percent.
Chinese industry observers noted that many domestic brands still cannot compete with Western ones, but the reason was not about quality but brand awareness.
Domestic brands should promote customer awareness, and enhance their technology, design, distribution and services, to take more of the market. Otherwise, China will not be able to gain a more advantaged position on the supply chain amid foreign encirclement.
When domestic brands are strong enough, they can ease some of the pressure foreign retailing brands placed on Chinese material suppliers, they said.