Animal dealers use social media to attract buyers for endangered African wild cats
Global Times
1531873063000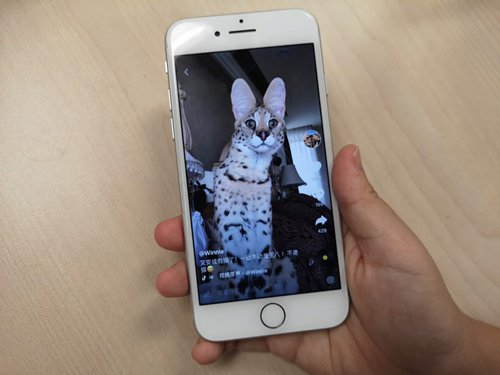 A user checks serval videos on China's short video-sharing platform Tik Tok, with her phone on Tuesday. Photo: Cao Siqi/ GT
China's young generation, especially those who work in big cities and live alone, are noted for their large portion of cat obsessives. Staying far from families, they now find companionship in cats, both virtual and real.
Sometimes their passion is so strong that they check social media constantly to see other people's cats, regarding the animals as virtual pets of their own. Every day people post millions of pictures and videos of cute cats playing with their owners, causing problems around the house or fighting with dogs.
Among these videos, the Global Times found that the serval, a wild cat native to Africa, seems to be the new favorite of cat fans. On China's short video-sharing platform Douyin, also known as Tik Tok, many users display their daily life with their pet serval, a slender medium-sized cat that stands around 60 centimeters at the shoulder and is characterized by a small head, large ears, a golden-yellow coat and the longest legs of any cat relative to its body size.
On the Red List of the International Union for Conservation of Nature and Natural Resources, the serval is listed under Least Concern. In China, it is regarded as a second-class protected wild animal.
Forestry bureau officials said raising or selling servals requires a certificate from the bureau. Animal experts warn that it is dangerous for people to domesticate the wild cat.
Undercover dealers
On Douyin, a user called Winnie has posted 70 videos, and most of them record her happy times with her serval. On Douyin, Winnie wrote, "[I am] not a cat dealer. I imported the cat from the US under regular procedures and merely share [the videos] with cat lovers."
In one video, Winnie hugs the serval gently. In another video, she lifts a toy on the other side of a glass wall to attract the cat to jump.
Winnie has 135,000 fans on Douyin, and many comments left on her videos urged her to post more because the serval is so cute.
In an undercover interview, Winnie told the Global Times that she bought the serval at a price of 200,000 yuan ($22,000), and she could sell her friend's serval to the Global Times reporter for 150,000 yuan.
She said she is allowed to raise the cat by the Ministry of Agriculture and no certificate is needed. "The serval eats fresh meat and it is easy to raise," Winnie said.
However, an official with the National Forestry Bureau told the Global Times that the serval is regarded as a second-class protected animal in China and organizations or individuals should get a permit from the local forestry bureau for import or sale.
"Without the certificate, it is impossible for her to pass through customs," said the official.
She added that the permit has various requirements, such as owning a special breeding place and wild animal knowledge. It is not easy to get a certificate to domesticate the wild cat.
Meanwhile, an insider, who has been engaged in animal protection, told the Global Times that Winnie might be a second-hand dealer. "As she seemed to know nothing about the policy, she might have bought the cat from a wild animal trading company and then tried to sell it to others," the insider said, adding that he has a way to get a serval at a much cheaper price.
However, the insider warned that because the serval is a wild predatory creature, it is dangerous to domesticate them.
Servals vanish
A search for the key word "serval" now returns no content on the platform. Douyin told the Global Times on Tuesday that the platform has already deleted the videos and shut down the accounts displaying and selling servals and will continue monitoring content based on laws, public orders and customs regulations.
It is not the first time that the platform has been exposed displaying videos showing people raising or killing protected wild animals.
On China's popular social media platform Weibo, many users informed the official accounts of the police about videos on Douyin featuring protected birds and monkeys, and even people killing them.
The Global Times found that some of those Douyin users' accounts have been shut down.
In June, the Forest Public Security Bureau of Yunnan Province cracked down on a large gang that sold live protected wild animals to several provinces including Jilin, Liaoning and Hebei after they were informed that someone displayed videos of gibbons on Douyin and tried to sell them on Wechat.
"Many of them display the videos to grab the attention of potential buyers. The way they deal is very covert and it is hard to eradicate," said the National Forestry Bureau official.