Unvaccinated elderly still at highest risk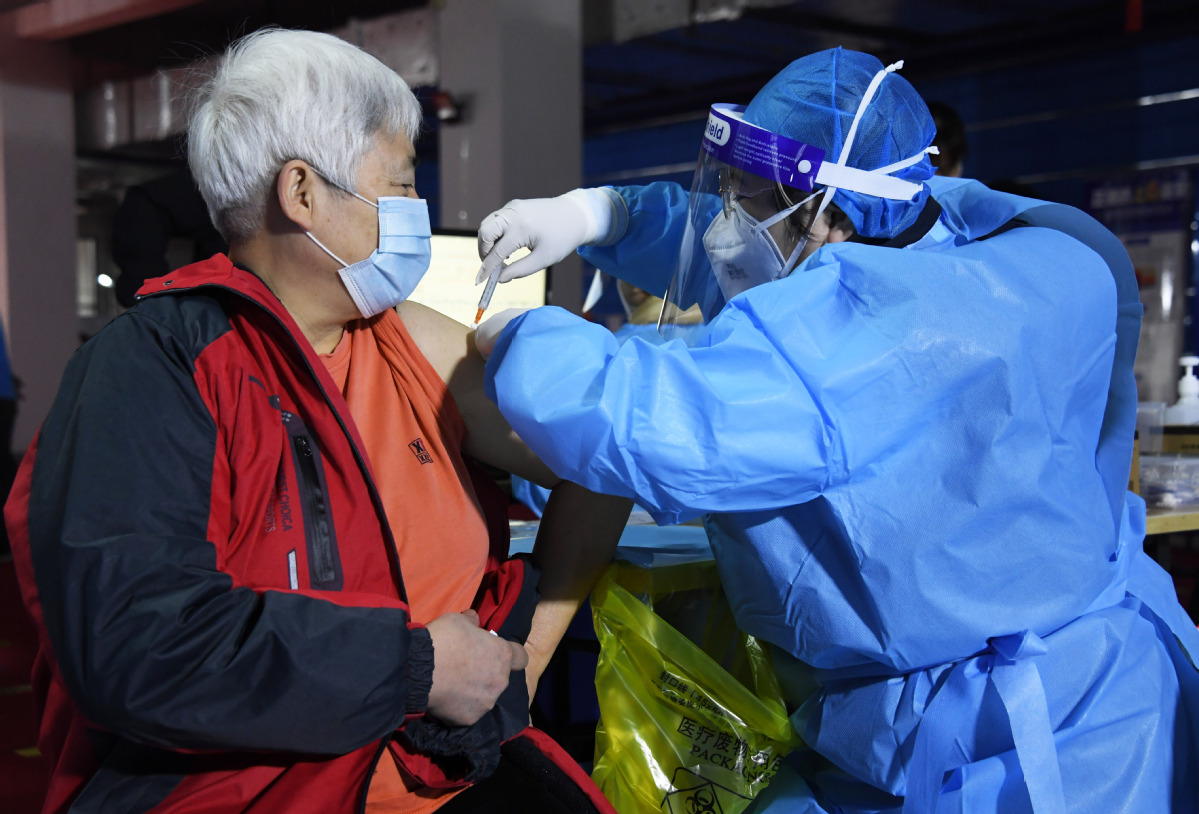 Only 65% of people aged 80 and above have been inoculated against COVID-19
Expanding COVID-19 vaccination coverage, milder variants in circulation and robust treatment systems have all contributed to the very low rate of severe cases during the recent wave of outbreaks hitting China, experts and officials said.
However, serious infections are highly concentrated in the elderly with underlying diseases and even the smallest risk can be amplified across China's huge elderly population. Despite previous campaigns aimed at increasing vaccination and booster shots for the elderly, too many remain unvaccinated and so a further push is being urged in order to protect them.
As of Sunday, the mainland had a total of 22,210 confirmed local infections — including 107 severe cases — and 207,376 asymptomatic local cases that are under medical observation, according to the National Health Commission.
In the past week, the daily virus tally has surged to over 20,000 for five consecutive days. The increase in severe infections was minimal by comparison, hovering at around a dozen each day with 26 at most, according to the commission's data.
The first deaths in nearly half a year — three seniors aged at least 87 — were also reported in Beijing over the weekend. They all had preexisting conditions such as chronic cardiovascular disease, high blood pressure or had suffered strokes in the past, and their COVID-19 symptoms were only mild, said health authorities in the capital.
Zhang Wenhong, a top infectious disease expert, said on Friday that with the rollout of effective disease control policies and the natural evolution of the novel coronavirus, the death rate of dominant strains is very low and new mutations appear to exert less harm.
But the virus is still transmitting very fast. "It has been proven that booster shots can provide an impetus for us to eventually exit the pandemic, and China should continue to push for mass vaccination, with a focus on protecting vulnerable groups."
Zhang Boli, an academician with the Chinese Academy of Engineering and a noted traditional Chinese medicine expert, said as the overall vaccination rate across China has topped 90 percent, a basic shape of herd immunity against the disease has been formed, which significantly pushes down the rate of severe cases.
"In addition, China's strategy of emphasizing preventing new infections, as well as detecting and treating cases as early as possible, has also played a key role in reducing severe cases," he said during an event on Thursday.
Guo Yanhong, head of the commission's health emergency response bureau, said last week that localities have been required to choose hospitals with comprehensive treatment capacity as designated facilities to receive serious and critical patients, as well as those with a tendency to worsen, so as to secure the quality of therapeutics delivered to them.
However, insufficient immunization coverage among China's massive elderly population remains a significant bottleneck.
The commission said on Monday that 65.7 percent of people aged 80 and above have been fully vaccinated and only 40 percent have received a booster shot.
Wang Guiqiang, head of the infectious disease department at Peking University First Hospital, said that domestic and foreign data have all proven that the elderly, especially those with preexisting illnesses, tend to develop critical COVID-19 symptoms and even die of the disease.
He said the official diagnosis and treatment protocol has identified six high-risk groups — seniors aged above 65, people with cardiovascular diseases, immunocompromised or overweight people, late-term pregnant women and those who have just delivered, as well as heavy smokers — and special attention must be paid to them.
The commission said that raising the primary and booster vaccination rate among the elderly is "essential and imperative", it said. "Next, we will make plans to accelerate mass vaccination."