Manufacturer fills toilet paper with English words, aims to inspire 'straight-A students'
Global Times
1600773486000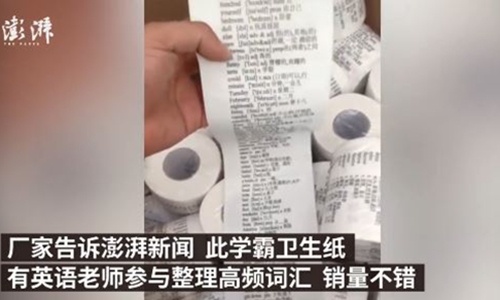 A manufacturer in Dongguan, South China's Guangdong Province, fills toilet paper with English words and says the product is specially designed for "straight-A students." Photo: Screenshot of a video posted by The Paper
Toilet paper filled with English words have attracted the public's attention recently. The manufacturer in Dongguan, South China's Guangdong Province, said the product was specially designed for "straight-A students" and that sales have been good.
The English words printed on the paper were all most used ones that English teachers spent nearly half a month selecting from the textbook vocabulary, as the manufacturer said, the Paper reported on Monday.
To promote the product, he named it "paper for Tsinghua students." Tsinghua is the top university in China and often seen by most Chinese students as their ultimate goal and an inspiration to study hard.
The paper is popular among middle school students and college students, said the manufacturer, adding that they started selling the paper in the recent two years.
Netizens showed great interest in the paper. Some said using it would increase the time they stayed on the toilet while memorizing English words, but others said the opposite was true.
"I will finish my 'agenda' and leave the toilet as fast as I can if I find this off putting paper beside me," said one netizen.