Mass testing to ease fears, Wuhan official says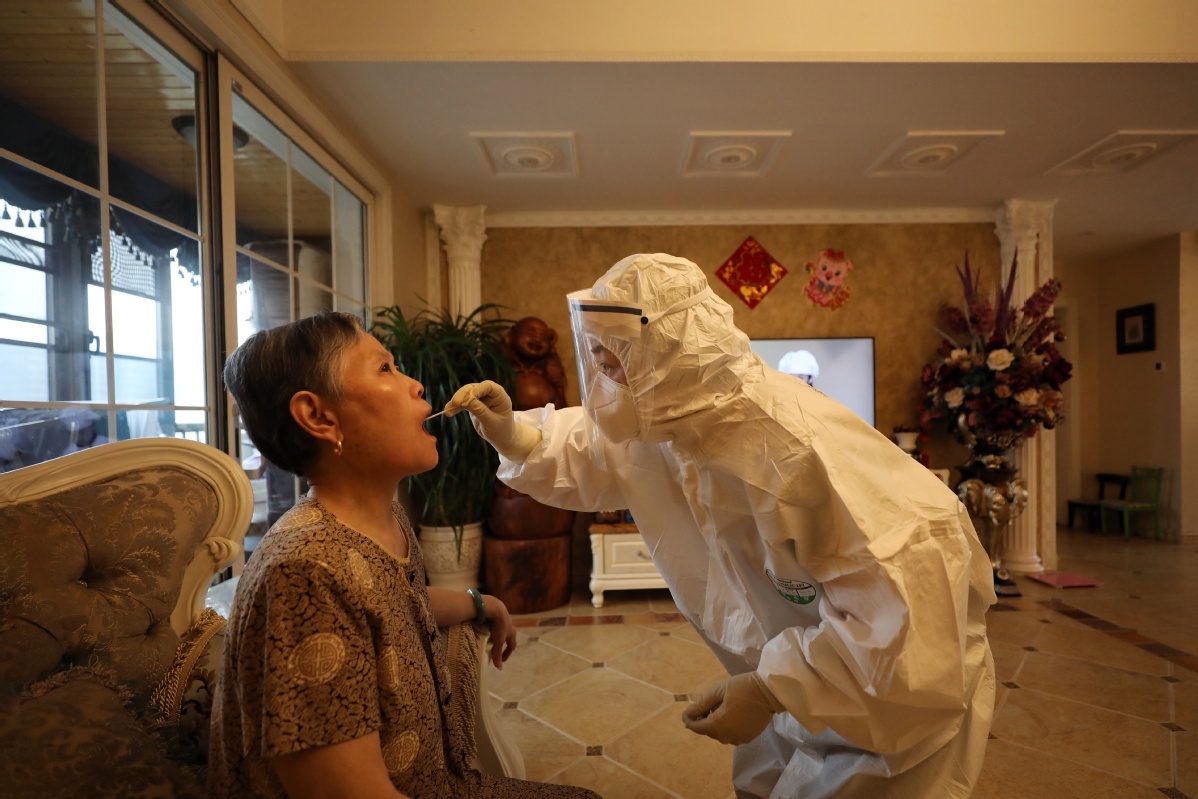 A medical worker collects a swab sample from an elderly woman for nucleic acid test at Hongshan district in Wuhan, Hubei province, May 14, 2020. (Photo: China Daily)
Mass nucleic acid testing of all residents in Wuhan for novel coronavirus infection will ease people's fears about the virus and help to fully restore economic and social order in the city, a Wuhan health commission official said.
Authorities in Wuhan launched a campaign to test all residents for novel coronavirus to quickly identify asymptomatic infections and prevent further transmission, the official said on Saturday.
It will help reassure people in Wuhan and promote a safe environment for the city to fully resume work, production, trade and schooling, the official said.
The tests will first be carried out in old or densely populated communities and communities with previous confirmed cases, he said.
Residents do not need to pay for the tests, with the cost to be shouldered by municipal and district governments, he said.
The tests will be conducted at outdoor test centers in residential communities. Community workers will notify residents to get tested at staggered time slots to prevent large gatherings of people, the official said.
Residents should get their temperatures checked, wear masks at the test centers and keep proper distance from each other. People conducting the tests should change or sanitize their gloves for each new test, he said.
Authorities will notify people immediately if their test results are positive. If they do not receive any notification, it means they have negative results, he added.
The city had conducted nucleic acid tests on more than 3 million residents before the mass testing campaign was launched. All remaining residents will receive the tests, according to a notice issued by Wuhan's city government on Thursday.
The city has reported several to a dozen asymptomatic cases every day recently, and although these cases have been put under quarantine for treatment, they still have sparked concerns, the notice said.
Li Lazhi, a resident of Wuhan's Hongshan district, said her family was tested in their community on Saturday.
Community workers reminded people to keep proper distance, and although residents had to wait in lines for the test, it was carried out in an orderly and efficient way, she said.
"I think it is very necessary to carry out the mass testing," Li said. "It will help ease people's worries about the virus, as many still avoid going out unless it is absolutely necessary."
After the mass testing, people can hopefully move on and return to normal life, she said.
No new confirmed COVID-19 cases were reported in Hubei province on Saturday, the provincial Health Commission said on Sunday.
The province had 400 asymptomatic cases under medical observation, after 10 such cases were added and 49 released from quarantine on Saturday.
By Saturday, the death toll from the virus in the province stood at 4,512, including 3,869 in Wuhan. Hubei has reported 68,134 confirmed COVID-19 cases, including 50,339 in Wuhan.