Tomorrow's technology, an indispensable feature of Beijing Expo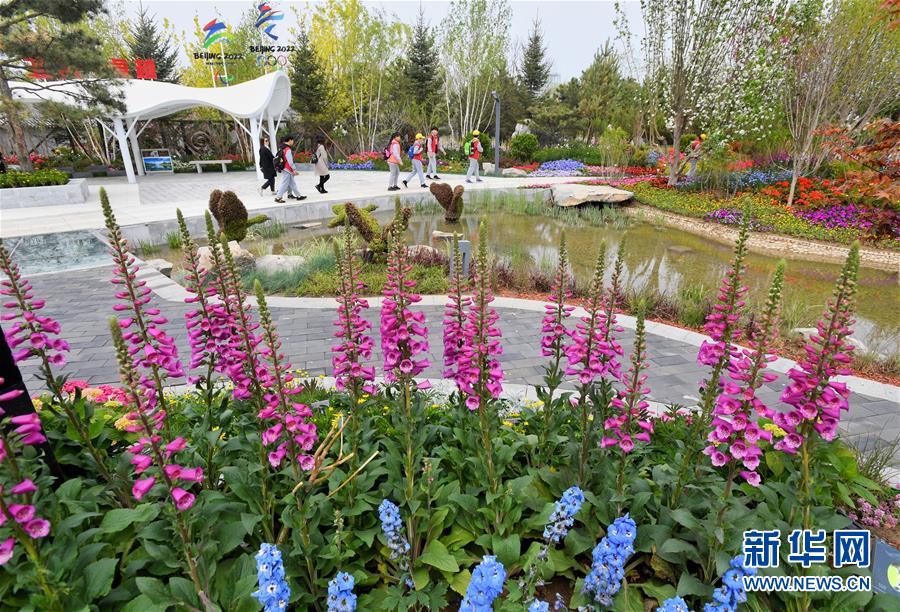 Visitors tour around the International Horticultural Exhibition 2019 Beijing in Yanqing District, April 29, 2019. (Photo: Xinhua)
BEIJING, April 30 (Xinhua) -- In the world's largest international horticulture exhibition at the foot of the Great Wall, the application of modern technology is one of the Beijing Expo's highlights that should not be missed.
On display are rainwater collection systems, a self-regulating green house, 5G-related smart lamp poles, Virtual Reality (VR) and Augmented Reality (AR) demonstrations, among others, scattered around the over-500-hectare expo site.
Exhibitors use them to tend their gardens while visitors use them to better understand the various mini eco-system or special designs featuring different countries and regions.
"We have to find ways to bring together technology and nature. By integrating them, this expo provides really interactive and entertaining places for anyone to come," said Tim Briercliffe, secretary general of the International Association of Horticultural Producers (AIPH).
SUSTAINING FRIENDLY ENVIRONMENT FOR PLANTS
According to the lead designer of the Singapore Pavilion, Jason Wright, the giant plastic tent housing more than than 2000 orchids, the national flower of the biophilic country, can work automatically in response to temperature changes.
Because Beijing is quite different from Singapore in terms of weather conditions -- a big challenge for orchids, 20 different heaters along the sides of the garden can automatically turn on when the temperature dips below 20 degrees, and when it's too hot, all the sides will unfurl while the blinds on the top will shield plants from the elements.
Concealed hoses and an extensive spray system will irrigate the plants at least once a day to maintain the proper humidity, Wright said.
For pavilions of France and Germany, rainwater collection systems installed on the walls and around the base provide a smart solution to conserve water in addition to humidifying the flowers and vertical-moss-wall.
The biggest rainwater collection system is in China Pavilion located in the center of the expo site. With most of its earth-sheltered structure embedded in man-made terrace fields, China Pavilion is specially designed to preserved heat and humidity.
Rainwater is channeled along the China Pavilion's steel girders into a storage pond underground, to be used for terrace field irrigation. Additionally, more than 1,000 photovoltaic glass panels have been installed on the roof to capture the sun's rays.
BONDING HUMANS TO NATURAL BEAUTY
Scattered in a forest of orchids in the Singapore Pavilion are pictures of animals with QR codes. Once scanned with a smart phone, you can "virtually see" Red Junglefowls, otters and Crimson Sunbirds moving on the screen of your phone in "augmented-reality".
According to Wright, these animals are the "original inhabitants" of Singapore. However, urbanization from since decades ago has brought devastating impact to them. So too, to many native orchids. Thanks to artificial cultivation and breeding technologies, these lost animals and plants have "returned" to our daily life.
"Its very lovely and a nice experience to see lots of Red Junglefowls followed by chicks every day on the way to work," Wright said.
Similar AR technology is used in many gardens, including that of France, Holland and Germany, either presenting the existing environment of bees dancing above flowers or recalling the scenes of coal mining history in German city Essen.
In the Botanical Garden, one of the major buildings in Beijing Expo, one can even "live-the-experience" of the underground world in a live-sized mangrove forest. With projections on the floor and mirror walls, the multimedia light and sound show showcases lively birds, fish, the plankton and other microorganisms, making people feel like themselves are a part of this mangrove forest eco-system.
FUTURE GREEN CITIES
Linking horticulture, landscape, and environment with modern technology is important "for shaping the future of cities" and showing everyone "how they will function in the future," the AIPH secretary general said to Xinhua.
At the exhibit booth of Czech Republic, putting a smart device in front of the white wall decorated with lines of uncompleted symbols, visitors can see on the screens completed and animated symbols standing for famous Czech brands such as Skoda and the latest innovation in science and research including facial surgery.
"We have postcards printed with the abstract symbols, which the visitors can take away and enjoy the AR and VR at home," Premysl Pela, head of the Czech Innovation Expo told Xinhua.
In addition to trendy AR and VR, 5G-related-application is one of the most remarkable feature of the 2019 Beijing Expo.
According to the expo organizer China Council for the Promotion of International Trade, there are 5G hotspots available in all pavilions.
Employers working for China Telecom, confirmed that a smart management platform with 5G application which can remotely control or monitor the function of 3398 manhole covers, 51 street lights, 1410 trash bins and 260 electric tourist cars in the site.
Better inclusiveness of the broadband and low latency, make it easier to conduct "real-time" monitoring of the installations and to separately control the street lights, which is energy saving but difficult to achieve in 4G era, according to China Telecom.
Twenty years after China held a similar-level horticulture expo in Southwestern city of Kunming, the Beijing Expo boasts a much greener, more eco-friendly and innovative society of China, predicting more changes to come in the future.