Yao Ming expects Chinese basketball reforms to pay off by 2019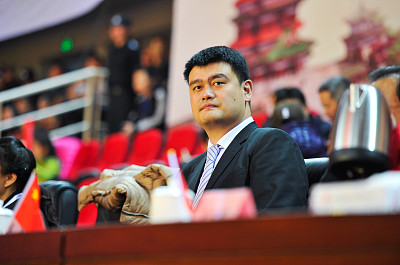 (File photo by VCG)
Yao Ming, an eight-time NBA All-Star and the president of the Chinese Basketball Association (CBA), says he expects the reforms he initiated to pay off by 2019 when China host the FIBA World Cup.
Yao, also the former backbone of the Chinese national team, is on a visit to Wuhan this week for a ceremony unveiling the mascot finalists for the 2019 tournament, which will be held in eight Chinese cities from Aug. 31 to Sept. 15 next year.
"Hosting the World Cup will inject a cardiac stimulant into Chinese basketball and make the sport develop in all aspects," said the 37-year-old on Tuesday night.
Yao was elected in early 2017 as CBA president as China was in search of new superstars and more glory for its national team, which had largely stalled since his retirement in 2011 and suffered an embarrassing no-win setback in Rio.
Yao has made a series of proposals regarding reform of the national team, professional league operation and youth cultivation.
"Before we choose the road for development, we need to make sure what fits us most and what prerequisites we already have," he said in the ceremony held at the Wanda Han Show Theater in Wuhan.
The most attention-getting of Yao's reform measures is the formation of two national teams, each with an independent coaching staff and roster, to alternately represent China at international events through 2018. The move aims to motivate coaches and players by creating competition between the two squads and involving as many young players as possible.
"Making the national team bigger and wider will enable us to see a clearer picture and make better choices," he said. The two teams are expected to merge for the 2019 FIBA World Cup and the 2020 Tokyo Olympics.
He said that some China University Basketball Association players have been allowed to play at the CBA All-Star Game because the CBA hopes to whip up basketball fever among Chinese schools and select more young rookies.
"Basketball faces stiff competition from sectors such as electronics sports in attracting the young generation," he said. "That's why we will encourage Chinese basketball to continue its cooperation with the education and entertainment sectors to create a platform where kids can enjoy learning different things simultaneously," Yao promised.