Cuban president, CPC senior official vow to deepen China-Cuba relations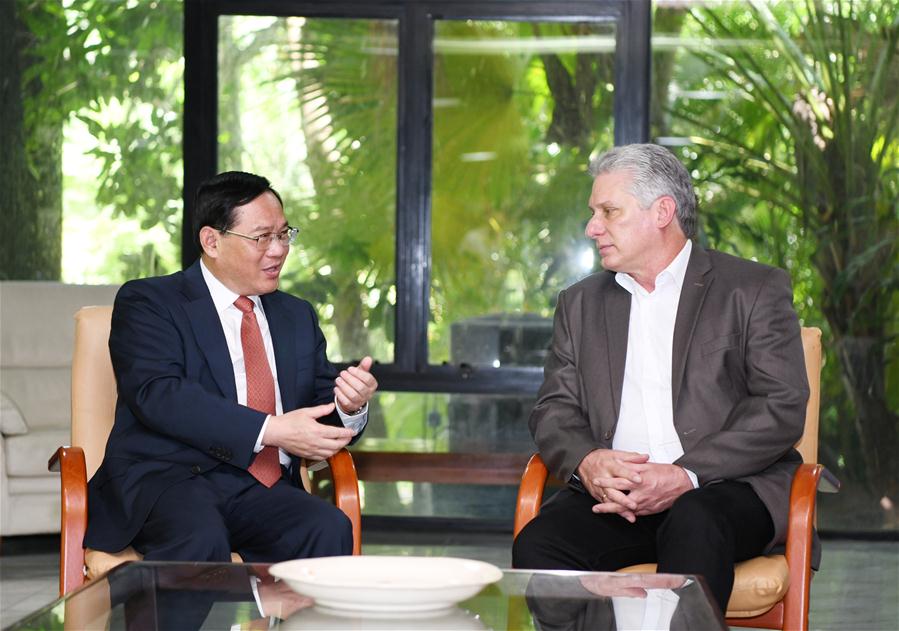 Cuban President Miguel Diaz-Canel (R) meets with Li Qiang, a member of the Political Bureau of the Communist Party of China (CPC) Central Committee and secretary of the CPC Shanghai Municipal Committee, in Havana, Cuba, July 17, 2018. (Photo: Xinhua)
China and Cuba vowed to further strengthen ties and deepen their friendship during a meeting between Cuban President Miguel Diaz-Canel and Chinese senior official Li Qiang on Tuesday.
Li, a member of the Political Bureau of the Communist Party of China (CPC) Central Committee and secretary of the CPC Shanghai Municipal Committee, conveyed to Diaz-Canel Chinese President Xi Jinping's greetings and expressed congratulations on Cuba's new leadership elected in April.

Li said the two countries are bound by the common ideal. In the new era, China will continue to steadfastly deepen its sincere, loyal friendship with Cuba, promote mutually-beneficial and win-win cooperation, be partners in reforms and development, so as to lift the Sino-Cuban relations to a higher level.

Diaz-Canel, president of the Council of State and the Council of Ministers, sent his best wishes to Xi and said that the current Cuba-China relations are at the best period in history.

Cuba is striving to upgrade its economic and social patterns, he said, adding that the Communist Party of Cuba is willing to strengthen multi-level communication with the CPC and exchange experience in socialism construction.

At the invitation of the Communist Party of Cuba, a CPC delegation led by Li is visiting Cuba on July 14-17.