China programs virtual youth icons to instill correct thinking into millennials
Global Times
1512676595000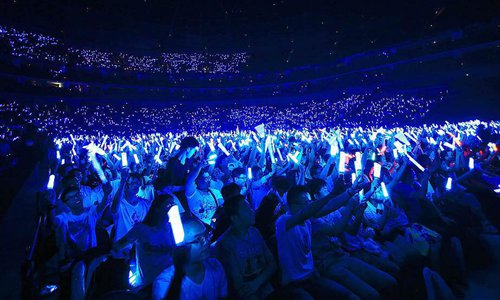 Thousands of fans cheer for their virtual idol Luo Tianyi at her Shanghai concert in June. Photo: Courtesy of Thstars


Luo Tianyi, one of China's top youth icons, is not human, but her estimated fan base of millions has gained her special attention from the Communist Youth League of China (CYLC) and other governmental organizations, who try to instill correct thinking into the younger generation with her singing.
The holographic figure, also China's first-ever virtual singer, has become a spokesperson for many popular brands as well as governmental organizations, who say that she can "promote positive values to the youth."
Luo is an erciyuan, or "two-dimensional" figure, who enjoys wide popularity in the human world, with millions of fans, mostly teenagers and young adults in their 20s. Erciyuan refers to anime, comic and game (ACG).
The official WeChat account of CYLC published an article earlier this year promoting a song named Father, which is a duet sung by Luo and a human.
"Although CYLC is 95-years-old, our heart is always with you, the young people," reads the article.
Luo Tianyi is the result of a 2012 project jointly created by Japanese conglomerate Yamaha Corporation and Chinese company Thstars, which specializes in creating virtual idols. Cao Pu, general manager of Thstars, revealed that they will further deepen their cooperation with CYLC. Luo will become an ambassador to promote Chinese culture and Made in China productions to young people.
"We will also embed hot societal topics and positive values into her songs and spread them to younger generations," Cao said.
CYLC also emphasized that, "for all kinds of subculture groups, we are pleased to see their development as long as they do no harm to teenagers."
Indeed, virtual icons like Luo Tianyi could cause zero harm to youngsters as they won't yield to any temptation like drugs or get involved in any sex scandals. In recent years, a number of popular human celebrities were found to be drug users or sex addicts. It's also not uncommon to find stars falling from the public's worshiping altar after making an ethnical mistake.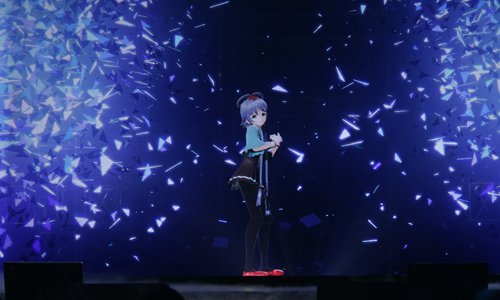 Virtual singer Luo Tianyi performs at her Shanghai concert in June. Photo: Courtesy of Thstars
Flawless model
Pure as lilies, these virtual idols now provide other solutions for organizations requiring publicity work.
Ren Li was one of Luo's earliest developers in Thstars. He later left Thstars and founded Shanghai Wangcheng, an entertainment business company specializing in virtual idols. Some governmental organizations and NGOs in China have contacted Ren's company to help develop an idol for them to promote their service to young people.
Some 90 percent of Luo's songs were created by her fans. Anyone can do so after purchasing a music editing program and voice bank software from Thstars' official shop on e-commerce website taobao.com, which costs several hundred yuan.
Every day, Cao said she views at least 100 new songs created by netizens on webshrines for Luo. The very best are licensed by the company directly from the netizen who created it and inserted into Luo's official catalog of songs for use in albums and concerts.
To keep the content "positive and suitable," Cao's company screens all uploaded material. If they find anything inappropriate, they immediately contact video websites to pull the works offline.
Cao said that Luo's fans were mostly born between 1985 and 2000. Every year, her brick-and-mortar headquarters receives thousands of gifts sent by fans for Luo, including flowers, cakes and letters.
"They (virtual idols) are easier to manage, different from real-life stars who make their own decisions and do things the way they like, which is hard to control. Virtual idols can be modeled the way you want them to be. They only show what you instill in them," said Ren.
While stars of the real world can make mistakes or even become bad role models, virtual idols remain flawless throughout time.
Ren added that he agrees with the government about carefully monitoring the content of video websites to make sure that their virtual spokespeople are not being manipulated or misused by some mischievous netizens. "Virtual idols should teach young people good things," he said.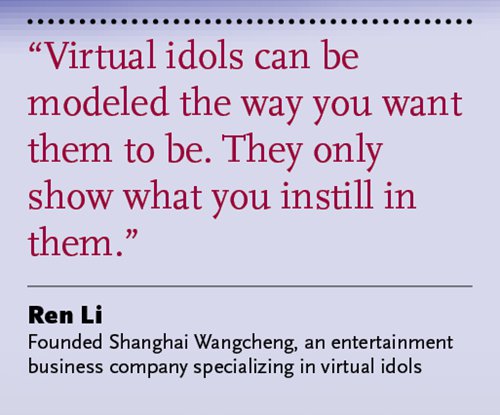 User-generated content
Different from human stars, virtual idols like Luo are created through user-generated content (UGC), according to Thstar's Cao. While Luo's physical appearance was designed by Thstars based on feedback solicited from fans, Luo's music has been mostly crowdsourced.
People simply input their own lyrics and melodies into the music editing program, which will later be synthesized based on a voice bank provided by professional voice actress Shan Xin.
A search for Luo's songs on baidu.com results in hundreds of videos uploaded onto various online communities including Bilibili, a site popular with Chinese youngsters.
While most of the videos are amateur and immature, consisting of simple lyrics and raw melodies, they nonetheless manage to attract millions of views from other Luo Tianyi fanboys and fangirls.
It is unclear if these fans are truly aware that their idol is just a hologram.
Despite the rampant enthusiasm of Luo's fans, Ren revealed to the Global Times that "they (fans) aren't willing to buy an authorized music editing program. Many just use pirated copies to create Luo's music."
A commentary article on news portal epaper.cn linked the success of virtual idols with the "database generation," who prefer simplified, "cute" symbols. It said that, during the creation of virtual idols, their looks and characteristics are made based on an analysis of big data about what young people like.
"The data is reproducible and not unique," it said.
"The relationship between the public and virtual idols is not like the worshipper and the worshipped, as in the traditional fan-and-idol mode. All people can be a creator of their virtual idols and put their imagery for perfect lives into them," read the article.
But the recent, rising popularity of virtual stars has also incurred some backlash from traditional fans who prefer human idols. Others criticized ACG technology as a sign of "not loving China," as this type of idol/anime subculture originated in Japan.
Many Chinese fans of virtual idols refute this, saying that their idols were all domestically made. Some videos uploaded onto streaming websites feature Luo singing March of the Volunteers, the national anthem of China.
Expecting more red songs
To buy a ticket to see Luo, Zhang Ying, a college student in Nanjing, Jiangsu Province, spent 1,280 yuan ($193) back in June. VIP tickets were sold out within three minutes.
The stadium lights dimmed as the eyes of over 1,000 cheering youngsters were fixed on the front stage of the Mercedes-Benz Arena in Shanghai, where their beloved idol, a digital teenage girl, began dancing and singing.
"I cried when she sang the last song of the night while the audience shouted 'encore.' The scene moved me deeply," Zhang, 20, told the Global Times.
The devoted fan revealed that she became enraptured by Luo two years ago after first hearing about her online. "I liked her appearances and voice, she is so perfect. She is more than an idol to me," said Zhang, who runs a Weibo public account about Luo to share news and songs with other followers, which presently number 6,678.
Zhang told the Global Times that she would like to hear more red songs sung by Luo. "I'll be very proud of my idol if she can also be a representative for our country's values," she said.