Xinjiang man gives back to community with elder care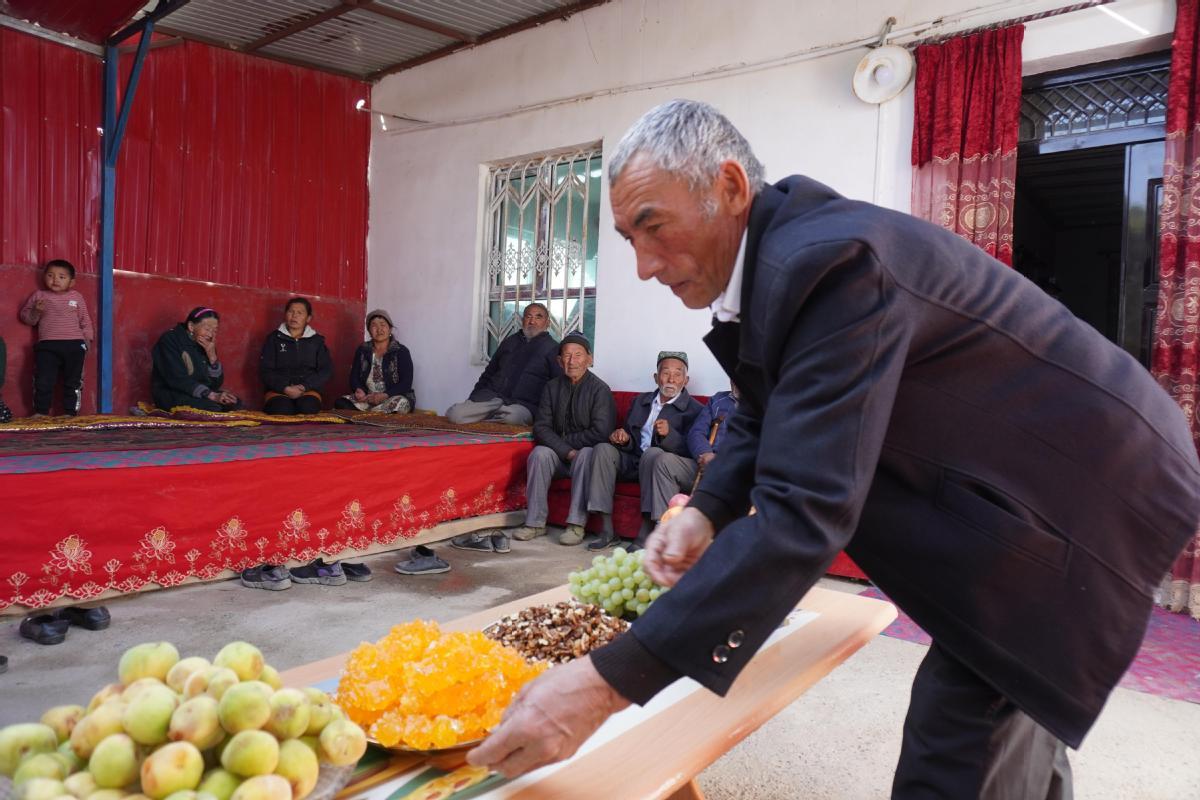 "Maisaidi Tusong has become a substitute name for 'nursing home' in Layisu village, as everyone here knows that he offers free meals to local elders throughout the year", said Yan Jiang, first secretary of the Party committee of the Becoming Family campaign ("Fanghuiju") working group assigned to Layisu village, Kunyu, by the Bureau of Commerce of the Xinjiang Production and Construction Corps.

In Maisaidi Tusong's yard, there are more than 30 elders chatting happily as Tusong serves them fruit and snacks including apples, grapes, raisins, walnuts and dates.
Tusong used to live in poverty, with an annual income of 8,000 yuan (around $1,200) in 2017. To help his family, the local government offered him a job as an eco-ranger, through which he earned around 1,500 yuan per month.
Later in 2018, after learning Tusong wanted to raise poultry to increase his income but had no money to start, the local government gave him 200 chicks for free. Four months later, Tusong sold the full-grown chickens for 85 yuan each, earning 17,000 in total.
Within one year, he shook off poverty by keeping chickens, increasing his annual income to more than 30,000 yuan.
Moreover, he started to keep ducks, sheep and cows and grow cotton and grapes. "My income this year is expected to reach around 90,000 yuan," Tusong said.
Having turned his family's life around, Tusong started to offer free meals to local people in December 2018. Every day, about 30 to 40 local elders have meals at his home, and some sleep there at night.
After learning about Tusong's good deeds, the village committee and the village's Party branch decided to set up a daycare nursing home, and Tusong offered to be responsible for it and use his home as the facility.
When asked if he felt stressed in this duty, as the daily food cost is about 500 yuan, Tusong said, "it's never a burden, and I get lots of help from other villagers and the government."
The nursing home was suspended for two months due to the coronavirus pandemic. During this period, workers from the village committee and the village's Party branch sent free food to elders' homes, according to Yan.
"We brought rice, oil, and flour here regularly, and gave them lamb during festivals," Yan added.
"Local teachers, students and auxiliary police officers come to help clean the house and bring rice, meat and flour every Monday," Tusong said. "And local health workers come to check on the health of elders for free on every Monday and Thursday".