Survey: Tobacco use declines on mainland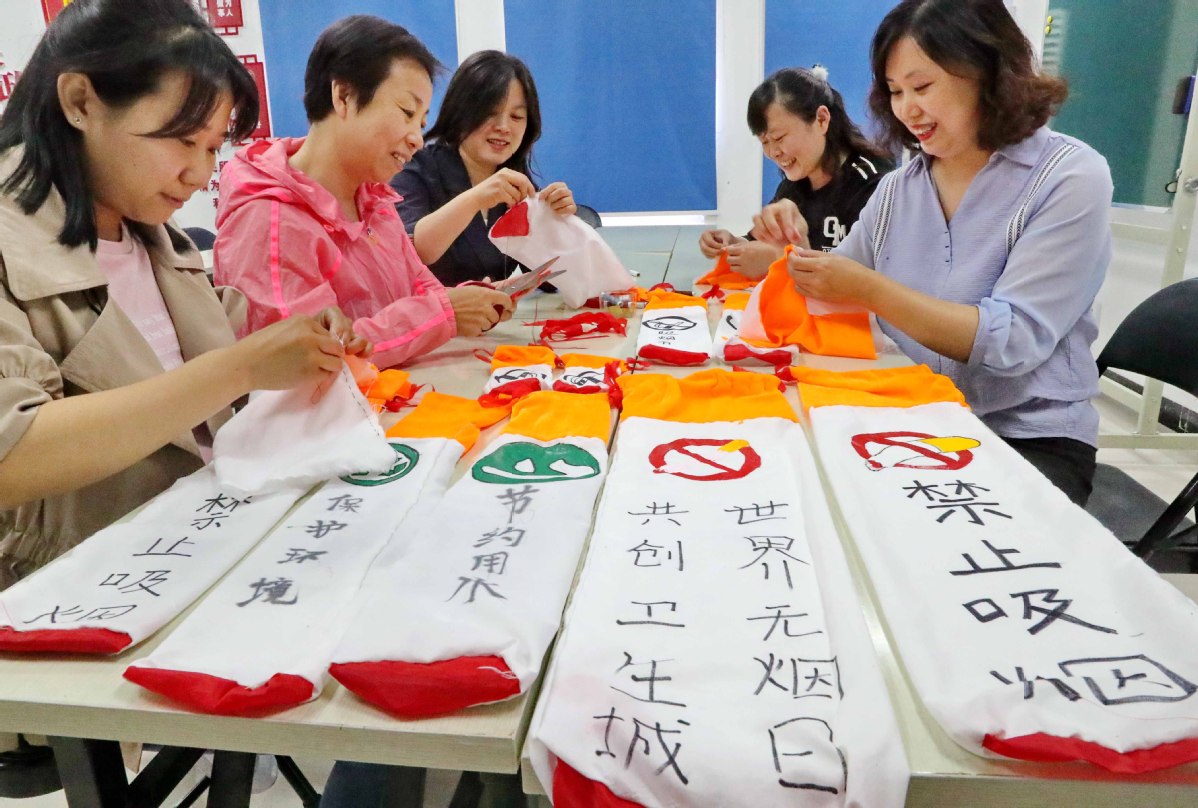 People make recycling bags to collect cigarette butts at a community in Qinhuangdao, Hebei province, on Wednesday. (Photo: China Daily)
But China CDC says more efforts still needed to hit nation's reduction target
Smoking has been declining on the Chinese mainland, but more efforts are needed for effective tobacco control, according to a survey released on Thursday.
Last year, 26.6 percent of the population 15 years old or above across the mainland were smokers, according to the survey, which was conducted by the Chinese Center for Disease Control and Prevention between July and December.
A similar survey conducted by China CDC in 2014 and 2015 showed 27.7 percent of the group smoked.
Despite a general decline, great difficulties still exist for China to bring down the percentage of smokers to 20 percent by 2030, China CDC said in a statement.
The survey, released ahead of World No Tobacco Day, which falls on Friday, showed increasing public support for tobacco control. More than 90 percent of those surveyed said they support a total ban on tobacco in the workplace, and more than 95 percent said they support banning smoking in hospitals, middle and primary schools and public transportation. Nearly 80 percent said they hope to see a ban on tobacco in restaurants.
The survey showed adult smokers generally lack the willingness to quit, with only 16 percent planning to quit within the year.
Zhi Xiuyi, vice-president of the Chinese Association on Tobacco Control, said China faces severe challenges in tobacco control to protect people's health, despite the progress made.
"To achieve the government target of bringing down the percentage of adult smokers to 20 percent by 2030, we have a lot of work to do," he said.
The biggest obstacle to tobacco control in China is the powerful tobacco industry, which is one of the biggest tax contributors to the government, he said.
Despite an increasing number of cities having local regulations on tobacco control, national legislation is still lacking, due to causes including influence from the industry, he said.
"Only a few big cities, such as Beijing, Shanghai and Shenzhen have strict tobacco control regulations and law enforcement, but in most areas in China such regulations are absent," he said. "The prevalence of tobacco has caused serious health consequences to the public, including the rising incidence of lung cancers in China," said Zhi, who is also a professor specializing in lung diseases at Xuanwu Hospital, Capital Medical University, in Beijing.
In the capital, the percentage of smokers decreased to 22.3 percent from 23.4 percent in 2014-a decrease of 200,000 smokers over the past five years-Beijing Municipal Health Commission said on Thursday.
Following the adoption of a revised tobacco control regulation in June, 2015, which bans smoking in all indoor public spaces and workplaces, legal violations involving smoking in public places such as hospitals and restaurants in Beijing have significantly decreased, Gao Xiaojun, spokesman of the commission, said at a news conference.