Officials work to relieve poverty in Xinjiang county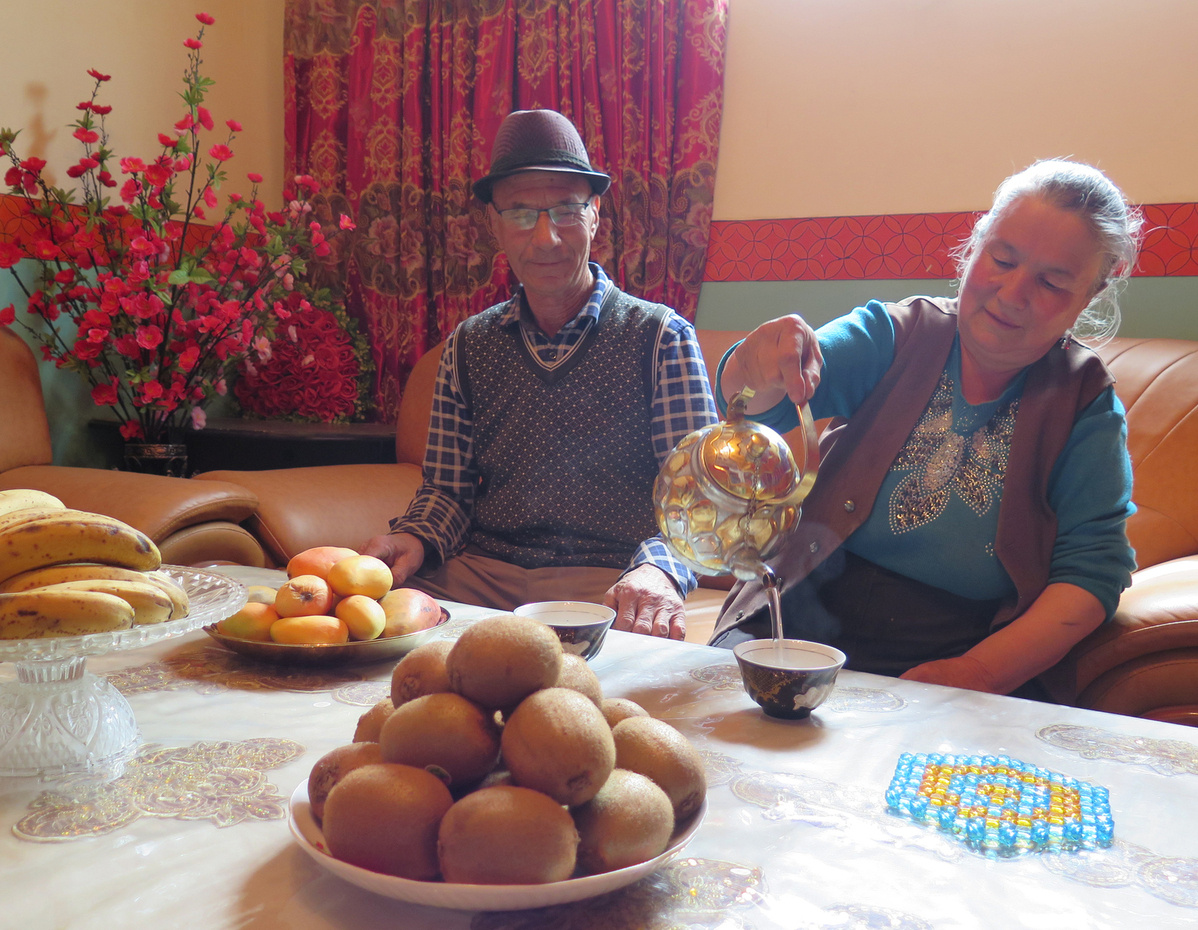 A couple in Hotan prefecture, Xinjiang Uygur autonomous region, take a rest in their living room, on April 11, 2020. (Photo: Xinhua)
Nearly 400 officials have been tasked with fine-tuning poverty alleviation measures in Moyu county, in the Xinjiang Uygur autonomous region's Hotan prefecture.
The officials-45 from the regional government and 336 from the prefecture-are studying the situation in Moyu with an aim to adjust poverty alleviation measures to local conditions.
Moyu, in the southern part of the Taklimakan Desert, has been poverty-stricken for decades due to its tough environment.
There are still 83 impoverished villages in Moyu, but another 237 have been lifted out of poverty since China launched its poverty alleviation campaign in 2015.
To achieve the goal of pulling all people out of poverty by the end of this year, the 381 officials have been divided into 21 guidance groups that have been sent to all villages in the county.
Li Shaobai, a 45-year-old official from the county's working committee, is the leader of the 18th guidance group, which is inspecting 20 villages-four of them poverty-stricken-to discover poverty-related issues that have been overlooked.
"Because of the outbreak of COVID-19, we had to stop our work in February, but since the campaign started in late January, our nine-man group has already visited 12 villages," Li said.
"Whether the issues are big or small, as long as they are a concern for the villagers or have had a negative influence on their incomes, we will gather them and report them to the local government. After the local government finds the solutions, we will oversee and fully implement the measures."
The guidance groups need to visit five to 20 households in every village that has been lifted out of poverty, as well as every household in poverty-stricken villages to understand their situation and try to find specific measures to help them increase their incomes.
A few years ago, farmer Tursuntohet Mehmet was one of the poorest villagers in Moyu's Jahanbag village and was only able to survive with the help of a local government subsidy.
"The officials in the village told us about his situation, and when we visited Tursuntohet's home, we found he lived alone and his life was a struggle," Li said. "So, together with the local cadres, we raised money for him, helped him to buy 100 chicks to raise and also found him a stable job."
Tursuntohet said his job as a village sanitation worker paid 2,400 yuan ($340) a year, and he was also eligible for an annual government subsidy of 2,700 yuan.
"With additional income from the chickens I raise, I can earn more than 6,000 yuan a year," he said.
Abulet Nurmehmet, the first Party chief of Jahanbag village, said he is thankful for the help from the team.
"Sometimes it is difficult for the people to find the problem from inside," he said. "The team helped a lot.
"They can find the problems we did not notice, and I hope that with our mutual cooperation, we can succeed in the battle against poverty here."