Authorities take action to counter increasingly intrusive UAV flights
Global Times
1554916732000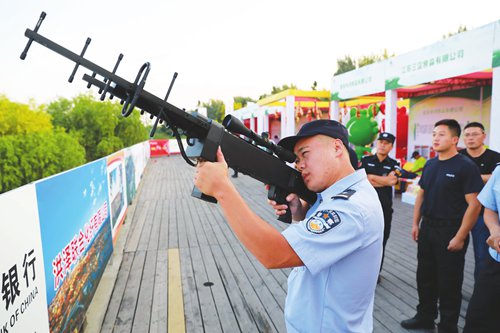 A police officer takes aim at a drone during the crab festival in Hongze Lake, Huai'an of East China's Jiangsu Province on September 8, 2018. (Photo: VCG)
When a civilian drone flew illegally into Nanjing Lukou International Airport in East China's Jiangsu Province on April 4, 2017, 14 flights were affected, causing tremendous financial losses.

Chengdu Shuangliu International Airport of Southwest China's Sichuan Province has also been disrupted on nine occasions by illegal drones, causing 135 flights to be diverted and hundreds more to be delayed, according to the China Central Television.

Civilian and commercial drones used for aerial photography have become extremely popular in China after a boom in the industry, with one online flagship store of a leading Chinese drone brand selling thousands of drones monthly. With drones now coming at an affordable price, they are an essential piece of equipment for photographers.

But this has resulted in a range of security problems, as some drones fly over private or restricted areas without permission, such as airports, military camps and prisons.

There have also been reports of intrusions by drones at concerts, sporting events, archaeological sites, scenic spots and private residences.

Additionally, the potential danger caused by accidentally falling drones has also become a public concern, resulting in growing calls recently for laws and regulations to control drones.

New rules

The State Council and the Central Military Commission jointly released a draft of interim regulations on Unmanned Aerial Vehicles (UAV) on January 28, 2018, China's first state-level strategic deployment in terms of regulation and development of drones, according to the Xinhua News Agency.

The interim regulation places drones into five categories based on weight and speed: mini, light, small, medium and large. According to Dji, China's leading drone manufacturer, 90 percent of the drones available in the Chinese market are the light type.

According to the regulation, mini drones are allowed to fly at heights below 50 meters without permission except for airspace over and around restricted areas, airports, restricted military zones and dangerous areas. Light ones are allowed to fly in airspace lower than 120 meters.
According to the regulation, national-level supervision and control platform is being considered to share information on civilian drones with public security departments. At the same time, a control and management system will be set up by the public security department.

On May 1, a regulation on drones will take effect in East China's Zhejiang Province.

The province adopted on June 1, 2017 a real-name registration method for users of drones that are heavier than 250 grams, according to the website of the Zhejiang provincial government.

One drone user, surnamed Weng, said that most operators are well aware of the no-fly zones in Wenzhou, Zhejiang, and tend to abide by the rules. Weng is also a member of the aerial photography association of Wenzhou, Zhejiang Province.

UAV providers should mount digital fences - a code that prohibits drones from flying into restricted areas - in drones and which should be protected from illegal remodeling or sabotage, according to the provincial regulation.

Weng said that some users still attempt to break the digital fence, noting that the attempt to hack the digital fence is wrong, and should be discouraged.

According to the regulation, individuals who remodel UAVs, sabotage built-in digital fences, or who fly drones in prohibited times and areas will be fined 1,000 to 5,000 yuan ($150-750).

The Civil Aviation Administration of China is also expected to release details on UAV flights and their operators.

Technical measures

In additional to government regulations, several Chinese companies are also focused on developing counter-drone technology.

Based in Shanghai, Jianzhen Technology Company specializes in developing and producing low-altitude airspace security products.

"The basic working procedure of the C-UAV system is comprised of four steps: detection, recognition, following and handling," Shuai Bo, CEO of JianZhen Defense Technology (Shanghai) Co Ltd, told the Global Times.

"Through combined intelligent detection measures such as active radar, passive target detection, infrared and optical detections, drones ascending and flying in low-altitude airspace can be detected swiftly," said Shuai.
"The drone can be recognized on a cloud platform. We continuously follow and locate the drone, generating a real-time flight trajectory. Counter-drone devices and a drone navigation deception system will then be used to disrupt their communication. Finally, the drone will be shot down by a laser net," Shuai explained.

An integrated cloud drone-control platform is a centralized remote control system that integrates information collection and sharing, instruction transfer, and online control.

Mounted with drone detection, location and handling devices, a counter-drone command vehicle can be used to operate the cloud platform, and provide customized low-altitude security solutions for various customers and venues with a maximum detection radius of eight kilometers and a minimum handling time of two seconds.

Easy to carry and flexible, counter-drone devices can switch freely from bringing about either a forced landing or diversion of an intruding drone. By disrupting drones with radio signals, the target can be handled within two seconds of being detected.

Potential market

Shuai told the Global Times that their products have also been successfully used in multiple major international events, such as the Shanghai Cooperation Organization Summit and the CCTV New Year's Gala.

Their products have also been applied in various sectors including government, army, public security departments, prisons, airports, radio management, power plants, petroleum and chemical industries, traffic control and sports.

Counter-drone devices are now available on e-commerce platforms. On one Chinese platform, hundreds of products with prices ranging from several thousand to half a million yuan are available.

According to statistics released by International Data Corporation, by the end of 2019, 3.9 million drones will be sold in China worth 60 billion yuan. In 2023, China's civilian drone sales are expected to reach 97.7 billion yuan with a compound annual growth rate of 59 percent.

Low-altitude airspace security products will also see rapid growth. The market capacity in China's low-altitude airspace management is estimated at the hundreds of billions of yuan, and the industry is currently undergoing a boom with an annual growth rate of 35 percent.