Chinese, Russian presidents hold talks
BEIJING, April 26 (Xinhua) -- Chinese President Xi Jinping Friday held talks with his Russian counterpart Vladimir Putin on the sidelines of the Second Belt and Road Forum for International Cooperation in Beijing.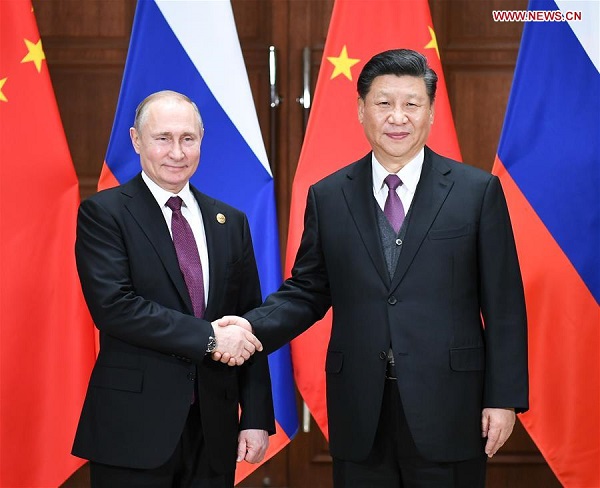 Chinese President Xi Jinping (R) holds talks with his Russian counterpart Vladimir Putin on the sidelines of the Second Belt and Road Forum for International Cooperation in Beijing, capital of China, April 26, 2019. (Photo: Xinhua)

Xi said the relationship between China and Russia has become a major-country relationship featuring the highest degree of mutual trust, the highest level of coordination and the highest strategic value since the two countries established diplomatic ties 70 years ago.
"We should always regard each other as important development opportunities, support each other and draw on each other's strength to achieve revitalization together," he said.
(Video: CGTN)
Stressing that Russia is an important partner in the joint development of the Belt and Road Initiative (BRI), Xi said the alignment of the BRI with the Eurasian Economic Union is a model of regional economic cooperation.
The two sides should continue to promote cooperation in economy and trade, energy, science and technology, aerospace, connectivity, as well as cooperation at sub-national level and people-to-people and cultural exchanges, Xi said, adding that China will send a pair of giant pandas to Russia for joint research.
Xi also noted that China and Russia should enhance coordination in international affairs, jointly defend the authority of the United Nations and the UN Security Council, uphold the international law and universally recognized norms governing international relations, firmly promote multi-polarity and democracy of international relations, and uphold multilateralism.
The BRI, proposed by President Xi, has provided an important platform and set a successful example for expanding international cooperation, and won increasing support from the international community, Putin said, adding that the presence of so many state leaders and representatives at this forum is a proof.
On the occasion of celebrating the 70th anniversary of diplomatic relations, Russia is willing to enhance high-level contacts with China, and deepen bilateral exchanges and cooperation in various fields, such as doing well in exemplary major projects in energy and connectivity sectors, he said.
The two leaders also exchanged views on issues including the situation on the Korean Peninsula and Venezuela, and agreed to communicate and coordinate closely in international and regional affairs and multilateral institutions.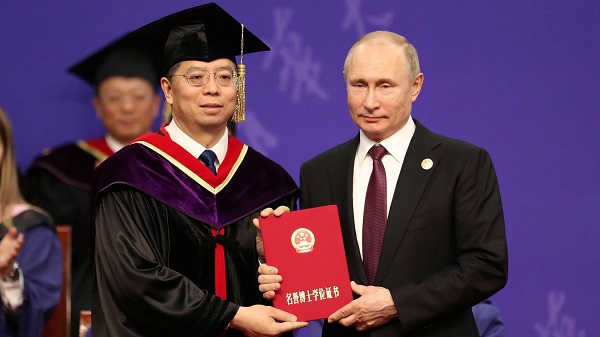 Russian President Vladimir Putin receives a diploma during the Tsinghua University's ceremony at Friendship Palace in Beijing, China April 26, 2019. (Photo: CGTN)
Also on Friday, President Xi attended a ceremony at which Tsinghua University awarded Putin an honorary doctorate.
Tsinghua University is a world-renowned university and the alma mater of President Xi, Putin said. "In the presence of my good friend President Xi Jinping, Tsinghua University conferred an honorary doctorate on me and held a grand ceremony. I feel honored and deeply touched."
"President Putin is a good friend and old friend of the Chinese people, and has made historic contributions to deepening political mutual trust between China and Russia and promoting bilateral cooperation in various fields," Xi said, extending congratulations to Putin.
Xi said he hopes young Chinese and Russian students will contribute to China-Russia friendship for generations to come.