Podcast: Story in the Story (5/10/2019 Fri.)
People's Daily app
1557436473000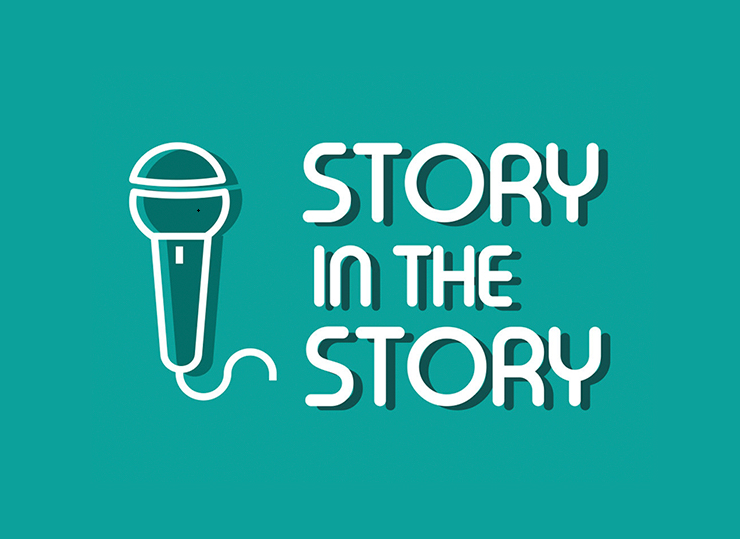 From the People's Daily app.
And this is Story in the Story.
After a wild bear killed a herdsman at Sanjiangyuan National Park in Northwest China's Qinghai Province, the victim's family received insurance compensation totaling $44,700.
It was a considerable sum as the average annual family income in the mountainous region is roughly $3,200.
The incident marked the first time a loss of human life had been covered by insurance.
In 2018, the park began providing insurance coverage for its 17,000 herdsmen who work as ecological conservationists.
"In addition to the loss of life, wild animals killing livestock is also a big issue in the area," said Gyushe, head of the park's ecological protection office.
Today's Story in the Story looks at how insurance coverage is now offered to those who work in ecological habitats where dangerous wildlife thrives.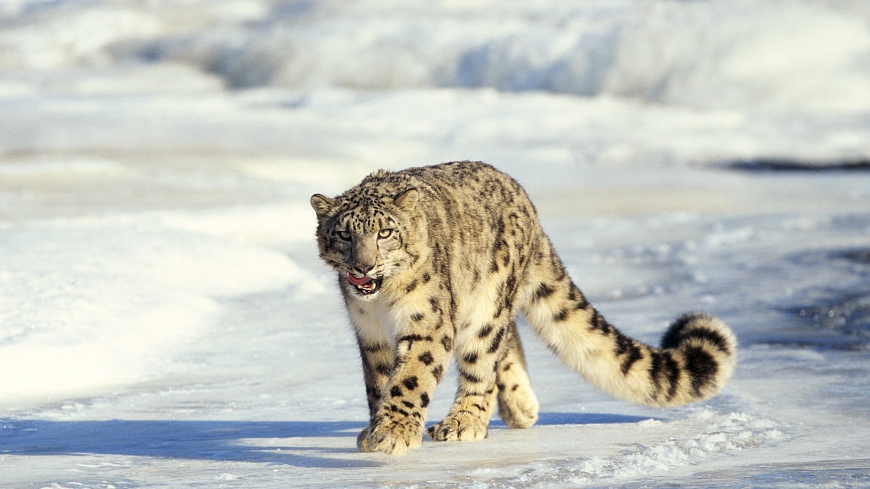 (Photo: CGTN)
Last year, a snow leopard and a coyote killed over 20 yaks owned by a herdsman who lives in Yushu Tibetan Autonomous Prefecture.
"They are beautiful wild animals and protected species. We don't want to hurt them, but we don't want to be hurt either," said Anam, a local herdsman.
Sanjiangyuan, the source of China's major rivers, is a vital habitat for the snow leopard, a Class-A protected animal in the country. Its population in the area is estimated to exceed 1,000.
The herdsman said the local government has taken measures to increase compensation to those whose livestock are killed by wild animals.
From 2012 to the end of 2017, the Qinghai provincial government had paid compensations worth of 30.5 million yuan to local herdsman in almost 6,000 cases, which mainly occurred in the Sanjiangyuan area.
The park's management committee teamed up with the Beijing-based Shanshui Natural Protection Center to set up a fund for livestock insurance.
Under the terms of the insurance policy, herdsmen pay a one-time fee of .50 cents per yak. In the event a yak is killed by a wild animal, then they can expect to receive upwards of $220 dollars per yak.
With the compensation and insurance benefits, local herdsmen have become more tolerant of wildlife.
To better protect humans in the area, the local government invited experts from Peking University and the Chinese Academy of Sciences to explore protective methods that would be harmless to wild animals.
Based on their research since 2013 in Hashul, the local government built a 2-meter-high solar-powered electric fence to protect 100 households from wildlife attacks.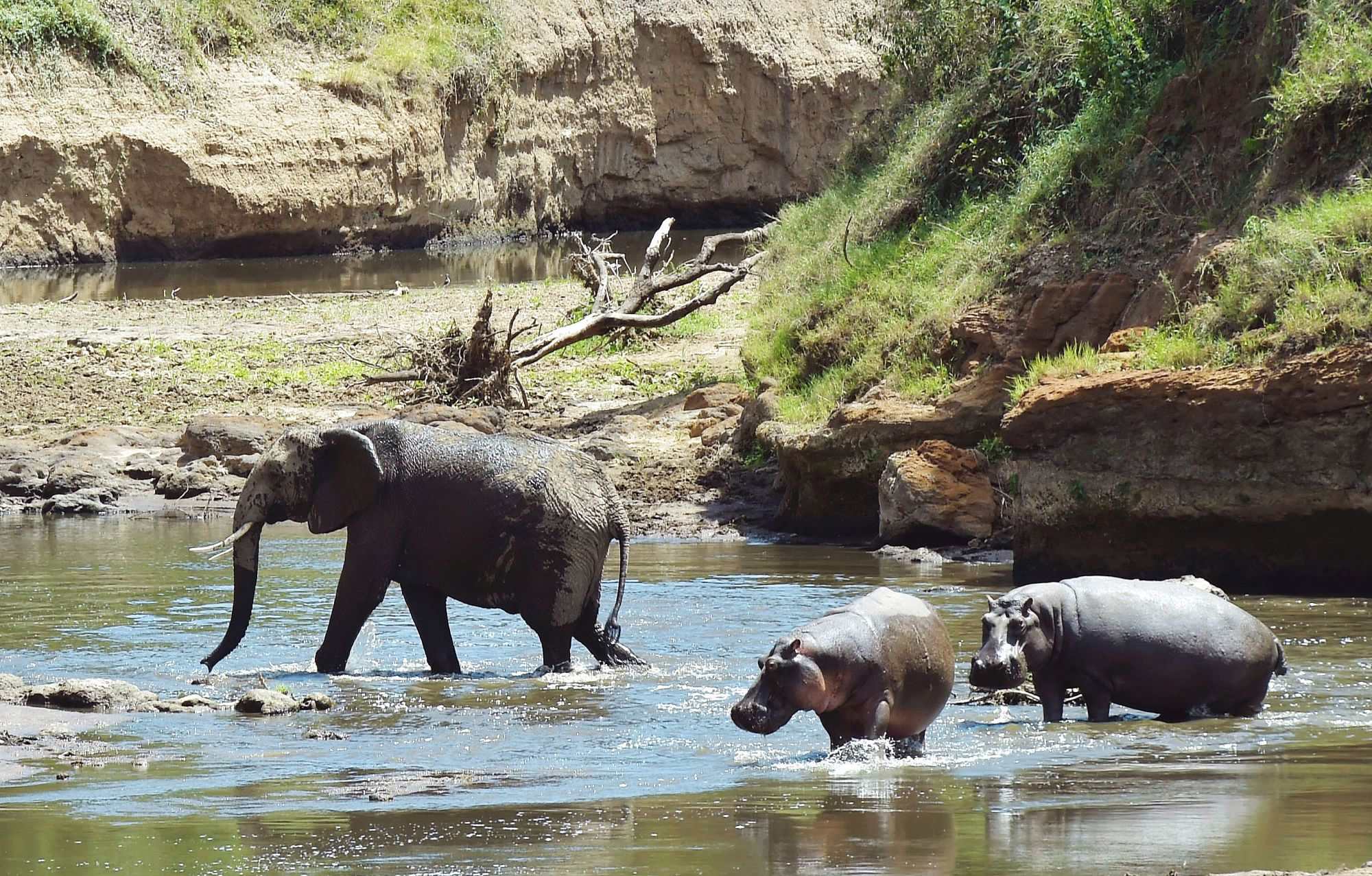 A family of elephants walk pass hippopotamus through the dried out Mara River in the Mara basin on February 13, 2017 in southwest Kenya and is one of Africa's greatest Wildlife Reserves. (Photo: CGTN)
"More efforts are on the way to address human-animal conflicts," said Xiao Lingyun, a postdoctoral researcher at the Center for Nature and Society affiliated to Peking University.
He said they hope the methods can help local people reduce and avoid encounters with predators.
The Sanjiangyuan National Park started trial operation in 2016, and it will officially be implemented in 2020.
The ecological environment has gradually recovered thanks to protection efforts beginning in 2005 along with government funding.
According to a report from the National Development and Reform Commission in 2018, compared to 2013, the grassland vegetation increased 2 percentage points, and forest coverage increased from 4.8 percent to 7.4 percent.
Besides providing compensation, the committee and Shanshui also enrolled local herders in a program that educates them on the benefits of protecting snow leopards.
"Herders from 15 households have been selected as guides for visitors. The proceeds will be shared by local households, a community fund and a fund dedicated to protecting the snow leopard," said Tashi Dongdre, secretary of the Ngong Township committee of the Communist Party of China.
"We are trying our best to strike a balance between the ecotourism and environmental protection," said British environmentalist Terry Townshend, an advisor to the program. "We provide nature lovers with opportunities to observe the wildlife and at the same time benefit the local community."
"It is great fun to make friends with nature observers worldwide. They are experts who have taught us a lot about wildlife protection," said herdsman and guide, Yonthar.
(Produced by Nancy Yan Xu, Lance Crayon, Brian Lowe, and Chelle Wenqian Zeng. Music by: bensound.com. Text from Global Times and China Daily.)