Xinjiang denies report about passports for Uygurs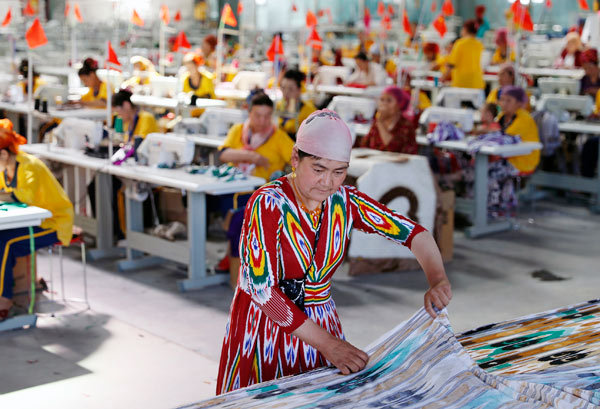 Seamstresses at work at a sewing factory in Xinjiang Uygur autonomous region. (Photo: Xinhua)
Xinjiang Uygur autonomous region officials on Wednesday denied a report that China is refusing to renew passports as a weapon to force overseas Uygurs to return to China for extrajudicial detention or imprisonment.
"Most passport renewal or reissuance requests by applicants from Xinjiang have been accepted and approved by Chinese embassies and consulates. A few were refused because their applications failed to qualify under Chinese laws or they were suspected of being involved in terrorism-related activities," Yalkun Yakup, deputy head of the regional public security department, said at a news conference on Wednesday.
According to Yalkun, the report was published by a website called the Uygur Human Rights Project, which is supported by some US nongovernmental organizations. It has carried out a "human rights investigation" and fabricated a "human rights report" to attack and smear China's policy on Xinjiang, Yalkun said.
"The report is in the guise of 'academic research', which aims to promote a so-called Uygur human rights movement and engage in anti-China separatist activities," he added.
Yalkun said the website slandered China's passport management measures and provoked Xinjiang-native overseas Chinese to misunderstand and question China's policy concerning Xinjiang through despicable means with malicious intention.
Meanwhile, officials said a recent documentary called China Undercover by the Public Broadcasting System in the United States is inundated with lies and fallacies.
The documentary attacked the vocational education and training centers in the region as well as its religious policies. It alleged that Xinjiang suppressed ethnic Muslims such as Uygurs by DNA and "facial recognition" programs.
Ilijan Anayt, a spokesman for the Xinjiang government, said during the conference that "in order to catch eyes and blacken Xinjiang, they (the filmmakers) invited some 'actors' and heaped lies, and they used groundless and distorted footage of interviews pieced together to churn out 'stories', which had already been debunked."
According to Ilijan, the government installed surveillance cameras on main roads of the cities, transportation junctions and other public areas in Xinjiang in accordance with the law in an effort to improve its social governance and effectively prevent crimes. The effort was never meant to target people from certain ethnic groups.
"According to my knowledge, improving social governance through modern technological products and big data has been a common practice of the international community," he said.
Ilijan said the documentary absolutely disregards the truth by saying the trainees were still being monitored or transferred to do forced labor after they graduated.
"They enjoy free will to choose the places and varieties of their jobs," he said.
Xinjiang has set up vocational and training centers in accordance with the law to provide courses on Mandarin, laws, vocational skills and deradicalization programs for people influenced by religious extremism and terrorism. According to the regional government, all the trainees in the centers graduated in December 2019.