Preaching clash of civilizations meant to reverse wheels of history: Chinese FM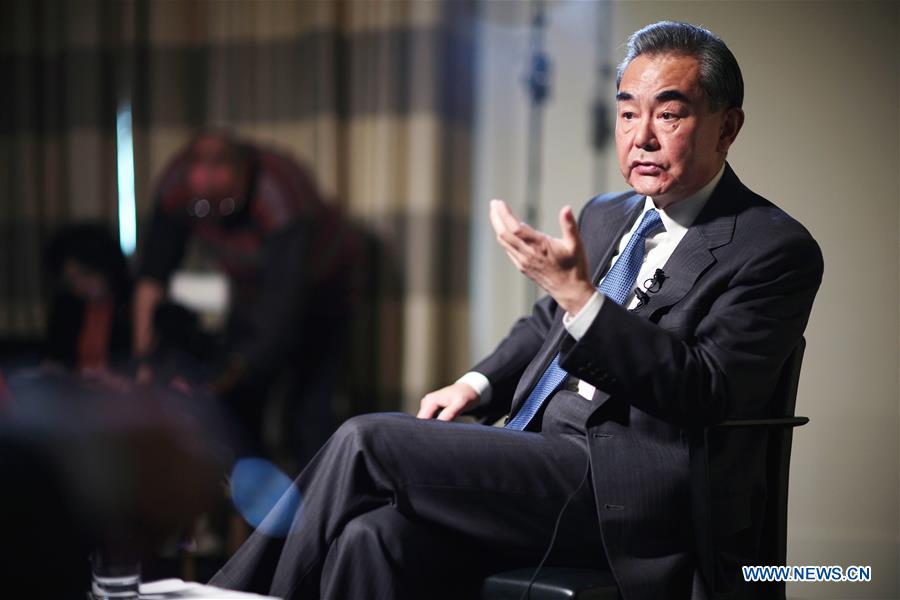 Chinese State Councilor and Foreign Minister Wang Yi speaks in an interview with Reuters in Berlin, Germany, Feb. 14, 2020. (Photo: Xinhua)
BERLIN, Feb. 15 (Xinhua) -- Clamoring for or creating the clash of civilizations are trying to reverse the wheels of history, Chinese State Councilor and Foreign Minister Wang Yi said in an exclusive interview with Reuters here on Friday.
"The so-called clash of civilizations is a false argument," Wang responded when asked whether China and the United States would inevitably move towards a clash of civilizations.
Noting that the human civilization is quite advanced in the 21st century, Wang said if anyone is trying to preach or even create the clash of civilizations, he is trying to reverse the wheels of history.
China has always advocated that all civilizations are equal and no one is superior to others as all civilizations are grounded in its unique history and culture of that particular country, Wang said.
The world is a diverse and colorful place, and we call for mutual respect and mutual learning among different civilizations and joint efforts to seek common progress, Wang added.
Those who clamor for the clash of civilizations subconsciously believe in the superiority of Western civilizations. They are not ready and do not want to accept the development and revitalization of non-Western civilizations, Wang said.
"This is not fair," Wang said, "because all countries are equal and all countries are entitled to develop."
Western countries have developed first and other countries also need faster development, Wang pointed out. "This is our integral right," he said.
Only when all nations enjoy development can our world be prosperous and stable and can we jointly build this global village better where we human beings call home, the foreign minister said.
Wang emphasized that the U.S. system and model are the choice of the American people, and China has never interfered with the internal affairs of the United States.
By the same token, the socialism with Chinese characteristics is the choice of the Chinese people and has achieved great success in China, he said, adding that the United States should also respect this choice made by the Chinese people.
For countries with different systems, as long as they observe the purposes and principles of the UN Charter, particularly the principle of non-interference in internal affairs and respect the sovereignty of countries, they will not pose any threat to others, Wang said.