Wuhan disease: New strain '80% similar to SARS coronavirus'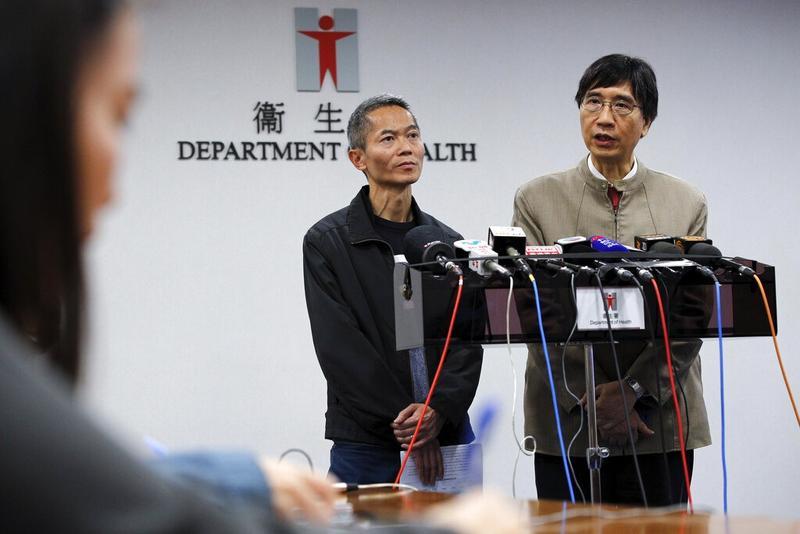 Professor Yuen Kwok-yung, right, speaks next to Wong Ka-hing, the Controller of the Centre for Health Protection of the Department of Health, during a press conference at the Health Department in Hong Kong, Jan 11, 2020. (Photo: AP)
HONG KONG – The genetic sequence of the virus that caused a mystery disease outbreak in Wuhan is 80-percent similar to that of the pathogen which caused the severe acute respiratory syndrome (SARS), according to a local microbiologist.
Yuen Kwok-yung, Chair of Infectious Diseases of the University of Hong Kong's Department of Microbiology, told reporters on Saturday that the finding was made based on the genetic sequence of the virus obtained from a specimen of a Wuhan patient.
Yuen, who met the press after one Wuhan patient with the disease died, said the sequence was revealed online by the Chinese mainland's medical authorities.
But Yuen said that there was too little information to say whether the new coronavirus could cause an epidemic like the SARS outbreak in 2003, which infected nearly 2,000 people and killed nearly 300 in Hong Kong.
Wong Ka-hing, controller of the Centre for Health Protection of the Department of Health, said all local patients returning from Wuhan with pneumonia-like symptoms were tested negative to the new coronavirus.
Also on Saturday, the Hong Kong government announced to step up temperature screening of travelers at all border control points.
Additional thermal imaging systems have been put in place at Hong Kong International Airport and more manpower assigned at West Kowloon Station to enhance temperature screening of travelers from Wuhan, according to a statement issued by the special administrative region's government.
Patients presenting with fever and acute respiratory symptoms who had visited Wuhan within 14 days prior to the onset of the illness will be immediately referred to public hospitals for isolation, according to the statement.
The government has also advised the MTR Corporation, Airport Authority and relevant airlines to enhance cleaning and disinfection on trains and airplanes arriving from Wuhan.
As of Saturday noon, the Hospital Authority has reported 60 cases that might be related to Wuhan. Among all the suspected cases, 46 have been discharged and those patients staying in hospitals are in stable condition.
With the arrangement of the National Health Commission, the city's Undersecretary for Food and Health Chui Tak-yi will visit Wuhan on Monday learn about the control measures and clinical management of the disease.
Wuhan Municipal Health Commission announced on Saturday that one man who fell ill with the pneumonia-like disease had died while seven others were in serious condition. They were among a total of 41 cases reported on the mainland.
The 61-year-old man with abdominal tumor and chronic liver disease died on Thursday night, according to the commission. He was a regular customer of a Wuhan seafood market which is believed to be the source of the disease.