South Sudan hails China's contribution to its health sector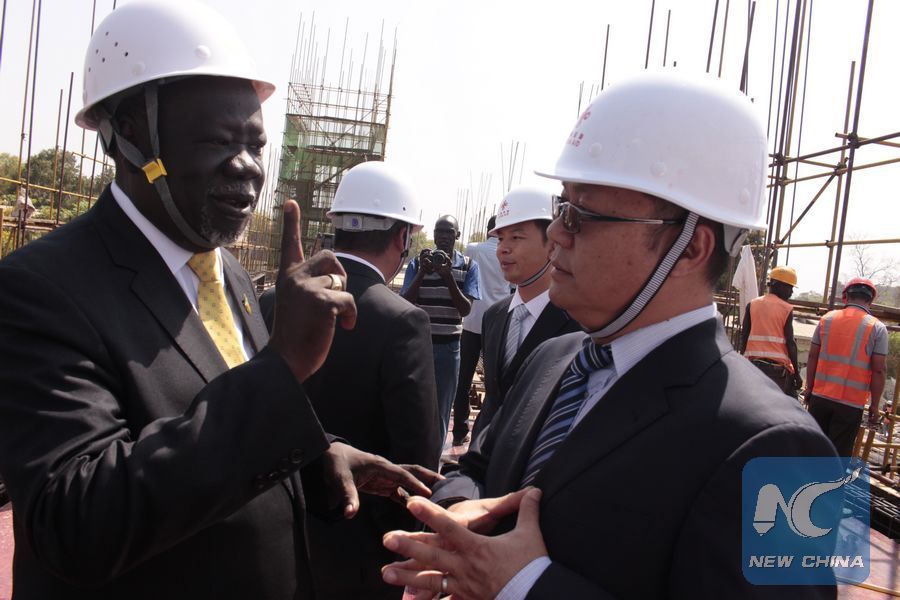 South Sudan's Health Minister Riek Gai Kok (L) talks with Zhang Yi, Economic and Commercial Counselor at the Chinese Embassy in South Sudan Jan. 5, 2018. Photo: Xinhua/Gale Julius
South Sudan has commended China's continued financial and technical assistance to the health sector of the war-torn east African nation.
Health Minister Riek Gai Kok said health cooperation between South Sudan and China in the past six years has had enormous impact on the country's health sector.
China has become South Sudan's leading donor of pharmaceuticals, grants and a major partner in capacity building for South Sudanese health professionals, the minister said.
A grant of about 33 million US dollars provided by the Chinese government in 2013 to modernize and expand health facilities in the war-ravaged country has greatly improved health care across South Sudan, he said.
Last year, China offered short training programs to over 250 South Sudanese doctors in different areas of specialization.
"Our relations with China is very excellent and we have seen what China has done to this country in the past six years," Kok told reporters during an inspection visit to a China-aided project for modernization and expansion of Juba Teaching Hospital, South Sudan's biggest referral hospital.
"The health facilities constructed by Chinese grants will go for generations providing services and standing very firm as a symbol of our relationship with China," he said.
The minister also lauded China's donation of 28 containers consisting of transport and communication devices, medical equipment to support the Boma Health Initiative, a community-based project that seeks to bring health services to grass-root communities.
"When we launched the community health initiative (Boma Health Initiative) last year, the first country to come to our support was China. They supplied us with tools, equipment, which were delivered quickly," Kok said. "That shows China's commitment to our country's health sector."
Economic and Commercial Councilor Zhang Yi at the Chinese Embassy in South Sudan said Beijing is committed to improving South Sudan's health sector by offering financial assistance and capacity building to health professionals.
"With all our struggles and efforts, the cooperation between the two countries can move the whole health sector in South Sudan and improve the livelihood of the South Sudanese people," Zhang said.
Zhang urged the South Sudanese people to embrace peace for development to take place in the country devastated by four years of civil war.
"We sincerely hope that the peace process and resumption of stability could be moving forward," he said. "Peace and development are just like twins. Without peace, you can hardly make any development, and without development, no peace can be sustained."