Peking University couple devote lives to preserving Chinese cultural heritage
People's Daily app
1516030865000
A couple's story of preserving Chinese cultural heritage went viral online on Monday.
Fan Jinshi graduated from the Department of Archaeology of Peking University in 1963 and decided to go to work in Dunhuang Academy in Northwest China's Gansu Province, while her husband Peng Jinzhang was assigned to Wuhan University in Central China's Hubei Province.
They lived in separate cities for 23 years, until 1986. At that time, Fan was allowed to leave Dunhuang. However, she refused. Her husband Peng decided instead to leave Wuhan University, where he was a founding member of the Department of Archaeology, for Dunhuang to support his wife's career.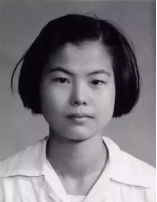 Fan Jinshi in 1955 (Photo: Chinaso)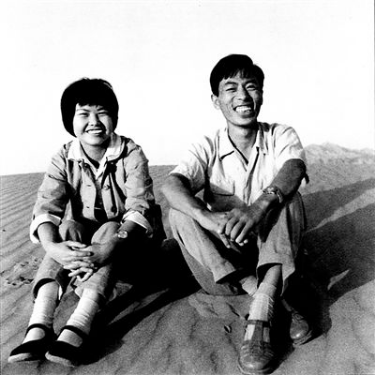 Fan Jinshi and Peng Jinzhang (Photo: People's Daily)
In 1987, the Dunhuang Mogao Caves, were listed as a World Cultural Heritage site.
Over the following 30 years, Fan focused on the program "Digital Dunhuang" —a plan to use technological methods to record and display the original patterns of the murals and painted sculptures in Dunhuang Mogao Caves, in hopes of reducing the traffic of visitors that is slowly degrading the caves.
Thanks to her efforts, conservators have also utilized technology to preserve the caves, and the surrounding environment has improved significantly.
After decades of efforts by her and her colleagues, "Digital Dunhuang" came into use in May 2016, where one can enjoy a high-resolution full digital view of more than 30 classic caves filled with Buddhist art. More caves are expected to be photographed and added to the database.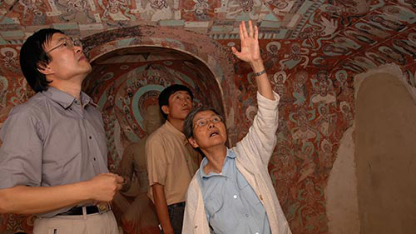 Fan Jinshi at Dunhuang Mogao Caves (Photo: CCTV)
"The longer I've stayed here, the deeper my love has grown for Dunhuang," said Fan, now honorary president of Dunhuang Academy.
Fan's deeds demonstrate her persistence and perseverance in her lifelong career of cultural conservation. Peng chose to support Fan.
Making a choice for a moment is easy, but making a choice for a lifetime means a great decision.
Fan, dubbed by the media as the "daughter of Dunhuang", and Peng, "son-in-law of Dunhuang," have spent their youth, passion and efforts on the land of Dunhuang and they will be remembered forever along with the Dunhuang Mogao Caves.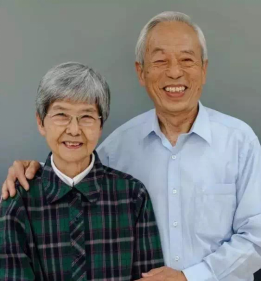 Fan Jinshi and Peng Jinzhang (Photo: People's Daily)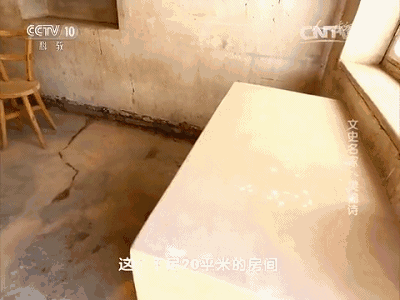 Fan lived in this poorly equipped room, with a mortar bed, a sofa and a desk as furniture, covering less than 20 square meters, for decades.
(Compiled by Liu Xiaochi)