​President Xi calls for boosting diversity of Asian civilization though dialogues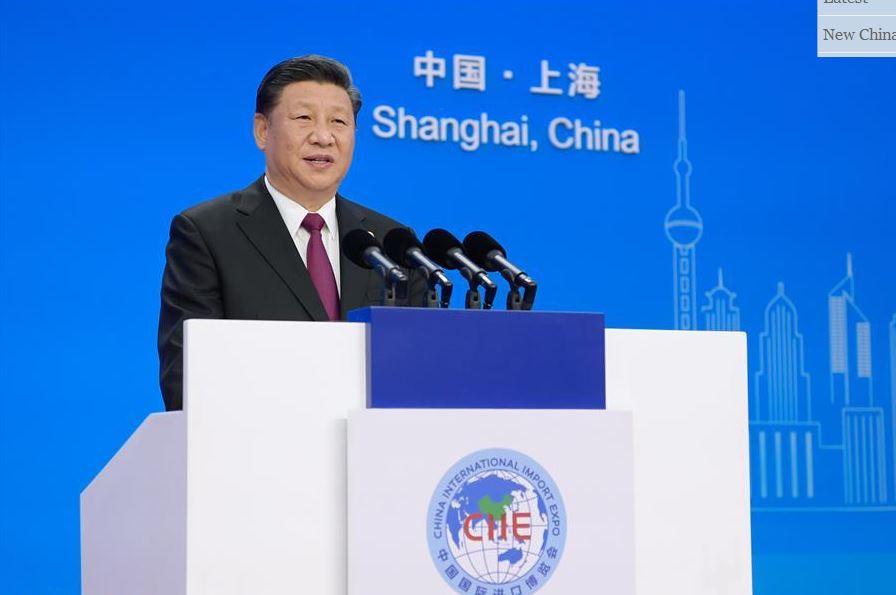 Chinese President Xi Jinping delivers a keynote speech at the opening ceremony of the first China International Import Expo in Shanghai, east China, Nov. 5, 2018. (Photo: Xinhua)
A major conference on Asian civilization is set to kick off in Beijing this week.
The Conference on Dialogue of Asian Civilizations, proposed by Chinese president Xi Jinping five years ago, will focus on cultural diversity, exchanges and mutual learning.
During his first visit to the headquarters of UNESCO in Paris five years ago, Chinese President Xi Jinping shared his thoughts on civilization which focuses on diversity, equality and inclusiveness.
" We need a mind that is broader than the sky as we approach different civilizations. Civilizations are like water, moistening everything silently. We should encourage different civilizations to respect each other and live in harmony, so that exchanges and mutual learning between civilizations will become a bridge promoting friendship between people around the world, an engine driving progress of human society, and a bond cementing world peace."
In his speech at the UN headquarters in 2017, the Chinese president noted that exchanges and mutual learning between different civilizations will help address differences and defuse conflicts.
"Different histories, national conditions, ethnic groups and customs give birth to different civilizations and make the world a colorful one. All human civilizations are equal in terms of value. They all have their respective strengths and shortcomings. There is no perfect civilization in the world. Nor is there a civilization that is devoid of any merit. No one civilization can be judged superior to another. Diversity of civilizations should not be a source of global conflict; rather, it should be an engine driving the advance of human civilizations."
President Xi Jinping's advocacy of civilization diversity appeared to resonate with the then-head of UNESCO, Irina Bokova.
"I was very proud to welcome president Xi Jinping five years ago when he outlined not only his vision on for the Chinese dream, belt and road initiative and also toward the supports for the world and mentioning how the dialogue of civilization. I think it's a powerful message to the world that we are connected. And we see the importance of interacting together."
Asia accounts for 30 percent of the world's total land area and around 60 percent of its population.
It is the central hub of some of the world's oldest civilizations, including China, India and Mesopotamia - today's modern Iraq.
Last year, the continent contributed to over one-third of the world's GDP.
Xu Lin is one of the organizers of the Conference on Dialogue of Asian Civilizations.
"We hope by hosting such an event to further promote the achievements of human civilization that created by people from all around the world. We hope to help people from different cultures and civilizations to exchange and learn from each other, thus giving impetus to the advance of human civilizations and building the community of a shared future ."
The event will bring together young people, academics and government officials from nearly 50 countries across Asia and other continents.
Experts are expected to discuss issues of regional and global significance, while young artists, movie lovers and foodies can enjoy themselves in the Asian Cultural Carnival on the sidelines of the conference.