Super Typhoon Mangkhut lands on south China coast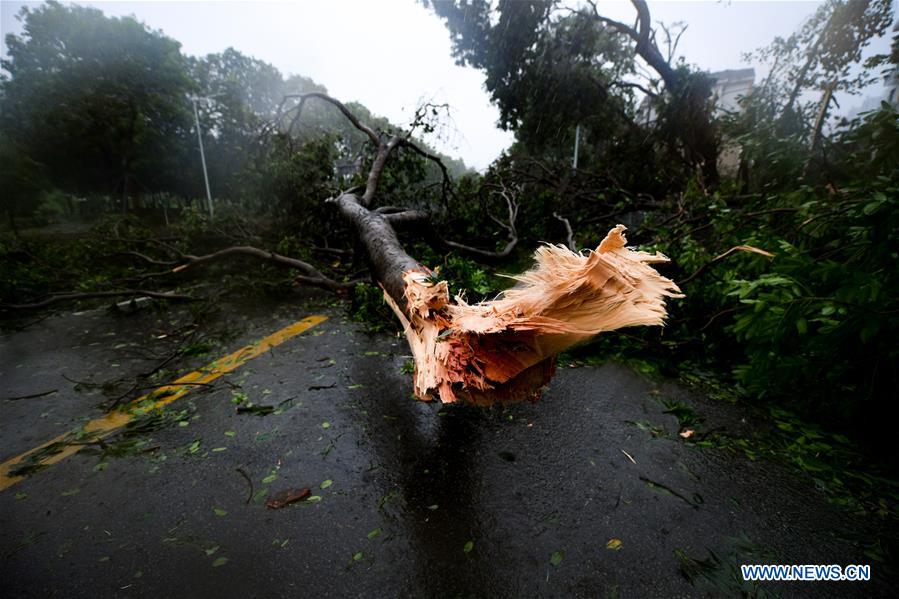 Trees are broken by Typhoon Mangkhut at Futian District in Shenzhen, south China's Guangdong Province, Sept. 16, 2018. Typhoon Mangkhut landed at 5 p.m. on Sunday on the coast of Jiangmen City, south China's Guangdong Province, packing winds up to 162 km per hour, according to the provincial meteorological station. (Photo: Xinhua/Mao Siqian)
GUANGZHOU, Sept. 16 (Xinhua) -- Super Typhoon Mangkhut landed at 5 p.m. on Sunday on the coast of Jiangmen City, south China's Guangdong Province, packing winds up to 162 km per hour, according to the provincial meteorological station.
More than 2.52 million people have been relocated, and over 48,000 fishing boats called back to port in the province as of 6 p.m. on Sunday.
Work has been suspended at more than 29,000 construction sites and 640 tourist spots were closed.
All flights were cancelled in airports of Guangzhou and Shenzhen and will be resumed starting 8 a.m. on Monday. All high-speed train services and some normal-speed rail services have been suspended in Guangdong and Hainan provinces.
According to the National Meteorological Center, Mangkhut has entered Guangxi Zhuang Autonomous Region, moving northwestward at a speed of 30 km per hour as of 11 p.m on Sunday.
About 228,000 people have been relocated in the region, and 98 flights were cancelled in Nanning, the region's capital city, as of 7 p.m. on Sunday. All rail services between Guangxi and Guangdong were suspended on Sunday.
In the region's coastal cities of Beihai, Qinzhou and Fangchenggang, over 8,000 fishing boats have returned to port, and schools will close on Monday.
Trees are broken by Typhoon Mangkhut at Futian District in Shenzhen, south China's Guangdong Province, Sept. 16, 2018. Typhoon Mangkhut landed at 5 p.m. on Sunday on the coast of Jiangmen City, south China's Guangdong Province, packing winds up to 162 km per hour, according to the provincial meteorological station. (Photo: Xinhua/Mao Siqian)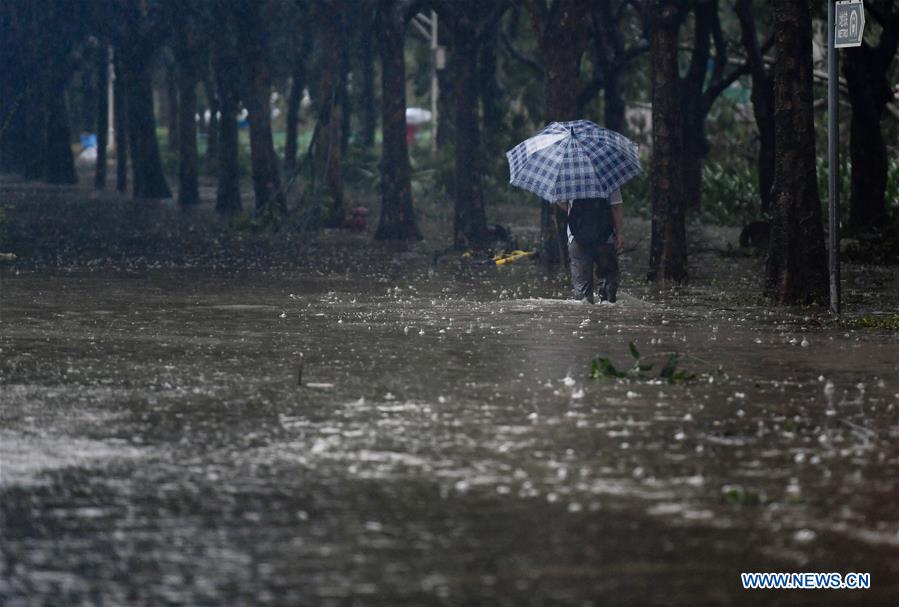 A pedestrian walks on a flooded street at Futian District in Shenzhen, south China's Guangdong Province, Sept. 16, 2018. Typhoon Mangkhut landed at 5 p.m. on Sunday on the coast of Jiangmen City, south China's Guangdong Province, packing winds up to 162 km per hour, according to the provincial meteorological station. (Photo: Xinhua/Mao Siqian)