Shanghai launches matchmaking service, offers $15,000 bonus
Global Times
1610494231000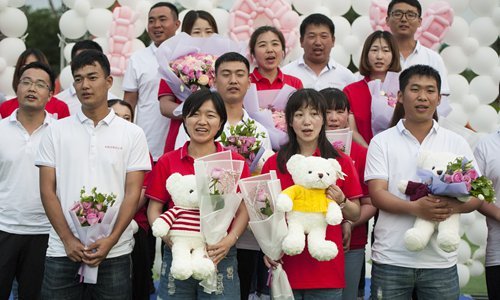 A "co-sharing matchmaking service" consisting of Shanghai's 28 matchmaking agencies was set up in the city on Monday, aiming to buck the declining marriage trend.
Member agencies of the alliance will share with each other the information about their clients, including their personal details and preferences, to expand the pool of potential marriage partners, said the Shanghai Marriage Introduction Organization Administration Association, a government-backed group that built the alliance.
The number of clients a matchmaking agency in Shanghai has usually varies from over 10,000 to a few hundred thousand, which is probably not enough for single people to find the "right person," said the association director Xu Tianli.
The co-sharing matchmaking service, by putting all the more than 1 million clients of the 28 agencies together, will "basically cover Shanghai's main single groups," Xu told the Global Times on Tuesday. "They will have much more choice," he added.
The alliance offers a bonus to encourage staffers of its member agencies to actively share information about their clients. The amount is up to 100,000 yuan ($15,440) for agents if two clients eventually get married, Xu said.
Shanghai has some 3 million single adults, according to Xu. The metropolis' marriage rate has experienced a six-year consecutive drop, falling from 10.46 per thousand in 2013 to 6.78 per thousand in 2019, according to the local civil affairs authority.
"It is not easy for single young people in Shanghai to meet and get to know the opposite sex – many of them are busy and picky," Xu joked.
The association plans to expand the service to other parts of China in the second half of 2021, said Xu.
The matchmaking service may be needed in a low-marriage but childbirth-encouraging society, but nonetheless it has triggered privacy concerns. Some Shanghai citizens reached by the Global Times said they were worried about the possible leakage of personal information by matchmaking agencies.
"It would be terrible if my information was circulated to dozens of agencies and even the whole matchmaking market," said a single woman surnamed Qian. "I'm afraid that may bring inconvenience and potential fraud risks."
Agencies' co-sharing of information on their clients can pose a threat to personal data security, legal experts said.
"Matchmaking-related information, such as one's date of birth, appearance, income, career, education background and phone number, is sensitive personal data that can be utilized in criminal activities," said lawyer and Certified Information Security Professional (CISP) holder Shi Yuhang.
"It's dangerous for matchmaking agencies with varied information security levels to share and spread this information," Shi told the Global Times Tuesday.
The service may also have legal loopholes, said Shi. China's Civil Code, which took effect from January 1, bans the act of providing personal information without the person's permission. "Matchmaking agencies must prove that they are capable of protecting the information," Shi said.
All the 28 member agencies of the co-sharing matchmaking alliance are formal, legally registered ones, Xu responded, saying information leakage or misuse won't happen as the agencies "have a good work ethic."
"Agencies won't share information on their clients without their authorization," he told the Global Times.