Martin Lee lambasted by experts for glorifying lawbreaking
chinadaily.com.cn
1587359149000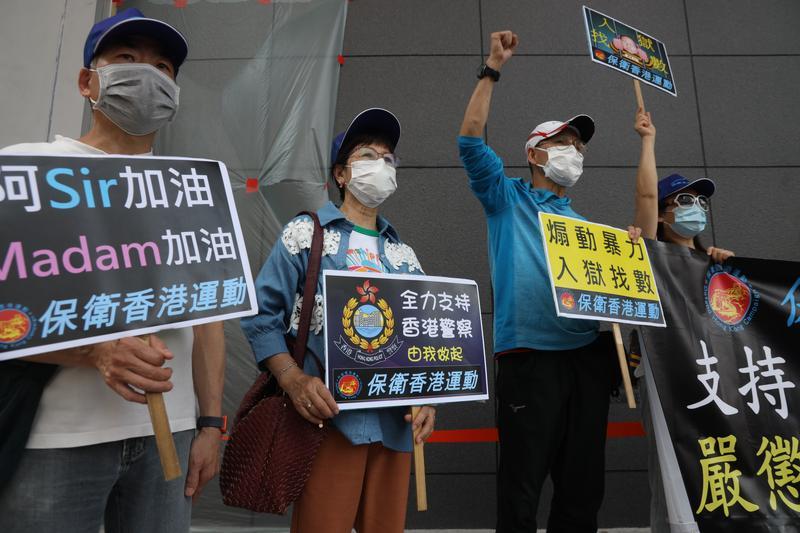 Hong Kong residents show their support for police outside the police headquarters in Wan Chai on Sunday. (Photo: China Daily)
Political heavyweights and legal experts berated former lawmaker Martin Lee Chu-ming on Sunday for publicly glorifying unlawful acts and inciting young people to break the law.
The condemnation came after Lee, who was among the 15 prominent public figures arrested on Saturday, said he did not regret his conduct. Instead, the veteran lawyer said he took pride in being caught and could now continue to "pursue democracy" with young people who had been arrested.
Barrister and lawmaker Leung Mei-fun said she was extremely shocked by Lee's remarks, as they were in fact "romanticizing" and "heroizing" illegal acts. The move has insulted the profession as well as the whole legal sector, Leung said.
Stanley Ng Chau-pei, a Hong Kong deputy to the National People's Congress, said Lee's conduct deserves deterrent penalties, considering his job as a veteran lawyer and the fact that he has repeatedly incited young people.
Ng cautioned youngsters to keep a sober mind and not to be misled.
Leung Chun-ying, former chief executive of the city, said he doubts the sincerity of Lee's remarks. Leung, currently a vice-chairman of the National Committee of the Chinese People's Political Consultative Conference, the country's top political advisory body, pointed out that although Lee has repeatedly called on young people to violate laws for political ends, his own children do not play a role in it.
"Would he feel more proud if his son was also arrested?" Leung said.
Earlier, Police Commissioner Chris Tang Ping-keung also denounced Lee's remarks.
Tang said that legal practitioners have a duty to educate young people to abide by the law. Yet Lee has failed to perform the duty, Tang said. Instead, Lee has even incited them to break the law. By doing so, Lee should be ashamed, not proud, of his conduct, Tang told the press after the arrest.
Tang also noted that some of those arrested have blamed their unlawful acts on the government. This has created bad examples for the young and also lowered the city's law-abiding awareness, Tang said.
The 15 were held on suspicion of organizing or participating in unauthorized assemblies during last year's social unrest, which caused extensive destruction to the city. They were charged with a total of 58 counts, and their cases will be heard in court on May 18.
Also on Sunday, some local residents gathered at police headquarters in Wan Chai in a show of support of the arrests.