Technology enables better stories of Tibet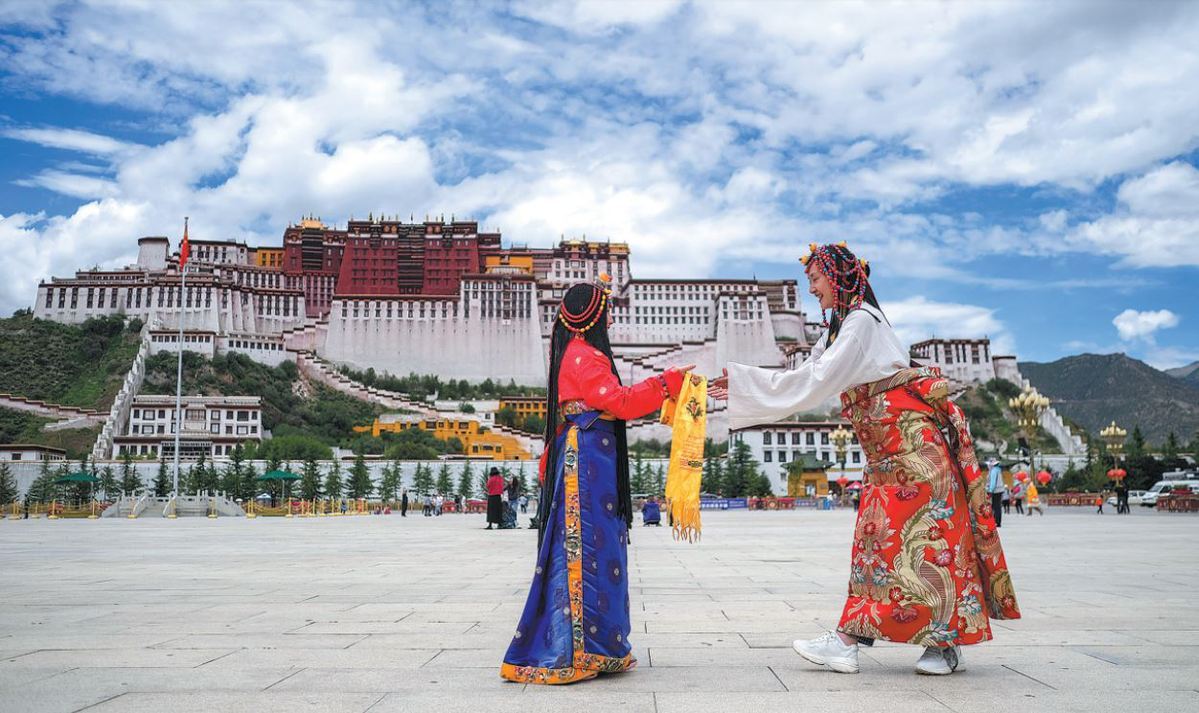 Tourists visit the Potala Palace in Lhasa, Tibet autonomous region, in July. (Photo: China News Service)
Media should make good use of technology and innovative storytelling methods to better present the Tibet autonomous region to the world, experts said at an online forum on Friday.
The forum, hosted by Communication University of China, gathered experts, scholars and media professionals from home and abroad to discuss the current status and innovative channels of international communication related to Tibet.
The forum was held after the seventh high-level symposium on Tibet-related work in late August where President Xi Jinping called for more efforts to build a modern Tibet that is united, prosperous, civilized and harmonious.
Xi, who is also general secretary of the Communist Party of China Central Committee, stressed the need to fully implement the central government's strategies for governing Tibet in the new era, aiming to safeguard national unity, improve people's well-being, as well as promote exchanges and integration of all ethnic groups.
As China has set a course for the future development of Tibet, the forum also tried to collect scholars' opinions on how to show the true image of Tibet and promote understanding across the globe under the major evolution of information technology.
Zhang Taofu, a journalism and communication professor at Fudan University in Shanghai, said different ethnic groups hold prejudices and misunderstandings about Tibet influenced by numerous factors including information channels, social background, way of thinking and cultural identity.
Therefore, to understand the real Tibet, the power of communication and media is very important, Zhang said, adding that today's media can make effective use of the internet to break barriers and create exchanges between different social and cultural identities.
Zhang Shuting, vice-president of Communication University of China, said the spread of Tibetan culture faces a few challenges.
People tend to fantasize Tibet because the geography and climate of the region have prevented a large number of people from personally experiencing the region.
"So the first challenge is how we can show a true, comprehensive and deep subject of Tibetan culture," he said.
He said Western stereotypes toward Tibet, cultural gaps between ethnic groups, and media productions in large numbers but of low quality are also some of the biggest obstacles to present a true picture of Tibet.
Zhang pointed out that the communication of Tibet stories requires continuous efforts and investment from all parties in society over the long term. With changes in the international situation, the progress of communication technologies and the development of media forms, the communication work, content and methods need to be constantly updated.
He said one of the methods includes finding specific, concrete cultural subjects and then selecting appropriate ways to express them. Historical stories, for example, can be kept alive via museum exhibitions, documentaries, news reports, film production and theatrical performances.
"It needs constant exploration and practice," he said.