Quake volunteer stays to build new life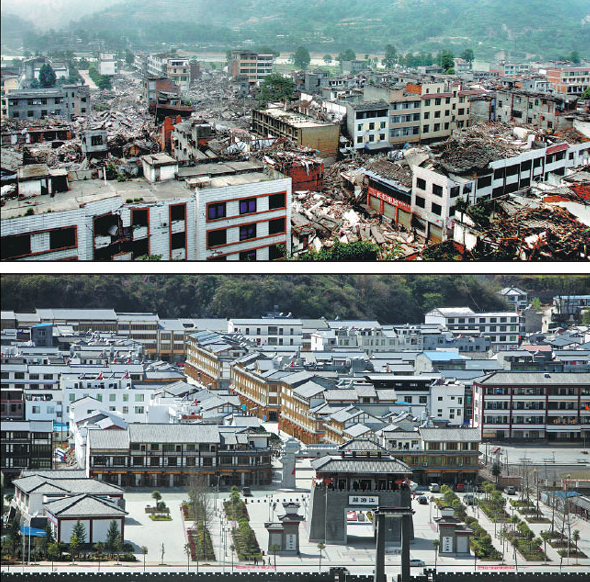 Above: Nanba town in Mianyang on May 16, 2008, after it was destroyed by the Wenchuan earthquake. Below: How the town looks now after being reconstructed. XIANG YUANMU/FOR CHINA DAILY
Hebei native smitten by survivors' resiliency moves to Mianyang
Qi Jianfeng never imagined a disaster far from home could have such a major impact on his life.
Ten years ago, Qi went to a small town in Sichuan province - about 1,000 kilometers from his home in Shahe, Hebei province - as a volunteer to help locals rebuild after a devastating earthquake.
Nanba town in Mianyang was one of the areas hardest hit by the magnitude 8 quake that shook Wenchuan county on May 12, 2008. The town was about 180 km from the epicenter.
The temblor left more than 1,300 residents of the town dead and over 14,800 injured, and most of the buildings were flattened, Qi said.
"After seeing on TV the horrible scenes caused by the quake, I felt restless and yearned to go there to help," said Qi, who at the time was a 24-year-old student at Hebei University and about a month away from graduation.
"As a young man, I wanted to do anything I could to help the people who had lost their families or homes."
Qi enrolled in a volunteer group organized by the Central Committee of the Communist Youth League of China as soon as he heard it was recruiting from universities nationwide to participate in disaster relief efforts.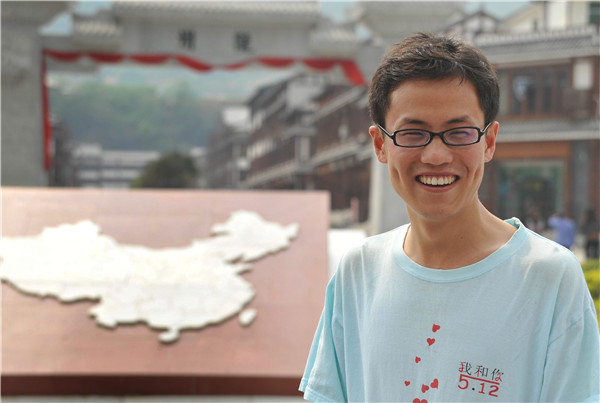 Qi Jianfeng visits Nanba, where he spent about three years as a volunteer. YAN JUN/FOR CHINA DAILY
"My mother was opposed to my decision, saying it was too dangerous and it was very important for me to find a good job right after graduation," he recalled.
He said he could understand his mother's concerns, but with support from his father and his own eagerness to make a contribution, he set off for Sichuan in July 2008.
When he arrived, about two months after the earthquake, the rebuilding work had begun in earnest.
"Like the displaced residents, I lived in a camp. I shared with three civil servants for about five months," Qi said.
As a helper for the town government, his job was to carry out tasks such as helping residents fill out paperwork or informing them of the measures the government would take to rebuild their homes.
"Few residents were educated, so they would need help if they had to fill out forms to apply for government assistance," Qi said, adding that nothing he did was spectacular but everything was urgently needed. He said he felt gratified because of this.
During this time, he also listened patiently to residents who were struggling to cope with the shock and grief caused by the disaster.
He recalled Chen Shi, a man age about 35, who came to visit every other day for about a month. "He told me his daughter's legs had been crushed in the quake and had to be amputated. His home was destroyed, too. He had nothing left," Qi said. "Chen's tears ran down his face every time he talked about his loss.
"I didn't know how to console him. I just listened carefully so that he had someone to talk to, hoping it would help ease his sorrow."
Qi's job in quake-ravaged Nanba lasted about three years. By then, the rebuilding work was almost done and most volunteers had left Mianyang, but Qi stayed on.
"I didn't leave because three years of contact with the locals had given me a feeling for the town and the people," he said.
Qi witnessed the place transformed from ruins to a newly built town, and he said he wanted to stay behind to see more.
What also attracted him was the beautiful scenery in the mountainous area and the residents' simple goodness. "People here cherish life more, and they better understand fortitude and gratitude," he said.
He has remained in Mianyang ever since, working with various government agencies. He occasionally returns to Nanba to visit locals he met while working as a volunteer.
"I have a stable job here, have bought an apartment, and I plan to start a family in one or two years," he said.