China, Kyrgyzstan agree to enhance ties to new heights
BISHKEK, June 13 (Xinhua) -- Chinese President Xi Jinping and his Kyrgyz counterpart, Sooronbay Jeenbekov, held talks here Thursday, agreeing to take their countries' comprehensive strategic partnership to new heights.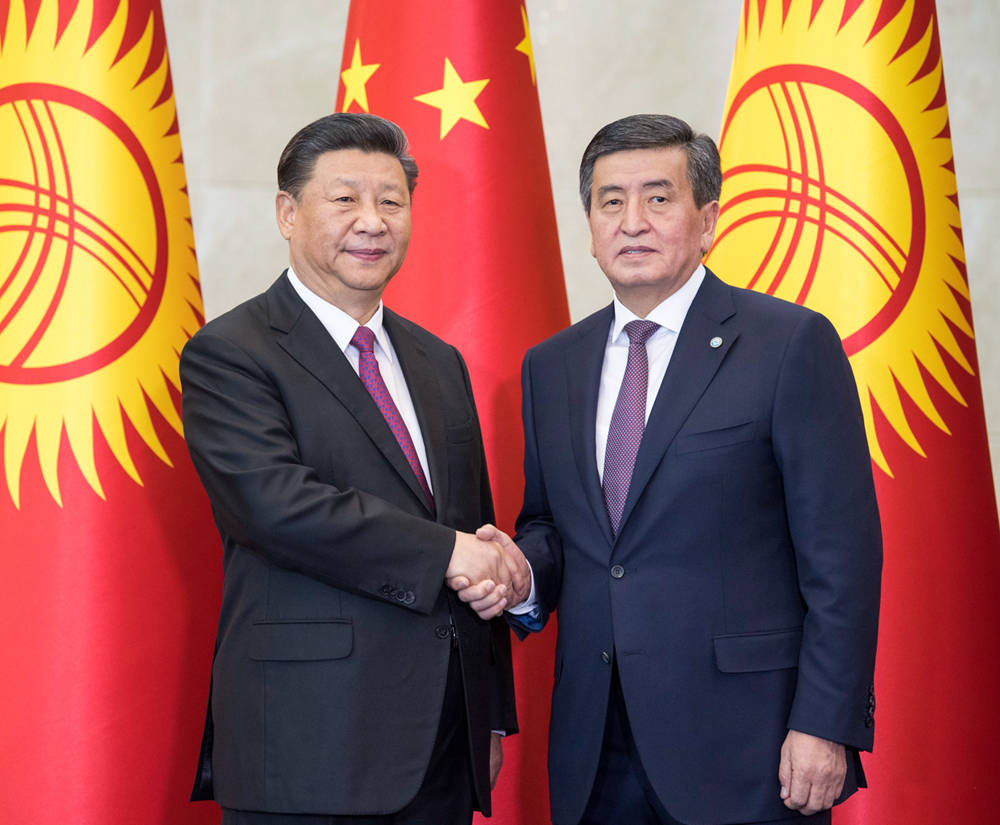 (Photos: Xinhua)
Xi arrived in the Central Asian country Wednesday for a state visit and the Shanghai Cooperation Organization (SCO) summit.
China-Kyrgyzstan relations have withstood the test of international vicissitudes and achieved leapfrog development over the past 27 years since the establishment of the diplomatic relationship. The two countries have set a fine example of a new type of state-to-state relations featuring mutual respect, equality and win-win cooperation, Xi said.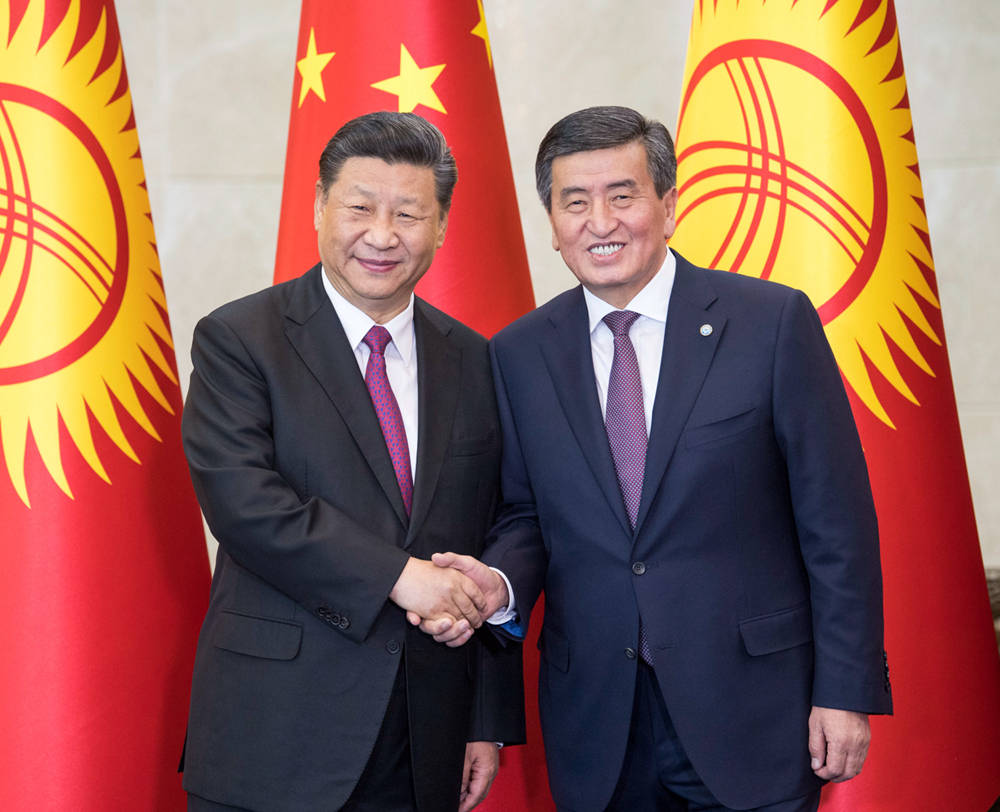 China will continue to support Kyrgyzstan's own choice of its development path and all policy measures taken by the Kyrgyz government to safeguard national independence, sovereignty and territorial integrity, Xi said.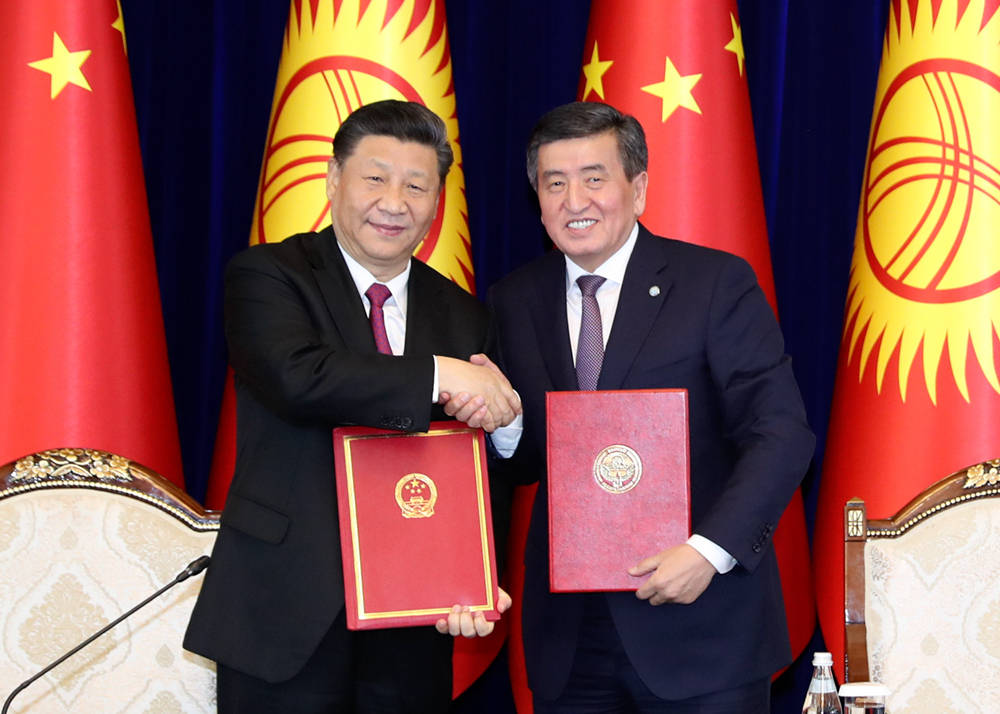 Xi also said China is ready to join hands with Kyrgyzstan to deepen their traditional friendship and mutually beneficial cooperation, so as to better benefit the two peoples.
The Chinese president stressed that jointly building the Belt and Road has become the focus of China-Kyrgyzstan cooperation, calling on the two countries to deepen the alignment of their development strategies, tap new potential of partnerships and explore new space of cooperation.
Cooperation in trade and investment should be expanded and major programs must be well implemented, Xi said, adding that China is willing to import more green and quality agro-products from Kyrgyzstan.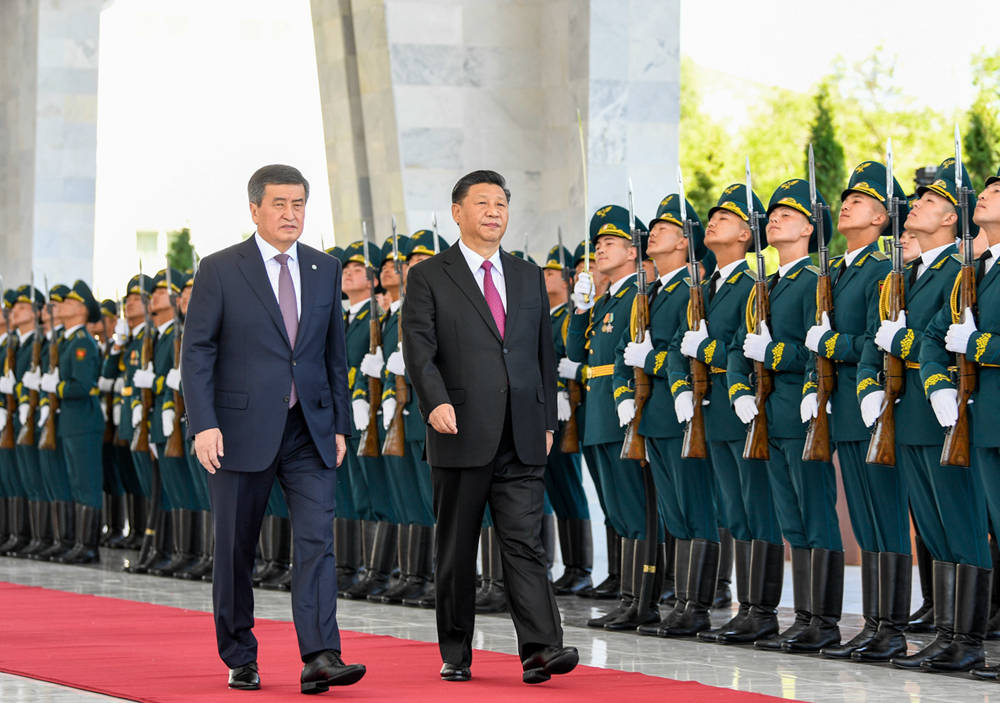 China will continue to support Kyrgyzstan's economic and social development, including jointly building drinking water facilities, roads, hospitals and other projects to improve people's livelihood.
Xi also called for closer people-to-people and sub-national exchanges.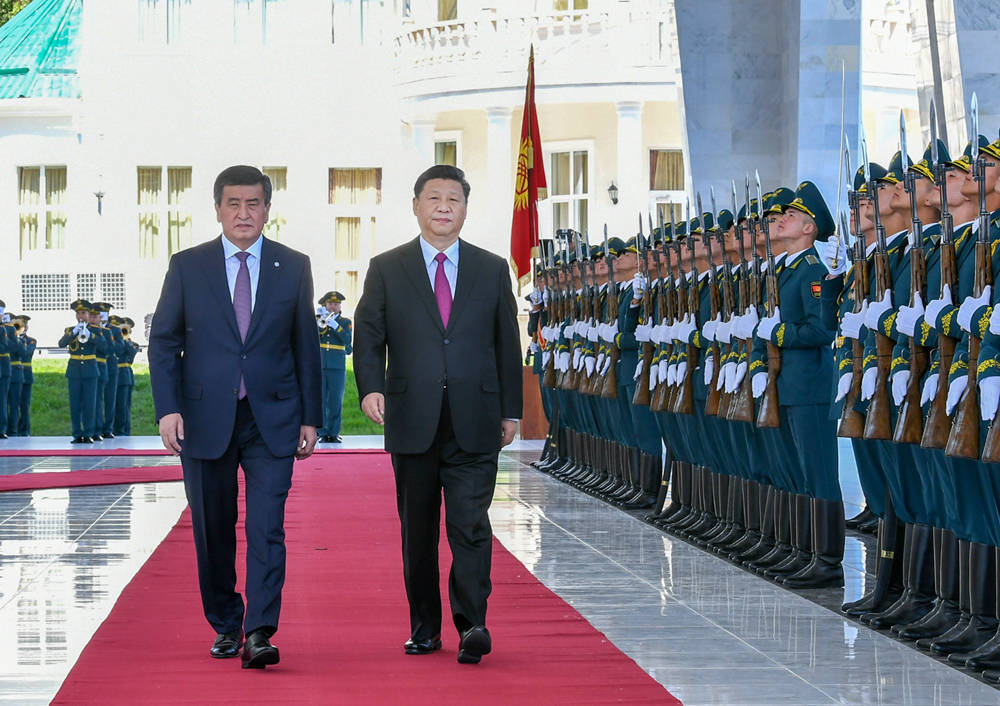 Amid efforts to enhance security cooperation, the two countries should step up fight against the "three forces" of terrorism, extremism and separatism, transnational organized crime and drug trafficking, Xi said.
On the SCO, Xi said China applauds Kyrgyzstan's efforts to promote cooperation in various fields since taking over the rotating presidency of the SCO.
China supports Kyrgyzstan in hosting the Bishkek summit, which will be held on Friday, and encourages the SCO member states to gather more consensus, tap potential of cooperation and build a community with a shared future that benefits all sides, Xi said.
For his part, Jeenbekov said he has met with the Chinese president for three times in more than a year, fully demonstrating the high level of the bilateral relations and the willingness of both sides to strengthen cooperation.
Kyrgyzstan will always be "a good neighbor, good friend and good partner" of China, he said.
Jeenbekov conveyed congratulations on the 70th anniversary of the founding of the People's Republic of China and on the remarkable achievements made by the Chinese people under the leadership of Xi and the Communist Party of China.
Xi's vision and experience on state governance are of great significance to Kyrgyzstan, Jeenbekov said.
The president thanked China for its long-term and huge assistance and support to Kyrgyzstan in its national development and the improvement of the people's livelihood.
Kyrgyzstan firmly adheres to the one-China policy, Jeenbekov said, adding that the affairs of ethnic minorities in China are its internal affairs and that his country supports policies and measures taken by the Chinese government in this regard.
Kyrgyzstan stays committed to the fight against the "three forces," he said.
Noting that Kyrgyzstan's national development strategy corresponds to the Belt and Road Initiative (BRI), Jeenbekov said his country is ready to set up institutionalized arrangements to promote their alignment, deepen cooperation with China in areas such as trade, investment, energy, agriculture, transport and on local levels, as well as increase cultural and people-to-people exchanges.
Kyrgyzstan and China hold similar stances on international and regional issues, laying a sound foundation for the two countries to strengthen multilateral coordination, he said.
The Kyrgyz side appreciates China's valuable support to Kyrgyzstan during its SCO presidency and in hosting the Bishkek summit, he said.
After the talks, the two presidents signed a joint statement on further deepening the comprehensive strategic partnership between the two countries, and witnessed the exchanges of bilateral cooperation documents.
The two sides will continue the visits and meetings between leaders of the two countries to regularly exchange views on bilateral relations and international and regional issues of common concern, according to the joint statement.
Both sides will continue to support each other on issues related to their core interests, such as national sovereignty, security and territorial integrity, said the statement.
Noting that there is great potential for cooperation to synergize the BRI with Kyrgyzstan's national development strategy 2018-2040, the statement said the two sides will look for more common grounds of interests and realize common development based on the principle of win-win cooperation.
The two sides also pledged to support the central role of the United Nations in international affairs and the building of an open world economy, voicing resolute opposition to unilateralism and protectionism.