Volunteers on horseback bring healthcare to herders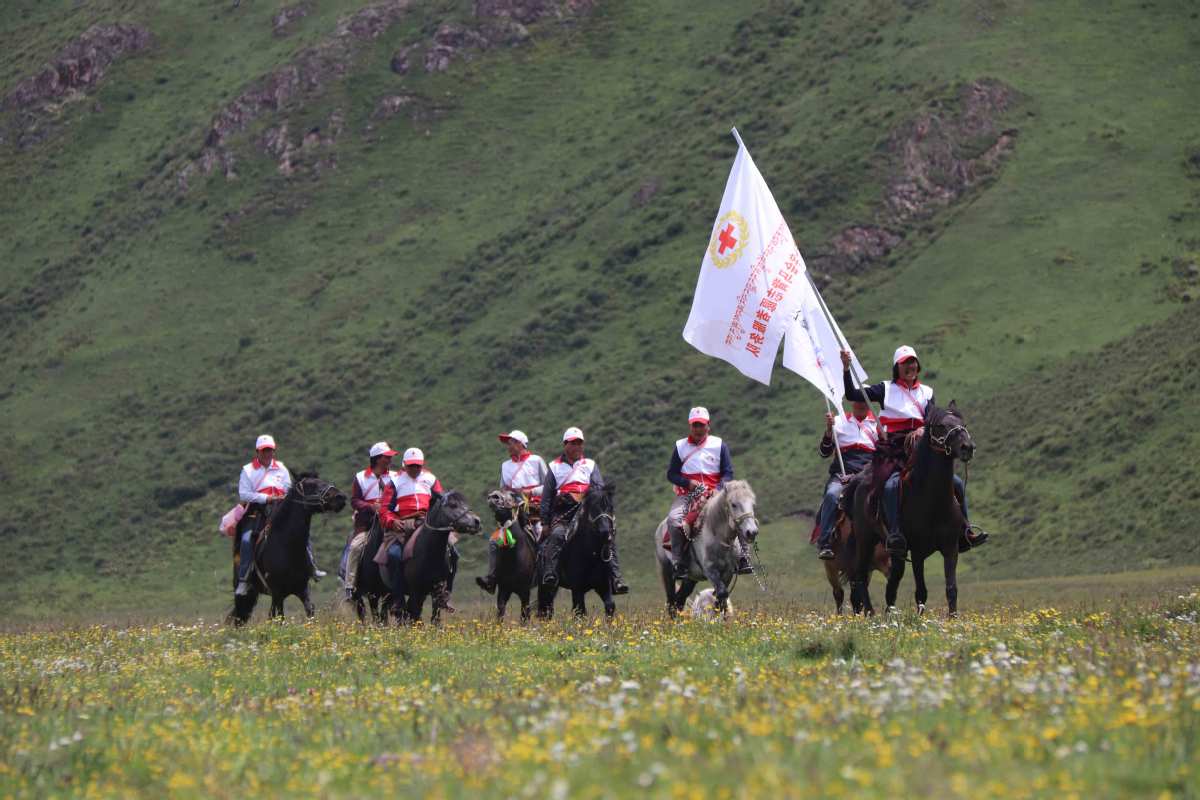 Red Cross volunteers travel on horseback to help herdsmen in Golog, Qinghai province, last month. (Photo: China Daily)
In remote villages of the Golog Tibetan autonomous prefecture in Qinghai province, herders who become ill prefer to turn to traditional methods like asking a lama for divination rather than going to a doctor.
Volunteers with the Red Cross Society of China branch in the prefecture are trying to provide modern medical care and service to the herders.
Since its establishment in December, the volunteers have managed to help cure 67 residents.
Zhou Tai, deputy head of the branch, said that tapeworm infection, known as echinococcosis, is one of the main diseases affecting the herders. According to Zhou, most families in Golog make a living herding. Cows usually carry the tapeworm parasite, which can make its way into drinking water.
The latest data from the local government show that about 2.5 percent of people in the area were infected in 2017, higher than the rest of China.
"The disease can be treated by surgery. However, for a long time, local residents would not go to the hospital," Zhou said. "Some of them delayed surgery because they wanted to choose a certain date that the lama told them was lucky."
Educating residents about medical science is the volunteers' major job, and they use real cases to warn people of the consequences of tapeworms.
Zhou said that more than half the villagers accept their suggestions, such as going to hospital and isolating patients at home.
However, due to traditional lifestyles, some people still share tableware with family members who have tapeworms, which helps spread the disease. Popularizing medical science still has a long way to go, Zhou said.
In spring and autumn, volunteers go to meadows where villagers tend to gather to work. The volunteers provide services like giving free healthcare to the elderly, explaining local medical treatment policies and teaching them how to use medicine correctly.
In summer and winter, the volunteers are always ready to provide first aid and give out relief materials when the area suffers floods and snowstorms.
The volunteer team now has 35 members. All of them are locals who can speak Tibetan and can ride a horse to visit local households. Among them, four are village officials and two are doctors.
"Transportation here is inconvenient due to the rugged and mountainous terrain, so we came up with the idea that volunteers ride horses to provide medical services. In addition, it is a scarcely populated area, and volunteers need to ride about 30 kilometers from one family to another, which is arduous work," Zhou said.
"Riding a horse is the simplest yet most effective way to deliver service and love from the Red Cross Society. Smiles from herders are the best momentum for us to continue," he said.