Facial recognition technique prevents kids from drowning in Henan
A warning system based on facial recognition technology was installed last week at the bottom of a bridge in Pingdingshan, Central China's Henan Province, reports dahe.cn.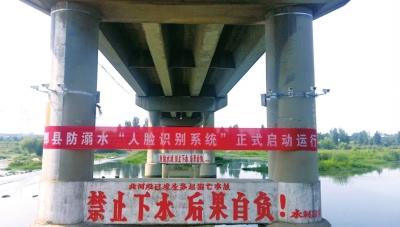 This undated picture from the city of Pingdingshan in Henan Province shows the facial recognition cameras installed on bridge beside a banner that reads "A warning system to stop people from drowning based on facial recognition has been installed." (Photo: dahe.cn)
The warning system is equipped with seven cameras and a horn. When someone approaches within about 200 meters of the water, the horn will blast a warning sound to warn them to keep away. At the same time, cameras installed on the bridge will capture a picture of the person's face, and try to match it against a database of local students. If the person is identified as a student at a local school, their parents and teachers will be texted a warning. The system reportedly has an accurate rate above 97 percent.
Approximately 110,000 local students will have their pictures entered into the database next year. The cameras are expected to be installed in 120 potential drowning areas around Pingdingshan.
According to an official from the city education department, the warning system will take over from the existing routine patrols of dangerous areas, and will serve as a more efficient way to reduce the number of student drowning deaths.