Highlights of foreign media reports on 19th CPC National Congress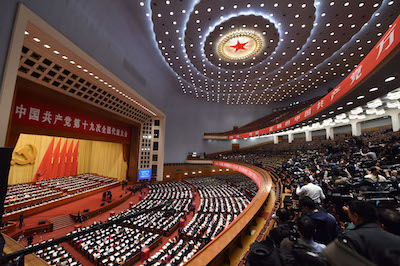 The closing session of the 19th National Congress of the Communist Party of China (CPC) is held at the Great Hall of the People in Beijing, capital of China, Oct. 24, 2017. (Photo: VCG)
BEIJING, Oct. 24 (Xinhua) -- The landmark 19th National Congress of the Communist Party of China (CPC) has drawn extensive coverage by foreign media outlets around the world.
The reports speak highly of the CPC's leadership as well as China's socio-economic development and global contributions, and express confidence that the CPC will lead China to even greater prosperity.
The following is an edited summary of some of the reports.
Russia's Sputnik news portal
The Chinese miracle of sustained hyper economic growth, lasting over three decades, has been joined by a robust foreign policy under President Xi Jinping's leadership.
China has been responsible for lifting hundreds of millions of its people out of extreme poverty over the past three decades, to the point where urban poverty has now been completely eradicated.
Indonesia's leading newspaper Kompas
China contributes to the world and humanity by increasing assistance to other developing countries, particularly the least developed ones, in order to do its part in narrowing North-South gap.
Indonesia's Antara news wire
Under President Xi Jinping's leadership, China has seen growing international influence as well as modernization and reform drives at home.
With all of its growing political and economic clouts, all countries in the world should pay more attention to China as one of the real global major players.
Indonesia must be able to cooperate with China to tap into its potentials, which would eventually create peace and stability in the region.
Ali Saki, chief of international news desk at Iran's Tehran Times
China will reach further development in economic and social fields after the congress. The peaceful development of China will play an active role in world multipolarization.
Radio Habana Cuba
"Led by the government and the CPC, China is moving forward to make its dream come true."
Radio Reloj of Cuba
"China embarks on a new era."