Judge goes beyond call of duty to help young offenders
Global Times
1515274632000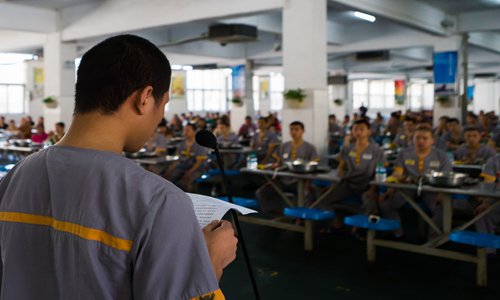 A juvenile offender reads a letter in front of his peers in prison. Photo: VCG
In the hearts of many juveniles, Chen Haiyi is more like a "mother" than a judge. Chen, chief judge of the judicial tribunal at Guangzhou Intermediate People's Court, Guangdong Province, has helped more than 1,000 juvenile offenders reject a life of crime in the past 20 years.

Chen, 44, isn't satisfied with just doing her job. Instead, she continues to help juvenile offenders fit into society after they complete their sentences. The juveniles she has helped have never committed crimes after being released from prison, and more than 30 of them have been admitted to college.

"Scrutinizing evidence with a magnifying glass and sentencing juveniles with a caliper" are two working rules that Chen strictly abides by. She also strikes a delicate balance between enforcing the law and providing sympathy.

"Behind every unfortunate child is an unfortunate family. They [children] need tenderness and care from society," Chen told the Guangzhou Daily. "A prodigal child who returns is more precious than gold. I don't want any juvenile offender to be abandoned or left behind."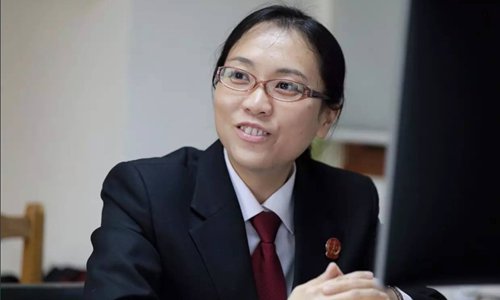 Chen Haiyi Photo: Screenshot from Guangzhou Intermediate People's Court's Weibo account
Evidence matters

In Guangzhou, Chen once saw a prisoner who had been sentenced to death put the written verdict in his pocket. When she asked him why he did this, the prisoner replied: the verdict has my reason for death, so I can clarify it with my family members in "the next world."

Chen recalled that she was deeply shocked at the time and realized the weight that a verdict carries with criminals.

"I want juvenile offenders to see fairness and justice. I also want them to trust the law," she said.

On one occasion, Chen traveled thousands of miles to a remote village in Zunyi, Guizhou Province, just to verify the exact age of a suspect she had tried.

In that case, the suspect, Xiaohu, was accused of robbing and killing a taxi driver as well as repeated theft. Despite repeated interrogations, Xiaohu refused to give any information, but insisted that he was still a minor when he committed the theft and that the birth date shown in his hukou (household registration) was incorrect.

He said that in the hukou, the local police had documented his birth date according to the Chinese lunar calendar, but according to the solar calendar, he was actually one month short of 18 years of age when he committed the theft.

"Xiaohu committed murder. The theft cases had little impact on the severity of the penalty in his situation. But if he insists the age is wrong, he will mistrust the justice of the law if we don't get it right, which will further influence his admission of guilt and ability to reform," said Chen, who then decided to go to his hometown.

As there were no roads in Xiaohu's hometown, Chen had to climb the mountain on foot. Eventually, she found Xiaohu's grandmother and verified that what he said was true.

Because Xiaohu was still a minor with regard to the theft cases, he was given just a one-year sentence for this crime and reprieve for murder. With the two crimes combined, he had his death sentence suspended, Chen announced. Xiaohu accepted immediately and pleaded guilty in court.

"The court uses facts as evidence. One day more or one day less is unacceptable in a trial," she said.

Back to normality

Chen also devotes lots of energy to helping the juveniles she has tried return to normal lives. Some even asked her for dating tips when they were seeking a partner.

She believes that a lack of kinship is the deepest pain faced by these "troubled teens." On some occasions, she mobilized all the resources she had available to help juvenile offenders find their parents.

Once, she met a teenaged female suspect, who was deaf and refused to give any information about herself, even her name.

Chen had previously learned sign language after she learned that there had been a spate of thefts committed by deaf people at railway stations. But when she encountered the girl, she found that her sign language ability was far from enough to effectively communicate with her.

She later brought a sign language teacher to the interrogation and also bought snacks and new clothes for the girl.

Moved by Chen's compassion, the girl revealed her name to be Xiaoqin and told Chen of her past experiences. Xiaoqin was born in Shenyang, Liaoning Province, and had a younger brother.

Believing that her parents only cared for him, at the age of 15, she went to Guangzhou with her boyfriend, who led her into a life of theft at railway stations. The man also instructed her to keep quiet if she was arrested, as the police could not do anything with a deaf minor.

Chen contacted the police department in Shenyang, and found Xiaoqin's parents with their help. They rushed to Xiaoqin's second trial and kneeled down in court in a display of remorse.

Chen put Xiaoqin under detention. After she was taken back to Shenyang, Chen often wrote to the family, urging Xiaoqin's parents to put more energy into their daughter and encouraging Xiaoqin to make a new start.

Two years later, Chen received a call from her parents, telling her that Xiaoqin had been admitted to a special education college.

"I am motivated by seeing these children get back onto their feet," she said.

A long career in juvenile tribunals has made Chen realize that to stem juvenile criminal rates, it's best to start with education.

Now, she often goes to schools to educate students. So far, she has organized over 200 seminars in more than 100 schools in Guangdong Province, and she also edits and designs law publications that are circulated in Guangzhou's primary and middle schools.

While her busy workload is a source of dissatisfaction for her son, Chen has no intention of changing her life. She hopes that in the future, a long-term mechanism will be set up to help juvenile criminals fit back into society.