Tangshan encourages tip-offs of illegal acts in wake of brutal restaurant assault
Global Times
1655110788000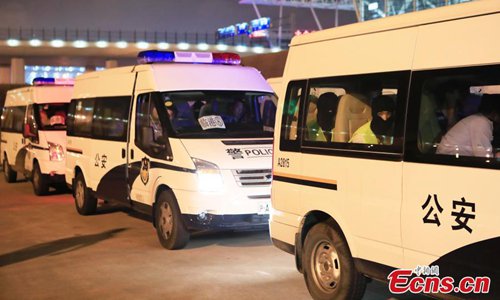 Tangshan authorities encouraged residents to offer tip-offs in the ongoing campaign to crack down on illegal acts, showing determination to eradicate violence in the city after the brutal restaurant assault.

Providing specific address, telephone number, email to get in touch with the campaign leading group, Tangshan seeks six categories of tip-offs, ranging from fighting, provoking troubles, insulting women, extortion, forced trade, gambling, drug use and cybercrimes, as well as dereliction of duty, cover-ups and conniving at crimes.
The campaign rolled out on Sunday was a direct response to society impact of the shocking attack at a barbecue restaurant involving nine suspects insulting and beating up four women at midnight.
The case triggered a national heated discussion about the protection of women and public security, and resulted in more reports of illegal acts and organized criminal gangs by Tangshan residents with their real names.
In the past two days, Tangshan police have responded to cases that were exposed by residents online quickly. Apart from the nine suspects being detained by police involved in the case, at least two others were caught linked to another incident involving a cake shop and four were caught linked to a bar accident occurred in Tangshan's Lubei district.
Holding her identification information in her hand, a woman surnamed Zhang said in a video clip released on Saturday about her suffering of being harassed, beaten, abused, threatened, intimidated and unlawfully detained between May 23 and 24 by a criminal gang in Lubei district in Tangshan.
Prior to Zhang, a cake shop owner from Tangshan also exposed with his real name online on Friday a criminal gang allegedly made up of personnel released after serving their prison sentences. The cake shop owner said he had to close off his shop after the gang exerted extortion and violence since July in 2021.
The campaign leading group said they encourage real-name tip-offs and will have names and contacts of tipsters protected. Special clues and main evidence are required. It also reminded not to weave stories or exaggerate facts or frame a case against others.