Xinjiang students organized to learn Confucian Analects, socialist values
Global Times
1513189595000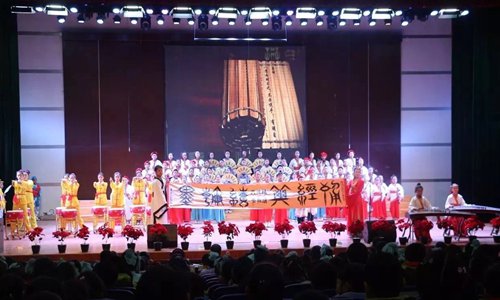 Students from the No.7 Elementary School in Kuqa county, Aksu Perfecture, Xinjiang wear traditional clothing and read classic Chinese literature. Photo: School's WeChat account
Elementary school students in Kuqa county, Northwest China's Xinjiang Uyghur Autonomous Region are encouraged to learn Chinese calligraphy and read classical Chinese literature as part of a program to boost traditional Chinese culture and core socialist values.

No.7 Elementary School in Kuqa county invited calligrapher Wang Zufeng to teach his skills to students and then displayed their works, the school said on its WeChat account on Tuesday.

Students can also study classical Chinese literature, a teacher from the school told the Global Times on Wednesday. Students are actively participating, she said.

Of the 2,600 students, about 500 are from an ethnic minority, she noted.

Students from 15 county elementary schools participated in a classical Chinese literature reading contest on Friday, the school posted on its WeChat account. The students wore traditional Han clothing to read passages from the Confucian classics Analects and the Standards for Being a Good Pupil and Child.

By learning traditional Chinese culture, China's core competitiveness can be promoted, the school said in its WeChat post.

Kuqa county has a population of about 500,000, the majority of whom are Uyghurs, the government said in March.

In 2003, university graduate Qurban Niyaz set up an elementary school teaching Chinese and traditional Chinese culture in Mamu township of Wushi county, Aksu prefecture. Students rose from 80 to 847, a local newspaper reported on December 7.

"We are all members of China, so it's necessary to understand each other's language and feelings," he was quoted as saying by a local Xinjiang newspaper.

Other Chinese regions are also promoting traditional Chinese culture at their schools.

All teachers at Beijing's kindergartens, elementary and middle schools are required to conduct courses on core socialist values and traditional culture in 2018, the Beijing Education Commission announced in September.

Chinese chess and local opera classes can also be found in East China's Fujian Province and North China's Hebei Province.