Students seize opportunity to learn English
Geng Qingwen, an administrative worker at a Beijing hospital, is putting a great deal of effort into learning and speaking the names of certain countries in English.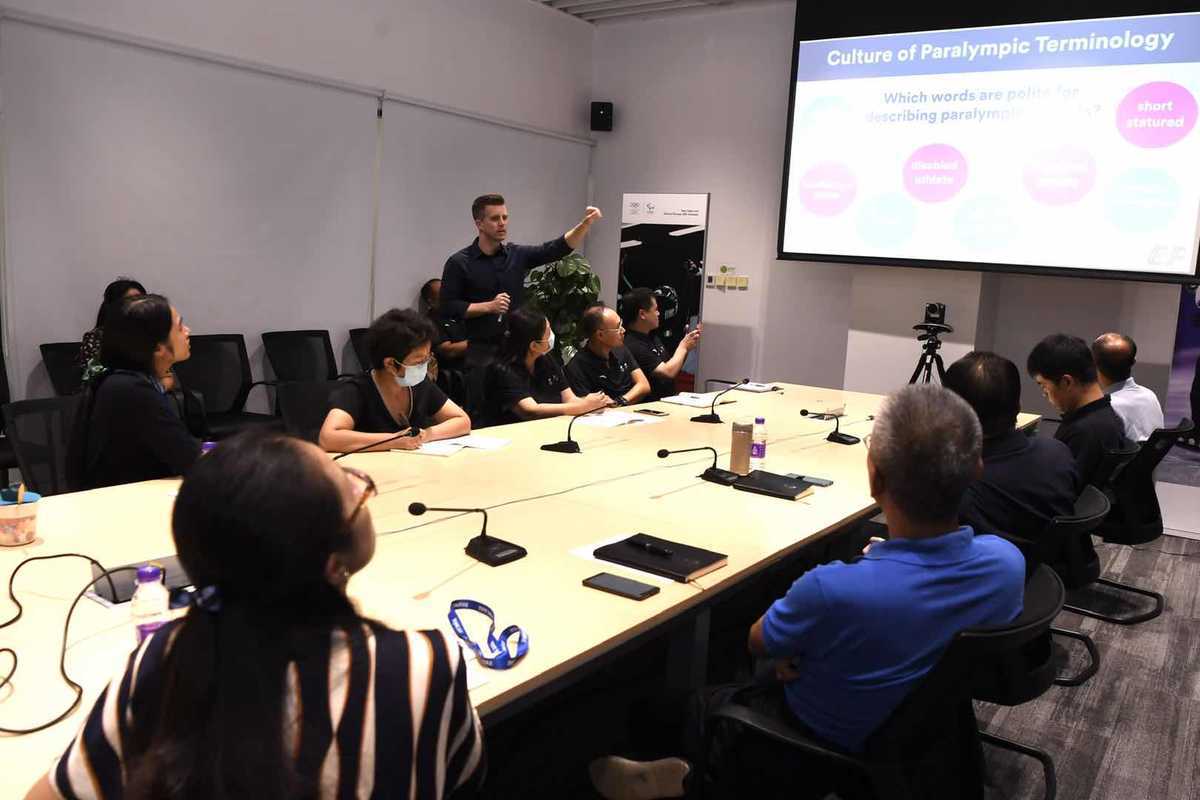 A course on learning English, prepared specifically for the 2020 Paralympics, is held in Beijing. [Photo provided to China Daily]
She can now say "United Kingdom","Italy" and "Japan" with ease, but has difficulty with the names of nations that have little correlation with their pronunciation in Chinese, such as the Netherlands and Switzerland.
Geng said she felt she needed to learn English urgently in view of the number of opportunities she has had in the past five years to travel abroad for business and pleasure.
In February, she paid 40,000 yuan ($5,900) to register for a 30-month package of online and offline English courses at a foreign-language instruction institution.
Geng, who is in her 50s and has worked in the administration department at Dongzhimen Hospital of Beijing University of Chinese Medicine for three decades, said: "There's so much to see around the world. Learning English will help make overseas trips easier and will mean that I won't be unable to communicate with local people, which can be inconvenient."
The Beijing native is so keen to master the language that she spends an hour a day practicing it.
According to English-language education companies, a decade ago, most of the students who took such classes were white-collar workers at multinational companies aiming for promotion or an overseas posting.
Now, about 50 percent of the students decide to invest in these classes out of personal interest and to help with their plans to travel and socialize.
Sam Cheung, president of EF Education First's English Courses China, said,"Like medical experts such as Zhong Nanshan and Zhang Wenhong, who have been able to share China's experience of fighting the coronavirus with medical workers abroad in fluent English, today's learners' goals are barrier-free communication."
With a considerable number of English-language education businesses for children and adolescents emerging in recent years, some critics have said this market is now shrinking. However, industry players have denied this.
The value of the English-language instruction market for adults in China reached 95.3 billion yuan last year, a year-on-year rise of 10.5 percent, according to a report released by the consultancy iResearch last month. Despite a contraction this year due to the pandemic, the annual growth rate from next year to 2024 is forecast to be 11.7 percent.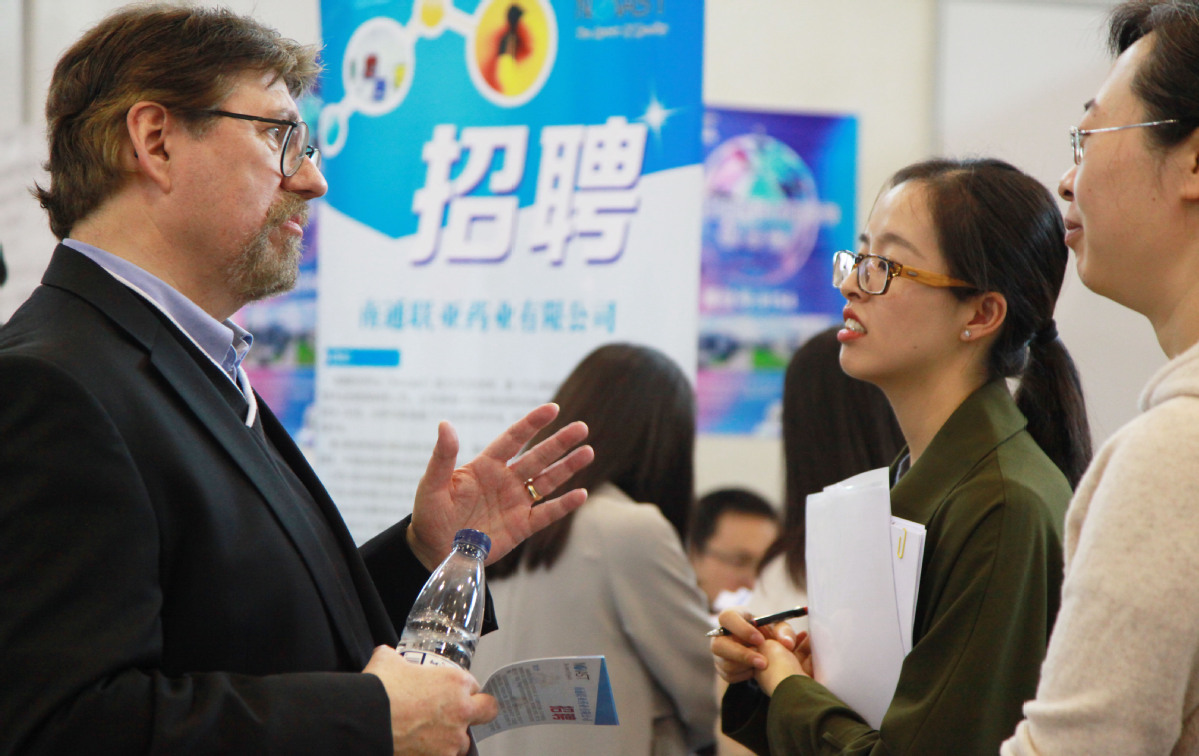 A medical graduate speaks in English to an employer at a job fair in Nanjing, Jiangsu province. [Photo by Jian Hua/For China Daily]
According to iTutorGroup, the smart education arm of Ping An Insurance (Group) Co, the market has yet to reach its peak amid the emergence of online learning and the growing demand for English in rapidly developing second- and third-tier cities as China becomes more involved in international communication and further opening-up.
Cheung said, "China's growing presence on the global stage has also made more people interested in the outside world and learning English, the global language. The 2008 Beijing Olympics also took the country's passion for learning the language to new heights."
Geng said her English lessons each have a theme, such as learning numbers, greetings or how to order food at a restaurant. The online and offline classes are synchronized, and users repeat-learn key words through phrases, sentences and dialogue.
But she said she is still struggling with the names of some countries and will not be able to advance until she receives a three-star assessment.
She believes she has progressed in the past six months, as she has recently had the confidence to speak English during physical classes. She has also finally told her daughter, who lives and works in Australia, that she is learning the language.
"City children now generally begin learning English at kindergarten age and don't have any major problems speaking it when they grow up. We middle-aged people are making up for lost ground," she said.
Geng added that many of her hospital colleagues, including some in her age group, have recently mastered or are now learning English.
However, iTutorGroup said the majority of its clients are age 20 to 30 and are usually university students or have just started work.
"But that doesn't mean that we don't have learners from diverse age groups-we even have some students in their 80s," the company said.
English-language instruction providers believe that much of their business in coming years will derive from lower-tier cities as more people in these areas become interested in improving their foreign language skills for personal reasons and for work.
Last year, the annual English Proficiency Index report by EF showed that China jumped seven places to 40th in the rankings for 100 countries and regions, rising from low proficiency to a moderate level for the first time.
The report said English-language proficiency in Southwest China has made major strides over the past decade. For example, a moderate level of proficiency was reached in Sichuan province for the first time last year, close to the rankings of the more prosperous eastern province of Zhejiang and Guangdong in the south.
Zhang Jie, from Liupanshui city, in the southwestern province of Guizhou, who started taking online English classes two years ago, said her efforts paid off when she traveled abroad last year.
On the resort island of Bali, Indonesia, and in the northern Thai city of Chiang Mai, Zhang conversed with locals in simple English.
"I wanted to learn English so that I could hold everyday conversations with foreigners," Zhang, 25, a finance worker at a driving school, said.
She said she memorizes 10 new words in the language every day, and can now read some simple articles in English.
As a result of her "pleasant experience" in learning the language in class from expatriate teachers, Zhang said she recently registered for a qualification test to teach Mandarin to foreigners.
"If I can do this as a side job, I will get to know more expats and understand their way of life, which in turn will benefit my English-learning," she said.