Experts say it's groundless to hold China accountable for COVID-19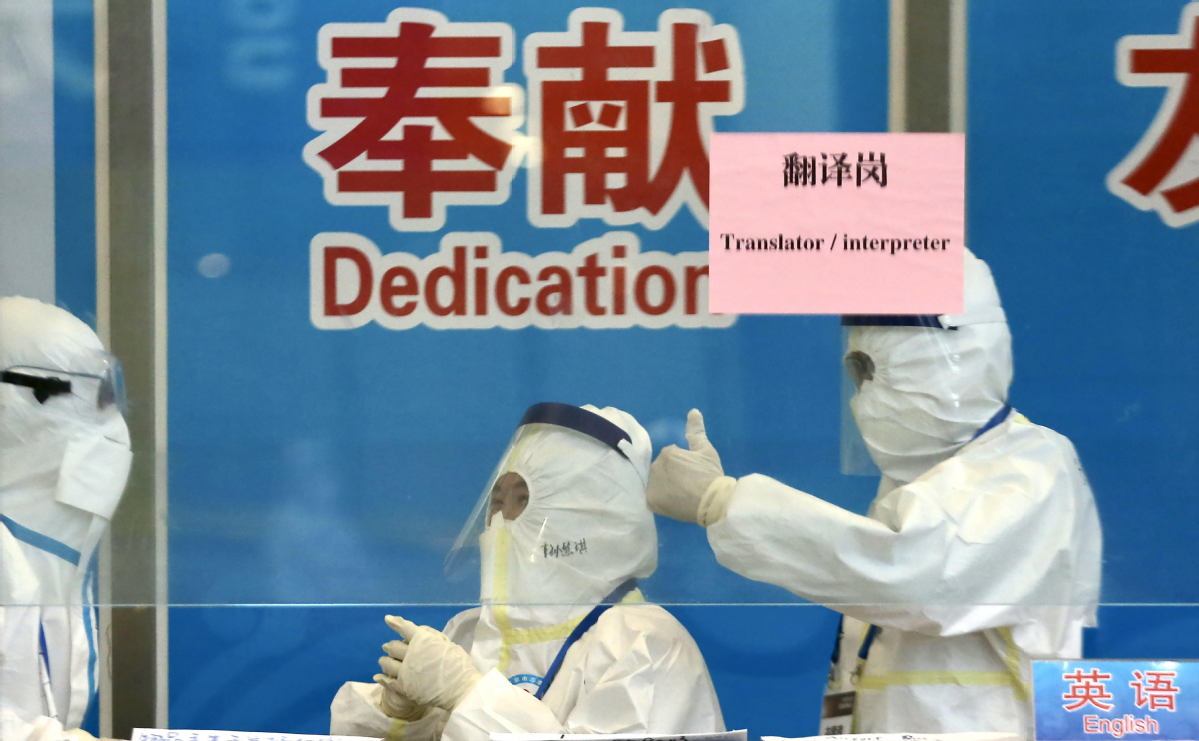 Student volunteers from the University of Science and Technology Beijing provide translation services at the New China International Exhibition Center in Beijing on March 25, 2020. (Photo: China Daily)
Chinese law experts say the country has always abided by international rules and carried out its international obligations during the novel coronavirus outbreak, and there is "no legal basis" to demand it be held responsible for the COVID-19 pandemic.
"Blaming China and holding the country accountable for the outbreak has no legal support, because the current international laws provide no basis for holding a state responsible for a pandemic," said Huang Jin, a law professor specializing in international law at China University of Political Science and Law in Beijing.
Demands that China be held liable for the pandemic and compensate the world raised the question of who should be held responsible for an epidemic such as H1N1 influenza, commonly known as swine flu, which first appeared in North America, he said.
Calling the novel coronavirus a common enemy of mankind, he said China had followed the International Health Regulations and implemented a series of effective measures since the outbreak started.
"What we've done is strictly obey the international rules and fulfill our international obligations," Huang said. "For example, we took the initiative to evaluate the pandemic situation and reported it in a timely fashion to the World Health Organization as well as other countries and regions, and we also accepted inspections from the WHO.
The Foreign Ministry also said on Wednesday that an Associated Press report, which claimed that China delayed sharing information on COVID-19 with the WHO, is totally untrue.
Ministry spokesman Zhao Lijian said at a daily briefing that the report is "seriously inconsistent with the facts", adding that China's efforts to tackle COVID-19 have been open for the whole world to see and will stand the test of time.
China has maintained close and good communications and cooperation with the WHO and its China office since the outbreak started, and will continue to support the WHO's leading role in combating the pandemic, Zhao said.
Zhu Wenqi, a law professor at Renmin University of China, said there was no need for a country to accept any responsibility in international relations if it had not committed any internationally wrongful act.
An internationally wrongful act, under international law, means a state violating its international obligations, he said, and only in those circumstances could it be accused of bearing "state responsibility".
He said China's behavior in the fight against the pandemic "has nothing to do with an internationally wrongful act", adding that "comments that blamed China cannot stand up, and those trying to throw mud at us must be ignored".
Accusations that China withheld key information about the outbreak, leading to a worldwide pandemic, were not based on facts, said Xiao Yongping, head of the Institute of International Law at Wuhan University in Hubei, the Chinese province hit hardest by the virus.
"Every country, I believe, must need some time to do research on how serious a virus is and what influence it will have on society when discovering it at the very beginning. China is no exception," he said. "For such a completely new virus, there was limited scientific evidence at the very beginning indicating that the pathogen could lead to a pandemic."
After China realized the seriousness of the novel coronavirus and confirmed it could be transmitted from person to person and was potentially more dangerous than seasonal flu, "we notified the world as early as we could and adopted the strictest and most comprehensive epidemic control measures, such as locking down the city of Wuhan", Xiao said, adding that all the moves it made had been welcomed by the WHO.
Xiao said that the Chinese government released in April a clear timeline of what China had done after the outbreak started, showing how transparent it was in the fight against the virus.
Huang said: "Our urgent notification to the world, in fact, gave enough time and information for other nations, including the US, to get prepared for the outbreak.
"Western countries, I believe, had seen what China had done at that time, but the outbreak still went global, so what they need to do, I think, is to reconsider their ability and their outbreak control measures."
Zhu said the origin of the virus was still uncertain, and more scientific research is required, "but that does not mean someone can put the shame on others without facts and evidence".