Revision seeks to improve disposal of medical waste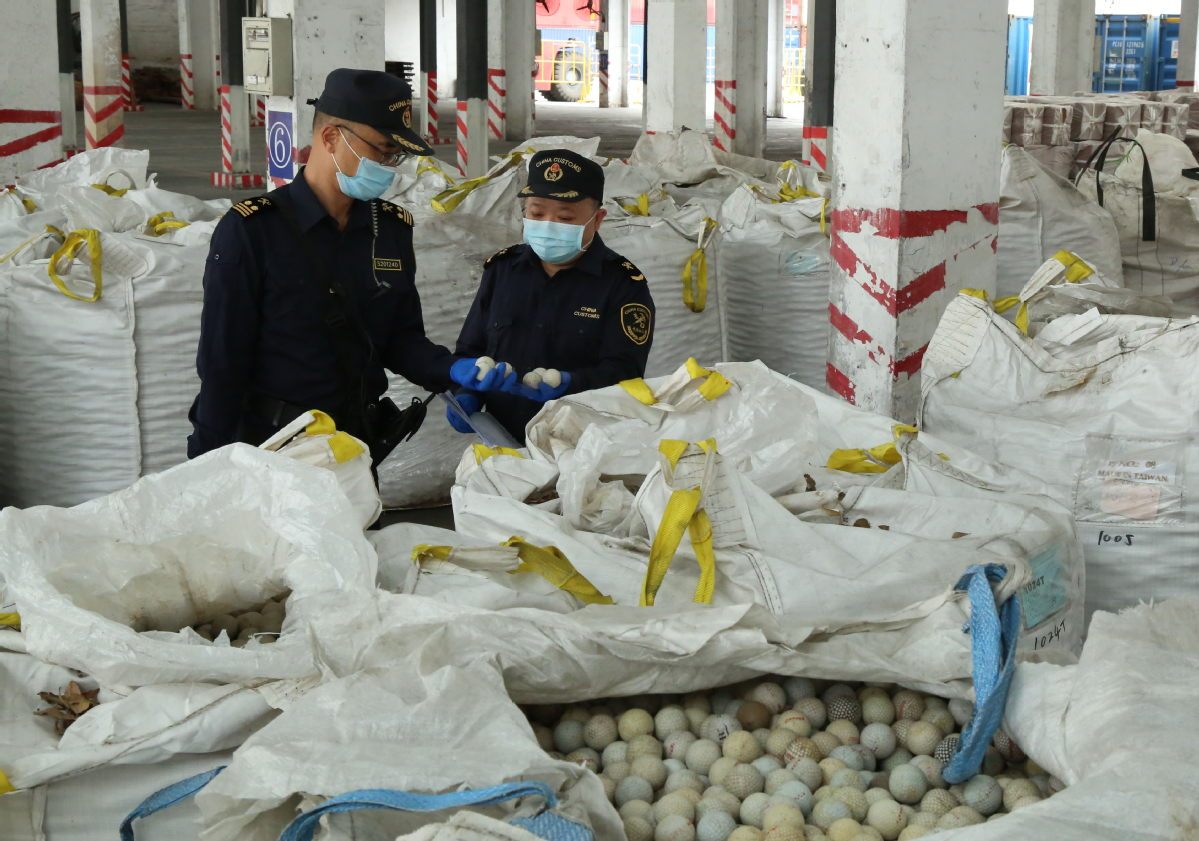 Customs officials examine seized solid waste in Zhuhai, Guangdong province, in February. (Photo: China Daily)
As COVID-19 loosens its grip on China, the country's national legislators are mulling over a draft revision to bolster management of medical waste, which overburdened some disposal facilities in the throes of the outbreak.
The initiative was made as the draft revision to the Law on the Prevention and Control of Environmental Pollution by Solid Waste returned to the National People's Congress Standing Committee for a third reading on Sunday.
"Currently, the timely disposal of medical waste is a major element in the fight to stem the novel coronavirus," said Xu Hui, vice-chairman of the NPC Constitution and Law Committee, addressing the top legislature's bimonthly session.
As the fight continues, some legislators, government bodies and the public have called for more specific and targeted stipulations on governance of such waste, Xu said.
Medical waste now falls into the category of hazardous waste. While making it compulsory that medical waste should be managed accordingly, the draft also stipulates that governments at or above county level should ramp up their capabilities for concentrated disposal.
Some regions had to scramble to improve their disposal capabilities for medical waste as the novel coronavirus tightened its grip, especially in the hardest-hit cities such as Wuhan, Hubei province.
On Feb 24, for example, a total of 201 metric tons of medical waste was generated in medical institutions across Wuhan. The city had to transfer 21 tons to nearby cities for disposal, though it managed to deal with most of it. The city, however, still had a stockpile of 190 tons that day, according to the Ministry of Ecology and Environment.
It also said Wuhan has seen its daily disposal capability shoot up from 50 tons at the onset of the outbreak to the current 280 tons. From Jan 20 to April 25, a total of 304,000 tons of medical waste was collected and disposed of across the country.
Xu said the draft also proposed better defining responsibilities and supervising duties in handling medical waste.
Aside from clarifying responsibilities of local health and environmental authorities in supervising and managing medical waste, it rules that medical and health institutions are bound to sort and collect the waste they generate.
The draft also stipulates that governments at all levels should earmark necessary funds for hazardous waste disposal during emergencies.
Based on the suggestions and opinions solicited, the NPC Constitution and Law Committee improved the draft, which also incorporated new changes on other subjects such as garbage sorting and construction waste management.
When briefing lawmakers on Sunday, Xu suggested the bill be passed at the session, which will last until Wednesday.