Complementary ties can benefit China, Philippines
Global Times
1510870281000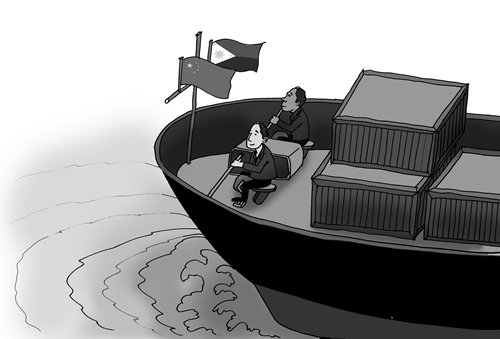 Illustration: Luo Xuan/GT


Premier Li Keqiang's visit to the Philippines from Sunday to Thursday where he attended high-level summits including the 20th China-ASEAN (10+1) leaders' meeting, his first overseas trip since the 19th Party Congress, is of pivotal significance for bilateral ties. Worth noting is that Li was also the first Chinese premier to visit the Philippines in a decade.
Economic and trade cooperation between China and the Philippines is on the upswing. The two economies are complementary in terms of structure and both countries are pursuing development. These are the key factors driving bilateral economic and trade relations. Looking ahead, the two countries should enhance cooperation and jointly commit to maintaining peace and stability in the South China Sea, creating favorable conditions for deeper bilateral ties and joint prosperity.
Since Rodrigo Duterte was sworn in as the Philippines' president in 2016, Sino-Philippine ties have warmed up. Bilateral economic and trade cooperation has made smooth progress and generated fruitful results.
First, a joint trade panel was reactivated to establish a stronger mechanism for bilateral cooperation. The Joint Commission on Economic and Trade Cooperation (JCETC), a vital conduit and platform for bilateral economic cooperation, was reconvened in March after a hiatus of nearly six years. Shortly afterward, the two countries signed a six-year trade and economic development plan, injecting vitality into bilateral cooperation by setting specific goals and implementing many key projects.
Second, bilateral trade has shown steady growth, increasing 3.3 percent in 2016, according to official data. The growth momentum has been picking up this year. In the first three quarters of 2017, bilateral trade grew 7.8 percent year-on-year, with Philippine exports to China recording 10.7 percent growth.
Third, there are bright spots in bilateral investment cooperation. China's overall investment in the Philippines is not impressive, and that country's portion of China's total investment in member of the Association of Southeast Asian Nations (ASEAN) has been on a downward spiral in recent years. But these trends have changed this year. China's investment in the Philippines surged in the first half of the year, making the country the fourth-largest source of foreign investment for the Philippines after the US, Japan and Singapore. Additionally, the two countries are deepening investment cooperation. They are actively pursuing the establishment of industrial parks in the Philippines that will advance the two countries' manufacturing cooperation and boost local employment. A number of specific projects are also being implemented in key areas such as infrastructure, oil, new energy and telecommunications.
The complementary economic structures of the two countries provide solid ground for bilateral cooperation. The Philippine economy has imbalances. The services sector is the economy's pillar, whose contribution to GDP has kept rising. The ratio hit 59.9 percent in the first half. But the agriculture and factory sectors as a percentage of GDP are relatively low. The country's agricultural production is heavily reliant on natural conditions and has yet to attain self-sufficiency, while its manufacturing sector, mainly composed of small and medium-sized enterprises, has yet to become technologically advanced.
For these reasons, the Philippines has a trade deficit with China. The country's exports to China are mainly primary products such as tropical fruits and natural resources, while its imports from China focus on industrial finished goods including machines, automobiles and auto parts. To achieve a better economic balance, the Philippine Development Plan (PDP) for 2017 to 2022 has been announced, in hopes that the policy support will attract foreign investment to tilt the Philippine economy toward the manufacturing and agriculture sectors.
China's economy is undergoing a structural shift that aims for steady yet high-quality growth. During this critical period, China needs to cope with an oversupply of manufactured products in fields including steel, textiles and construction materials. This surely provides more room for bilateral investment cooperation. The Chinese economy's accelerated transition toward being consumption-driven is also considered to be an enabler of continued growth in bilateral trade.
In fairness, the Philippine economy has maintained rapid growth in recent years, with annualized expansion averaging 6.3 percent from 2010 to 2016. But with fast economic growth have come many problems, notably the country's infrastructure that has failed to keep up with actual demand. The country doesn't have enough capacity to meet public transit needs, and its port facilities fail to meet demand for trade development.
Limited energy infrastructure also affects the country's power supply, so electricity rates in the Philippines are much higher than in other ASEAN nations and are even among the highest worldwide. Many regions of the country also impose strict limits on electricity supply.
On top of that, the Philippine economy faces woes over a lack of prosperity. Among ASEAN nations, only Indonesia has more people. The country's rich labor resources haven't led to prosperity, as low wages force many people abroad and accordingly aggravate poverty in the country.
The Philippine government is seeking to push the country's infrastructure upgrading and channel foreign investment into efforts to restructure its manufacturing sector. Labor-intensive and export-oriented industries are particularly favored to serve as an antidote for the country's economic woes. This also makes China an ideal partner for the Philippines, given China's extensive experience in infrastructure development as well as its economic rebalancing, which provides an impetus for labor-intensive manufacturing to be moved into countries that want to use their labor resources to generate economic growth.