Podcast: Story in the Story (8/22/2018 Wed.)
People's Daily app
1534873017000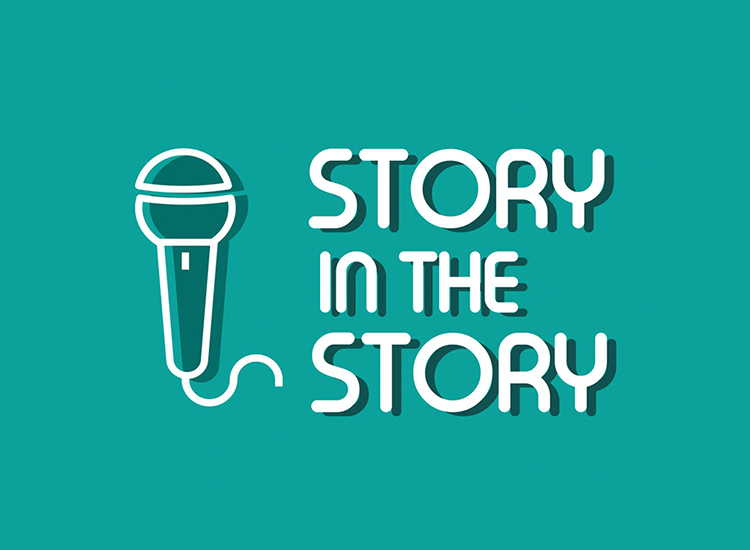 From the People's Daily app.
This is Story in the Story.
Chinese kung fu, also known as martial arts or Wushu, is a series of fighting styles that has developed over a long period of time in China and has been gaining more popularity in the world.
Styles including Shaolin, Tai Chi, and Qi Gong have many followers worldwide.
For example, Shaolin organizes an international martial arts tournament every two years that hosts 2,000 athletes from more than 50 countries and regions. The 12th iteration of this tournament will be held in October.
China won 10 gold medals in wushu at the 2014 Asian Games at Incheon. On August 19, Sun Peiyuan won the first gold medal for team China at the 2018 Asian Games in men's Changquan in Jakarta. This is also the first gold medal to be captured at this year's Asian Games.
However, kung fu is not just a fighting style – it advocates self-defense, virtue, and peace.
Today's Story in the Story will look at how Chinese kung fu is gaining popularity in America.
Sun Peiyuan of China competes during the Men's Changquan final at the 18th Asian Games in Jakarta, Indonesia Aug. 19, 2018. (Photos: Xinhua)
Ray Tokuda, a 54-year-old Japanese American, is proud of the title his martial arts school has given him.
He is a shifu, a Chinese word literally meaning a master, mentor or senior practitioner of martial arts.
Tokuda has studied Chinese martial arts for nearly four decades. Today, he is one of the most experienced kung fu teachers in the Albuquerque, New Mexico martial arts school.
Tokuda started attending the school when he was 10 and even remembers not wanting to participate when he was a child.
"My father had always wanted to learn Chinese martial arts but never got the chance, so he put his kid in," Tokuda said. "I was so afraid at that time because I thought kung fu was all about sparring."
However, things changed after he learned that martial arts were more than punching and kicking.
"One of the things martial arts teach you is overcoming adversity," Tokuda said. "As a little kid, my first lesson was like, oh, look, this is a thing that I can overcome by diligence, perseverance and dedication. That was invaluable for my life."
The kung fu master said martial arts opened a gateway for him to better understand Chinese culture.
"I feel martial arts preserve something of ancient China that can't be found in books," Tokuda said. "They are sort of an oral history."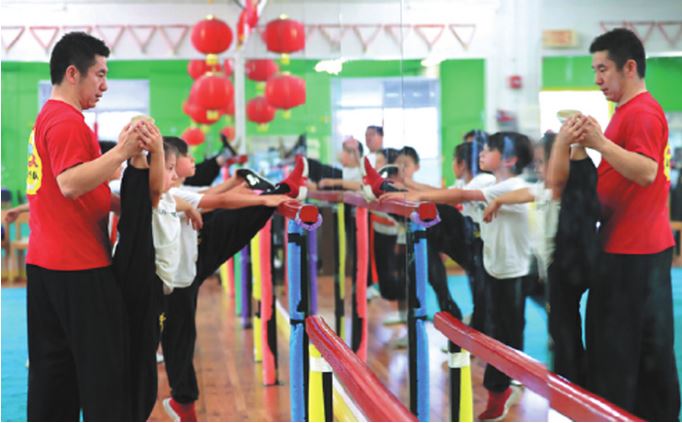 Chinese martial arts coach Wei Wang teaches around 120 pupils at his Los Angeles-based school, Wushu Unlimited. One of his keenest students is his seven-year-old daughter, Aviendha.
At the opposite end of the martial arts age spectrum is seven-year-old Aviendha Wang, who recently won gold medals in fencing and boxing at the 2018 Los Angeles International Wushu Tournament.
At the tournament, Aviendha was one of the 37 kids from Wushu Unlimited, a school founded by her parents Wei Wang and Jennifer Wang.
Wushu Unlimited has around 120 students, one of the largest across Los Angeles, California.
"Half of the reason I established Wushu Unlimited is because of my daughter," Wei said. "I also wanted to make a difference and spread Chinese Wushu culture in the US."
Like many other fathers, Wei feels he should be even stricter with his daughter but it is hard for him to do that.
"Learning Wushu is pretty hard and tiring, and I do not want to push her too much," Wei said. "But as part of the Chinese traditional sports, I think she has to at least be aware of it and learn something about that."
Thankfully, Aviendha does not think the sport is daunting anymore. In fact, she finds that learning Wushu and having an American education provides her with a good balance between academics and physicality.
Teaching Wushu in China and in America is quite different, according to Wei and Jennifer.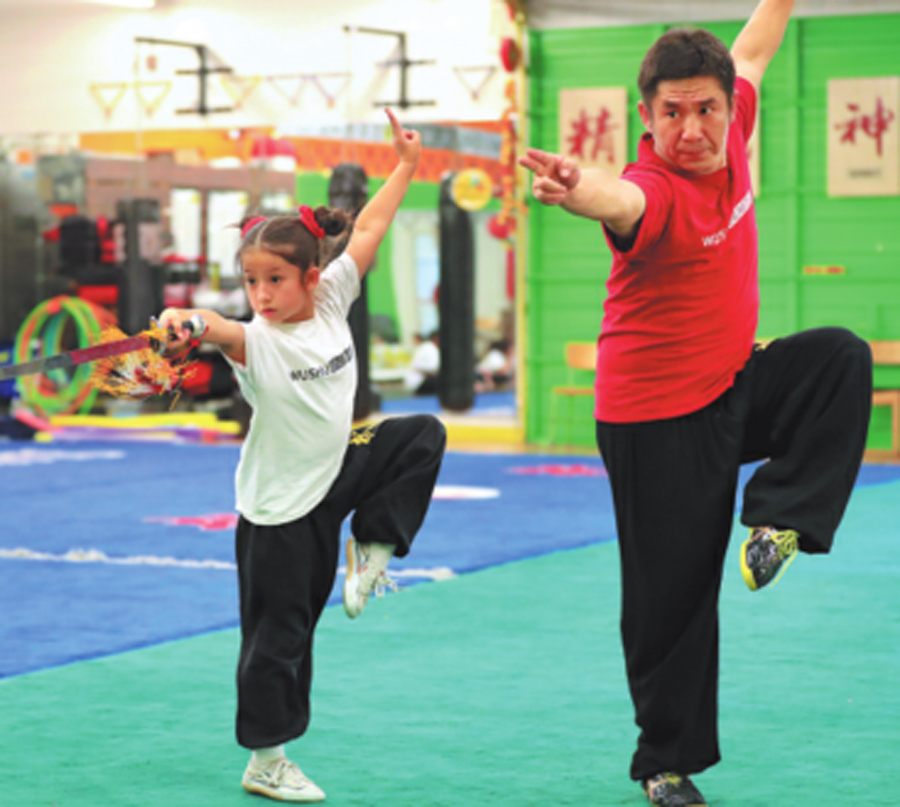 Chinese martial arts coach Wei Wang teaches around 120 pupils at his Los Angeles-based school, Wushu Unlimited. One of his keenest students is his seven-year-old daughter, Aviendha.
"Here it is a hobby. If people find it is boring, they would leave, whereas in China people may spend six months only do kicking," Jennifer said. "Wushu itself has to change in America, to be adaptable, so that people would stay interested."
Wei said that while he agrees with his wife, he also thinks it is important to have the combination of both Wushu's form and practical application.
"One of the most beautiful times we have now is every time Jennifer and I talk about the future of our school," Wei said. "Although we sometimes have different opinions, it is a communication between the two different cultures, and we have the same goal to achieve."
(Produced by Nancy Yan Xu, Raymond Mendoza, and Lance Crayon. Music by: bensound.com. Text from Xinhua and People's Daily app.)