US unilateral threat and pressure to be counterproductive: FM spokesperson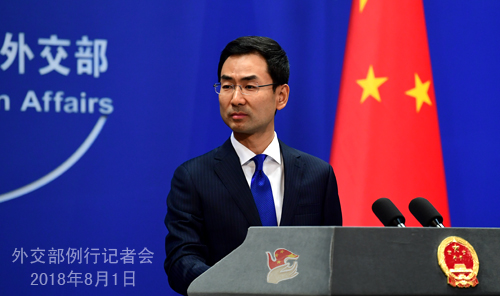 Chinese Foreign Ministry spokesperson Geng Shuang (Photo: fmprc.gov.cn )
The threat and pressure of further tariffs from the US can only be counterproductive, a Chinese Foreign Ministry spokesperson said Wednesday.
It was reported that the Trump administration would propose imposing 25 percent tariffs on a list of $200 billion of Chinese goods in a new round of penalties, up from 10 percent.
China's position on the economic and trade issues is firm, clear, and has not changed, spokesperson Geng Shuang said, noting that pressure and blackmail by the US would not work.
If the US makes a further escalation, China will inevitably counter the threat and resolutely safeguard its legitimate rights and interests, Geng said.
China has always advocated handling trade frictions between China and the US through dialogue and consultation, Geng said, noting that the international community is very clear about the efforts China has made and its sincerity.
Geng said dialogue must be based on mutual respect, equality, rules, and credit, and unilateral threats and pressures can only be counterproductive.