BRI projects to highlight ties after Xi visits Panama
Global Times
1543860791000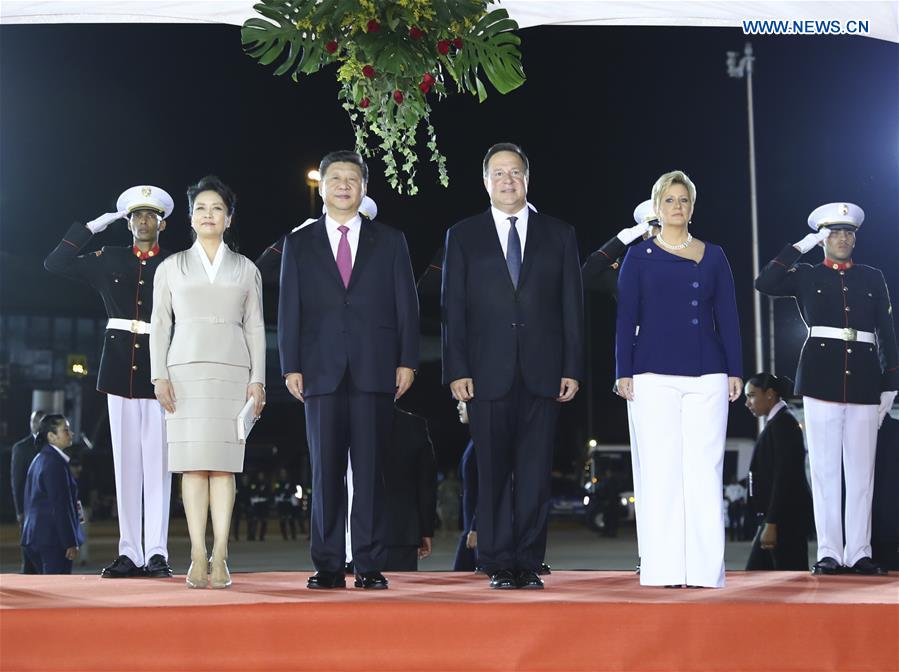 Chinese President Xi Jinping (2nd L Front), his wife Peng Liyuan (1st L Front), Panamanian President Juan Carlos Varela (2nd R Front) and his wife Lorena Castillo Garcia (1st R Front) attend a grand welcoming ceremony Juan Carlos Varela held for Xi Jinping in Panama City Dec. 2, 2018. (Photo: Xinhua/Xie Huanchi)
Chinese President Xi Jinping arrived in Panama City on Sunday local time for a state visit, becoming the first Chinese president to ever pay an official visit to Panama.

The two countries established diplomatic relations in 2017.
Chinese observers said the trip will deepen bilateral ties which have already had a strong start with promising cooperation under the China-proposed Belt and Road initiative (BRI).
Upon their arrival at the airport, Xi and his wife Peng Liyuan were warmly received by Panamanian President Juan Carlos Varela and his wife Lorena Castillo Garcia at a grand welcoming ceremony, the Xinhua News Agency reported Monday.
Xi said that the two countries' interactions lasting more than 160 years have "turned a new chapter." He voiced the expectation that his upcoming talks with Varela will draw a blueprint for the development of bilateral relations in the long run, boost mutually beneficial cooperation, promote common development, and benefit the two countries and their people, Xinhua said.
During the visit, both leaders will also meet with representatives from the private sector and Panama's Chinese community. They will also visit the Panama Canal, according to information the Panamanian Embassy in Beijing sent to the Global Times on Monday.
The two countries will sign agreements relating to areas including e-commerce, science and technology, education and exports of Panamanian products to China, the embassy said.
"Although Panama has only recently established ties with China, it is an old friend… and Chinese business people invested in the Panama Canal many years ago," Chen Fengying, a research fellow at the China Institutes of Contemporary International Relations, told the Global Times on Monday.
China is the second-largest user of the Panama Canal, observers said.
Panama was the first Latin American country to sign a memorandum of understanding (MOU) with China to promote the BRI, said Chen.
Meanwhile, free trade talks between the two countries have gone through three rounds, observers said.
After Panamanian President Juan Carlos Varela paid a historical visit to China in November 2017, bilateral ties have witnessed comprehensive development which has benefited people in both countries, the People's Daily said in a report published on Monday.
Panamanian business people, scholars and media representatives interviewed by the People's Daily agreed Xi's visit will open new prospects for win-win cooperation.
Isolating strategy
Meanwhile, the US is once again accusing China of "predatory" economic activities with other countries.
After US President Donald Trump and Argentine President Mauricio Macri met on Friday, White House press secretary Sarah Huckabee Sanders said that "the two leaders reiterated their shared commitment to face regional challenges such as Venezuela and China's predatory economic activity," the US-based weekly magazine Newsweek reported on Friday.
Later a senior Argentine official told The Associated Press (AP) that the "adjective used by Sanders is too strong and doesn't reflect" Argentina's relationship with Beijing, AP reported on Saturday.
Shi Yinhong, director of Renmin University's Center for American Studies, told the Global Times on Monday that the increasingly strong relationships between China and Latin American countries are viewed by the US as competition.
China has signed MOUs on BRI with 10 countries in Latin America and the Caribbean, Xinhua reported on Friday.
The US is also concerned that China's economic model in Latin America may threaten US dominance in the region, and that some Latin American countries may begin to emulate China's political model.
The US' China policy aims at isolating China around the world, but China will stick to reform and opening-up at home, and continue to deepen relationships with other countries, he said.