PLA aids disaster relief in landslide-affected area
LHASA, Oct. 12 (Xinhua) -- A 25-member contingent deployed by the People's Liberation Army (PLA) is conducting a disaster survey at the site of a barrier lake that was formed after a landslide Thursday struck a section of a river in the border area of Sichuan Province and Tibet Autonomous Region in southwest China.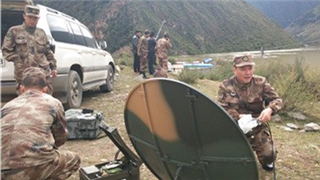 Photo: chinamil.com.cn
According to the PLA Tibet Military Command, the team is also working to set up satellite video transmission equipment to send more details back to the command center and facilitate rescue efforts.
It said that an emergency rescue force has been assembled, comprised of more than 200 officers and soldiers, 50 militiamen, six helicopters and engineering and medical personnel.
The landslide struck early Thursday morning in Bolo Township, Jomda County of Tibet's Qamdo City, forming a barrier lake in a section of the Jinsha River in the border area of Sichuan and Tibet. No casualties have been reported. Authorities said the power of the landslide equaled that of a 2-magnitude earthquake.
On Friday morning, another landslide hit the area, increasing the volume of the barrier lake, according to the emergency management office of Qamdo. Water in the barrier lake reached about 200 million cubic meters as of Friday afternoon, threatening areas up to 30 km away. The water in the lake began to overflow at 5:30 p.m.
As of 6 p.m. Friday, 13,637 residents in 10 townships were evacuated.
As a sign of the complexity of the threat, the military command said a team of chemical defense soldiers is preparing for a blast mission, a commonly used method to clear debris clogging a river.
Local authorities have sent 21 vehicles loaded with disaster relief materials to the affected areas.
Cover photo: VCG