Interview: Xi's visit to Senegal will promote bilateral ties, says Chinese ambassador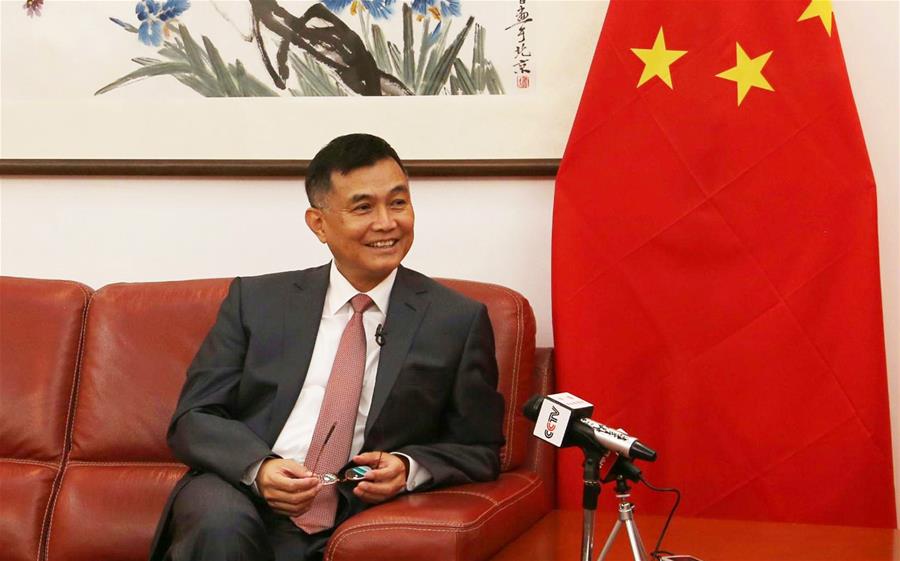 Chinese Ambassador Zhang Xun speaks during an interview in Dakar, Senegal, July 13, 2018. Chinese President Xi Jinping's upcoming state visit to Senegal will bring bilateral relations to a new level for the benefit of both peoples, said Chinese Ambassador Zhang Xun. (Photo: Xinhua/Xing Jianqiao)
Chinese President Xi Jinping's upcoming state visit to Senegal will bring bilateral relations to a new level for the benefit of both peoples, said Chinese ambassador Zhang Xun.
Xi will pay a visit to Senegal at the invitation of his Senegalese counterpart, Macky Sall. The state visit is the first by a Chinese head of state in nine years and Xi's first to a West African country.
In a recent interview with Chinese media, Zhang said China and Senegal have seen the development of their relationship speeding up over the past years, with bilateral practical cooperation yielding fruitful results.
A series of major cooperation projects have been completed or are in smooth progress, he added.
Xi's visit, Zhang said, will not only consolidate the political mutual trust between the two countries, but also enhance bilateral as well as China-Africa cooperation.
He said that Senegal, inspired by China's achievements, has increasingly embraced China's development concepts and repeatedly expressed its hope to join the Belt and Road (B&R) Initiative.
Key areas of B&R cooperation overlap largely with the Emerging Senegal Plan, and provide more options for the Senegalese development scheme, said the ambassador.
The China-proposed initiative, he added, will also continuously improve infrastructure connectivity in Senegal, enhance its trade and security cooperation with neighboring countries, and open new prospects for bilateral as well as China-Africa cooperation.
China's investment stock in Senegal reached 320 million U.S. dollars by the end of 2017, according to Zhang. In 2017, direct investment from China to Senegal totaled 110 million dollars, up 120 percent year on year, he added.
Meanwhile, bilateral trade has been hovering around 2 billion dollars for three consecutive years, making China the second-largest trading partner of Senegal, he said.
Zhang emphasized that China and Senegal will further consolidate the existing cooperation outcomes, create new cooperation models, and tap cooperation potential in new areas such as energy, tourism and aviation.
In so doing, he added, the two countries will continuously enrich their comprehensive strategic partnership, set a model for friendly cooperation between China and West African nations, and push forward the development of China-Africa relations in a comprehensive and balanced way.
With respect to international affairs, Zhang said China's call for building a new type of international relations and a community with a shared future for mankind strikes a chord with Senegalese people from all walks of life.
The two countries have broad consensus on reducing poverty, safeguarding the international free trade order, coping with climate change, and many other global and regional issues, the ambassador said.
China, Zhang said, looks forward to carrying out closer coordination with Senegal on international affairs, and to jointly playing a larger role in defending the overall interests of developing nations, promoting socio-economic development in Africa and maintaining peace and stability in the sub-region.
Noting that Sall will attend the Beijing summit of the Forum on China-Africa Cooperation in September, Zhang said the historic meeting will inject fresh vigor to the joint efforts by China and Africa to build a community with a shared future for mankind, and open new prospects for China-Africa cooperation within the B&R framework.