Shows about tradition and culture hits of the year in China
Global Times
1514316460000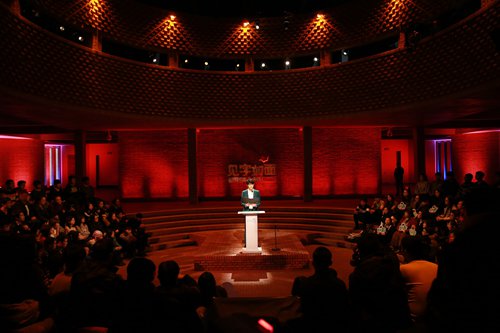 A scene from the first season of Letters Alive (Photo: VCG)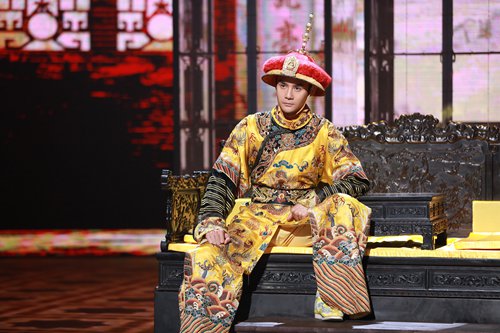 Chinese actor Wang Kai plays the Qing Dynasty Qianlong Emperor on National Treasure. (Photo: IC)
Chinese actress Sylvia Chang appears on The Reader. (Photo: IC)
From essay-reading program The Reader to the popular relic-focused show National Treasure, TV programs seeking to take advantage of Chinese audience's growing interest in traditional culture had a great year in 2017.


During a time when hiring famous pop idols or using silly gimmicks have become major trends for attracting younger Chinese viewers, no one ever expected that these slow-paced and serious shows focused on Chinese tradition and culture would actually prevail in the ratings.

But the fact is, shows like Chinese Poetry Conference and Letters Alive quickly climbed to the top of the national TV ratings, while also rising to the top on Chinese media review platforms such as Douban.

"The popularity of this type of program shows that many Chinese are eager to learn more about traditional culture," Jiang Song, a member of the Chinese Museum Association, told the Global Times during an interview in early December.

Embracing tradition

While Letters Alive and The Reader brought in people from all walks of life to read letters, essays or poems written by respectable writers and deceased celebrities, the currently airing National Treasure focuses on the stories and history behind 27 national-level cultural relics - serious topics that can sometimes be a little dry for entertainment programs.

However, by presenting this information in innovative ways such as stage plays and high-tech 3D models, the shows have helped make these subjects a bit more down-to-earth and fun, and therefore more approachable for the average viewer.

As smart phones and social media feeds continue to dominate people's lives today, shows about people reading correspondence between famous figures out loud can make certain groups nostalgic about the past, Duan Huaiqing, a professor at Fudan University's Department of Chinese Language and Literature, told the Global Times in an interview in March, during which he addressed the popularity of Letters Alive.

"Letter reading may help unleash suppressed individual and collective nostalgic memories and rekindle people's imaginations for a more poetic lifestyle," Duan explained.

Another reason for these shows' huge success might boil down to their human focus, Luo Huilin, an associate professor with the School of Liberal Arts at Nanjing University, told the Global Times earlier.

"Human beings are the main focus of these shows," Luo pointed out.

"Literature works shared in these shows talk about real life and as such they also appeal to regular viewers rather than just literature lovers."

While National Treasure focuses on introducing ancient relics, it too focuses more on the human stories behind these antiques.

"Learning about art and history is also about exploring humanity," wrote Sina Weibo user Duoluoluo, explaining why he is a fan of National Treasure.

Of course these shows haven't completely departed from recent trends, most of them still invite big name stars to act out historical events, or narrate passages, which is sure to have helped contribute to their success, especially among younger viewers.

Underestimated passion

While critics once predicted that these shows would "bore younger audiences to death," theses slow-paced cultural programs were quickly embraced by the younger demographic after they debuted.

"People think millennials can easily get bored by shows about ancient culture and history - this is just their prejudice talking," Xu Xing, a 19-year-old fan of National Treasure, told the Global Times.

To voice their love and support, young fans have begun sharing online memes created using screenshots and footage from these shows. Meanwhile, episodes of these programs are often filled to the brim with tens of thousands of supportive danmu, (Lit: bullet screen: viewer comments that fly across the screen) on video-sharing platform bilibili.com, or B Station - a major home to China's 25 and under population obsessed with the ACG (Anime, Comic and Games) culture.

"I love studying traditional Chinese culture and I like everything that ignites my imagination about ancient Chinese history," said Xu, who is also a fan of traditional Han Chinese clothing and web stories set in ancient China.

Xu went on to explain that older generations have underestimated youngsters' passion for traditional cultures.

"What really attracts me to National Treasure isn't the celebrity performers, but the small details concerning the relics - who created them, who collected them, how were they made and how did people come to pass them down through the years," Xu explained.

The tales connected to these ancient relics are not the only thing resonating with young Chinese, the stories contained in the letters read on these shows can sometimes provide some unexpected comfort to young workers after a tiring day.

"One night at the office after I finished all my work, I put my earphones in to watch an episode of Letters Alive to relax," Wei Ling, a 26-year-old Hong Kong-based office worker, told the Global Times.

"A beautiful line from one of the letters really touched me. As tears fell down my face, all my worries just vanished," Wei said.

"And I just thought, 'I have a really beautiful life.'"