Fragrant mushrooms revitalize poor area
Mushrooms have helped lift villagers in Jingdong Yi autonomous county, Yunnan province, out of poverty, thanks to a cultivation program launched by a university in Zhejiang province. Located in an area famous for its abundance of wild mushrooms, Wangjia was once one of 48 villages in the county mired deep in poverty due to a lack of transportation, a manpower shortage and backward production facilities.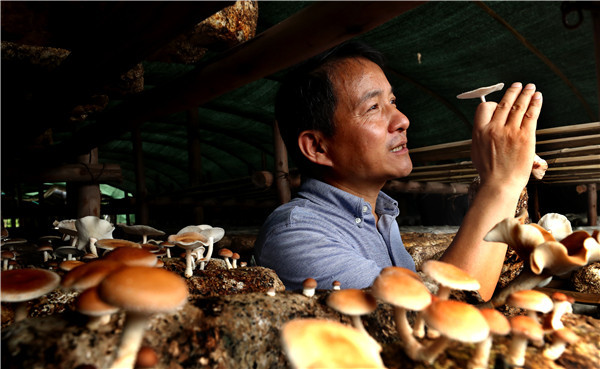 In 2013, Zhejiang University in Hangzhou teamed up with county authorities and dispatched a team of experts in tea planting, mushroom cultivation and poultry breeding to help farmers improve their agricultural skills and sales methods.

In May of the same year, Chen Zaiming, associate professor at the university's Institute of Vegetable Science, was offered a job as an adviser to the county government with an employment period of eight years. County officials wanted Chen to teach them how to exploit wild mushroom resources.
Over the next six years, the county tried various mushroom planting and harvesting projects with different degrees of success.
Farmer Zhou Meiling was one of the success stories of the county's targeted poverty alleviation campaign. In 2017, she started growing mushrooms on wood, and combined with pig breeding and curing tobacco leaves her household income is now 100,000 yuan ($15,500) a year.
By 2019, Chen had come to the conclusion that small fragrant mushrooms were the most profitable option for farmers, and a planting program began in April of that year. Nine households in the village planted mushrooms to generate nearly 240,000 yuan in revenue, said Lu Ping, a Wangjia village official.
Last year, 22 households in the county earned more than 5 million yuan from growing fragrant mushrooms. A wild mushroom resources laboratory has been set up in the Ailao Mountains, to conduct research on mushroom cultivation. Chen's team has tested 1,200 fungal samples in the laboratory, sorting out and identifying more than 700 varieties.
In China, there are 938 kinds of edible mushrooms, and over 800 varieties are found in Yunnan.
Chen also organized cooperation between the county government and Zhejiang University to train researchers in the field of wild mushroom research.
"The good news is that more and more young people in the countryside are willing to stay in Jingdong thanks to the emerging new technologies and industries that allow them to see bright and promising prospects," Chen said. "Talent and technology are the strengths and hopes of rural revitalization."