Russian soybeans have opportunity
Global Times
1524148346000
Strong demand, Sino-US trade tension provide opening

China will work with Russia to actively expand bilateral trade and further ease mutual market access for agricultural products, a Chinese official said on Thursday.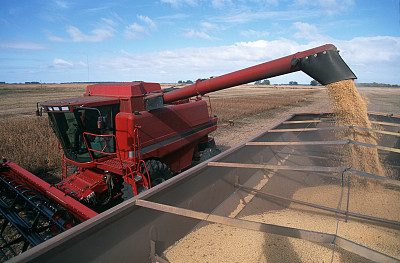 (Photo: VCG)
Mature Sino-Russian ties are not affected by external factors, and bilateral trade between China and Russia has rebounded swiftly in recent years, Gao Feng, a spokesperson for the Chinese Ministry of Commerce, said at a press briefing Thursday.
In the first quarter, Sino-Russian trade recorded robust growth, with the bilateral trade value increasing by nearly 30 percent year-on-year, and the trade value for 2018 is expected to exceed $100 billion, according to Gao.
Going forward, the two sides will work on expanding mutual market access for agricultural products, boost cross border e-commerce and further speed up trade facilitation, Gao said.
The statements came as the US continues its sanctions against Russia and amid concerns that certain sanction measures could hurt Sino-Russian trade.
Sun Zhenbo, an agricultural businessman with Erenhot Jinguyuan Grain and Oil Co, said that trade of agricultural goods between China and Russia has been growing at a rapid pace in the past two years.
At the end of 2015, China and Russia signed an agreement over the imports of Russian soybeans, corn, rice and rapeseed, and Russian agricultural imports have been surging since then, noted Sun, whose company is based in Erenhot in North China's Inner Mongolia Autonomous Region.
"In 2016, the Port of Erenhot imported 60,000 tons of agricultural products, almost all of which were from Mongolia. But in 2017, the import volume reached 200,000 tons, and many of these imports came from Russia," Sun said.
In 2017, the trade volume between China and Russia reached $84.07 billion yuan, up 20.8 percent year-on-year, according to customs data.
"Year-to-date, imports of Russian goods at Erenhot have reached 40,000 tons, and the trend is that Russia is replacing Mongolia as the primary source of agricultural product imports," Sun told the Global Times on Thursday.
Russia's capacity to produce massive amounts of agricultural products, its stringent food safety regulations and better packaging that can prevent vegetable epidemics all contributed to the increase, said Sun.
Exports of Russian soybeans to China are still in the early stages. All the ports in Northeast China's Heilongjiang Province, for instance, imported a total of just 515,000 tons of Russian soybeans in 2017, according to media reports.
Sun said that as the rising trade tensions between China and the US will affect US-produced soybeans, Russian soybeans have great prospects.
"The price of Russian soybeans will be a determining factor in their ability to gain market share in China. On the Chinese side, its demand for soybeans is rigid as it is an 80-million-ton market. If the Sino-US soybean trade faces long-term uncertainty, there will surely be an increase of Russian soybean imports in China," Sun said.