796 cultural artifacts returned by Italian authorities arrive in Beijng
Global Times
1554916800000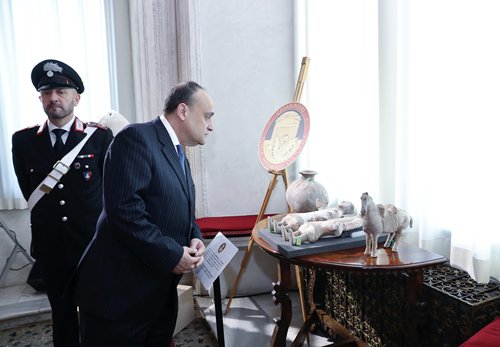 Alberto Bonisoli, the minister of Italy's Ministry of Cultural Heritage and Activities, examines the relics which set to return to China during the signing ceremony in March in Rome, Italy. (Photo: GT)
A total of 796 Chinese cultural relics and artworks returned by Italy arrived in Beijing on Wednesday, the Xinhua News Agency reported.

Air China was responsible for bringing back the cultural relics from Milan.

Chinese Foreign Ministry spokesperson Lu Kang said at a press briefing on Wednesday, "We are glad to see these cultural relics which bear the memories of the Chinese people finally come home."

China highly appreciates Italy's returning these relics, which also sets an example for international cooperation on searching for and returning looted cultural relics.

Lu also said that a special exhibition of the relics is expected to be held at the National Museum of China in Beijing for the public.

Representatives from China and Italy exchanged certificates on the return of the relics and artworks in a ceremony witnessed by the leaders of the two countries on March 23, according to Xinhua.

In 2007, Italian police seized a batch of Chinese ancient artifacts suspected of being traded illegally in the local cultural relics market, and began trial proceedings.